OFF Festival Katowice 2014: Adding Legends
Seedy strip clubs, dancefloors at sea-side resorts, abandoned garages and churches: the artists coming to this year's OFF Festival started out in some of the weirdest places, but their paths will cross before your very eyes at Three Pond Valley.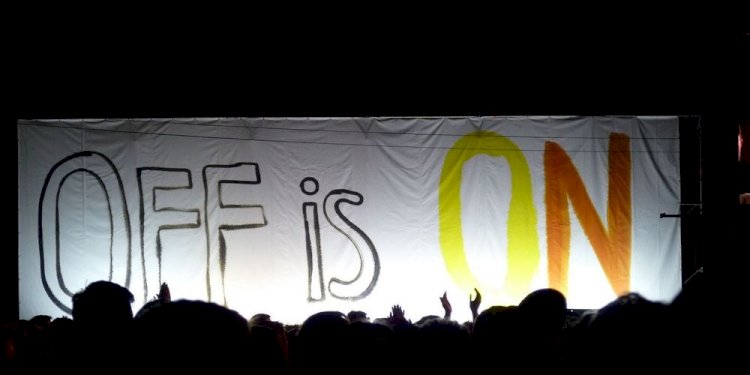 Photo by OFF Festival
Seedy strip clubs, dancefloors at sea-side resorts, abandoned garages and churches: the artists coming to this year's OFF Festival started out in some of the weirdest places, but their paths will cross before your very eyes at Three Pond Valley. Get ready to welcome the legendary Jesus and Mary Chain, the unique sounds of The Notwist, the outsider Gary Wilson and many, many more.
The Jesus and Mary Chain
When it comes to sonic terrorism, these shoegaze pioneers are the aces of spades. If this were a club show, we'd advise you to bring along a helmet and mouthguard. That's right: The Jesus and Mary Chain's early concerts went on for no more than fifteen minutes before inevitably being shut down due to the riots breaking out in the audience. The unbridled energy of the band's music came from their outrageously distorted guitars, inspired by the sounds of the Velvet Underground and the Stooges. Yet the Reid brothers balanced their punk rock fury with surprisingly beautiful, almost poppy melodies. An excellent example of this contrastive tactic can be heard on the single "Just Like Honey," which ended up on the soundtrack to Sofia Coppola's Lost in Translation. There's not enough room on the Internet to list all the bands that took inspiration from the Jesus and Mary Chain, especially since the group remain influential to this day. The only thing that's changed is the lack of rioting at their shows.
The Notwist
The most British band in Germany is back in style. On their latest Sup Pop release, Close to the Glass, this Bavarian band shows off what they're best at: a combination of electronic loops and breaks and the sound of live instruments. No wonder the music press keeps comparing them to the likes of Radiohead, Hood, and Stereolab. And just like them, The Notwist are no strangers to surprising twists in style. Just consider 13 & God, their experimental hip-hop project with Themselves, on Anticon Records. They could have just gone on playing the kind of melancholy hymns you hear on their legendary album Neon Golden, but fortunately for us, the band has other plans. We're glad to be a part of them.
Gary Wilson and the Blind Dates
Were you touched by the story of Sugar Man? Well, Gary Wilson has a similar tale, and his music is much more interesting, to boot. This enigmatic American artist has dabbled in the avant-garde, but what else would you expect from someone who, as a teenager, got to meet John Cage himself? Wilson went on to ride the line between new wave and experimental music. In 1977 he released the surprising and visionary album You Think You Really Know Me, which won the hearts of the Residents and Beck Hansen. With music this ambitious, Wilson had practically no chance for a serious career, and he soon dropped off the radar. His disappearance was so complete that growing numbers of fans began trying to track him down, even going so far as to hire a professional detective. Wilson resurfaced twenty years later. It turned out that he had been working at a strip club. Encouraged by the determination of his fans, he resolved to come back and dive into the whirlpool of recording. After all, he had a lot of catching up to do.
Los Campesinos!
Los Campesinos! boldy tread the path blazed by fellow Welshmen Super Furry Animals. Their variety of pop is as addictive as it is wacky. The big lineup and rich arrangements might remind you of Belle & Sebastian and perhaps even Broken Social Scene, and rightfully so: Los Campesinos! are no strangers to the sound of distorted guitar. Last year's No Blues is the band's most mature album to date, wrapped up in beautiful harmonies, with massive, powerful choruses and sonic opulence.
Black Lips
This garage hasn't been cleaned out since the days of the Sonics. The grimy songs by these guys from Atlanta will immediately spirit you away to the brazen psychodelic 60s. The Black Lips' melodies and lo-fi production might reveal glimpses of contemporaries like Ty Segall or the late and dearly missed Jay Reatard, though the authors of Arabia Mountain have less of a raw punk-rock bent. They've been implanted with the genes of the Yardbirds and the Rolling Stones, after all, and even sound a bit like them, if you factor in their sunbaked Southern upbringing, far away from damp London.
Pional
Pional, or Miguel Barros, is a Madrid-based singer, producer, and remix artist. OFF audiences and fans of tasteful house music might remember him performing alongside John Talabot. Pional has also toured with and opened for The xx. At long last, Young Turks - the home label of both his musical patrons - have asked Barros to sign on too. Last year saw the release of his solo EP Invisible/Amenaza, which showcased the Spanish artist's pop sensibilities. Give it a listen and just watch your feet start moving. Pional will be taking Jacques Greene's place in the festival lineup.
Cerebral Ballzy
They claim to be a tribute to Black Flag and pizza, speed metal, and canned beer. That last inspiration isn't so far-fetched: they even titled one of their songs "Underage Drink Forever." The first one isn't that hard to believe, either. Their debut record is filled with love for 1980s hardcore punk, something that caught the attention of Keith Morris, who invited Cerebral Ballzy to come on tour with his band OFF! (great name, by the way). The NYC band's second record, titled Jaded & Faded, comes out in 2014. Dave Sitek himself took over production duties on the album.
Lee Bains III
Bains is your typical boy from Alabamy. He fell in love with rock and decided to learn the basics of signing by joining a church choir. Then he set off for college in New York and got a taste of something bigger. But that didn't go to his head. After graduation, Bains went home and started a band that plays traditional Southern rock in the vein of the Dexateens, Drive-by Truckers, and Bob Seger. There's no posing here: it's just in his Alabama blood.

Line up so far
Belle & Sebastian, Neutral Milk Hotel, Deafheaven, Glenn Branca and his orchestra, Chelsea Wolfe, Michael Rother presenting the music of NEU! and Harmonia, Fuck Buttons, James Holden (live), 65daysofstatic, Perfume Genius, Oranssi Pazuzu, Jacques Greene (live), Perfect Pussy, The Jesus and Mary Chain, The Notwist, Gary Wilson and the Blind Dates, Los Campesinos, Black Lips, Pional, Cerebral Ballzy, Lee Bains III and many more to be announced