OFF Festival Katowice 2014: Final line up and stages announced!
In response to numerous requests, they've decided to launch a new stage at the OFF Festival. This is the final line up and all the stages.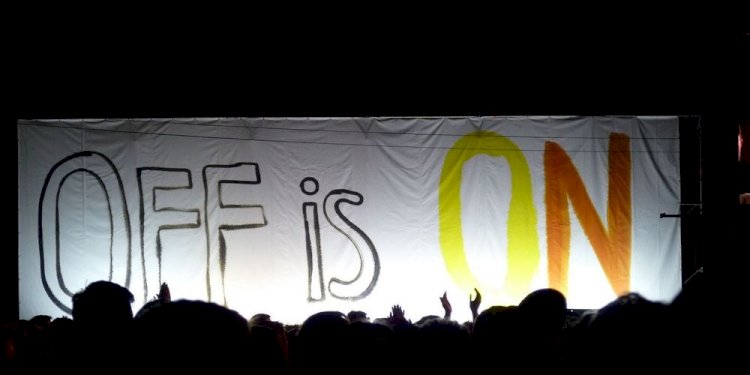 Photo by OFF Festival
In response to numerous requests, they've decided to launch a new stage at the OFF Festival! Starting at 8 pm every day, outstanding DJs will be spinning records for you at the MasterCard Zone. Friday night belongs to the Horse Meat Disco Collective; on Saturday the honors go to house master Fort Romeau, with Jonathan Toubin taking over on Sunday.
Horse Meat Disco
According to the club music website Resident Advisor, London has this quartet to thank for its recent disco renaissance. Jim Stanton, James Hillard, Luke Howard, and Severino make up a collective whose inspirations come from the genre's golden era as well as from contemporary productions. Whether they're spinning African funk, sentimental Italo, or Belle Epoque-style French pop, this British group always makes light, dancey, and tasteful. It's no surprise that they've become a permanent feature at fashion parties. We're sure they'll lend us a bit of flair, too.
Fort Romeau
This deep house is shiny, elegant, and warm. It can really get you moving, though compositions this airy are also pretty relaxing. Mike Greene, the man behind the name Fort Romeau, deftly borrows sounds from the glory days of Chicago house, emphasizing its extraordinary sensuality, a skill he no doubt picked up during his stint as a keyboard player for La Roux. No wonder this English producer has quickly built himself a reputation among club music labels - his records have been released by the likes of 100% Silk and Ghostly International.
Jonathan Toubin
This man's collection of 45s is a veritable encyclopedia of American pop-culture. The New York Times rightfully noted that few other DJs are as appreciative of American pop history. The man behind legendary parties such as New York Night Train, Dance-Off, and Sound Clap started off in rock and punk-rock. When he moved on to DJing, he collaborated with such bands as Sonic Youth and Butthole Surfers, before expanding into the realm of soul, r'n'b, and 50s and 60s rock'n'roll, and falling down the rabbit hole - along with thongs of followers. Village Voice critis raved that by going so far back in time, Toubin had revolutionized the New York party scene. Time has proved them wrong: New York City is just too small for Toubin.
As every year we are recommend you to invest some time in exploring a strong and colourful Polish scene. This year's representation at OFF Festival will take you from jazz to electronic music, from children's songs to black metal.
Firstly, you should check the music created by the person responsible for the artistic shape of the festival. Just a few months after the release of his debut solo album, our artistic director - Artur Rojek will be performing at the OFF Festival. Composed with the help of Bartosz Dziedzic the tracks are further proof of this musician's broad artistic horizons. Składam się z ciągłych powtórzeń is a collection of personal songs that echo the complex indie rock arrangements of Arcade Fire along with the electronic trips you'd expect from Thom Yorke.
There will be an interesting Western element to one of the performances by the Warsaw-based band. As you might remember a few years ago Beck Hansen rediscovered a format that brought music to thousands of homes but is now all but forgotten. Decades ago, sheet music could become a true bestseller. These musings led to the release of the "album" titled Song Reader, published exclusively in paper form. Song Reader must be performed in order to be heard. Warszawska Orkiestra Rozrywkowa - a diverse collective with a rotating lineup of vocalists - has accepted the challenge. The sounds of the vibraphone, lap steel guitar, pastel-sounding keyboards, and many other instruments will introduce you to a Beck album you've probably never heard.
If you're looking for something radical you must follow Thaw. Even though it's unclear who they are or what they look like. Their faces are obscured by hoods on promotional photos and at live shows, and the musicians don't even reveal their first and last names. But none of that actually matters, because Thaw's music stands on its own - both on their record, released by Avantgarde Music, and at their live shows, where the influence of black metal, industrial, ambient, and Sunn O)))-inspired drones converges into one massive wall of sound that will carry away even the heaviest fans of good and different music.
ATP@OFF 31st of July 2014 (Thursday)
Hipnoza Jazz Club
20.30-21.00 Adam Repucha
21.30-22.30 Amen Dunes
23.00-00.00 Dean Wareham
Kino Rialto
18.30-19.00 Normal Echo
19.30-20.30 Dirty Beaches
21.00-22.00 Tuxedomoon
Kosciol Parafia Ewangelicko-Augsburska)
22.30-23.00 Eugeniusz Rudnik
23.30-00.30 Earth
Kato ul. Mariacka 13
19.00-20.00 Artur Rojek (OFF Festival Katowice)
20.15-21.15 Barry Hogan (ATP)
21.30-22.30 Fra Soler (Primavera Sound)
1st of August 2014 (Friday)
mBank Stage
15:00-15:30 Admiration Is For Poets
16:10-16:55 The Dumplings
17:50-18:40 Los Compesinos!
19:40-20:40 Kobiety graja "Kobiety"
21:50-23:00 Orchestra De Poly Rythmo De Cotonou
00:10-01:30 Neutral Milk Hotel
Forest Stage
15:35-16:05 Anthony Chorale
17:00-17:45 Cerebral Ballzy
18:45-19:35 Inkwizycja
20:45-21:45 The Black Lips
23:05-00:05 Michael Rother performs the music of NEU! And Harmonia
01:35-02:35 Holden Live
Experimental Stage (dedicated to SUB POP)
15:35-16:05 Wild Books
17:00-17:45 Kaseciarz
18:45-19:35 Lyla Foy
20:45-21:45 clipping
23:05-00:05 Protomartyr
01:35-02:35 Wolf Eyes
03:00-04:15 Rose Windows
Trojka Stage
15:00-15:30 Bulbwires
16:10-16:55 Lee Bains III
17:50-18:40 Tribute To Jerzy Milian
19:40-20:40 Perfume Genius
21:50-23:00 Oranssi Pazuzu
00:10-01:10 John Wizards
02:35-03:45 L.I.E.S. Showcase: Jahiliya Fields
Experimental Stage (dedicated to SUB POP)
15:35-16:05 Wild Books
17:00-17:45 Kaseciarz
18:45-19:35 Lyla Foy
20:45-21:45 clipping
23:05-00:05 Protomartyr
01:35-02:35 Wolf Eyes
03:00-04:15 Rose Windows
MasterCard Zone
20:00-01:00 Horse Meat Disco
2nd August of 2014 (Saturday)
mBank Stage
15:00-15:30 Neon Romance
16:10-16:55 Pictorial Candi
17:50-18:40 Zeus
19:40-20:40 Deafheaven
21:50-23:00 The Notwist
00:10-01:30 The Jesus And Mary Chain
Forest Stage
15:35-16:05 L.A.S.
17:00-17:45 Xenia Rubinos
18:45-19:35 Variete
20:45-21:45 Chelsea Wolfe
23:05-00:05 Noon
01:35-02:35 Pional
Trojka Stage
15:00-15:30 Bobby The Unicorn
16:10-16:55 Jerzy Igor
17:50-18:40 Hookworms
19:40-20:40 Mister D
21:50-23:00 Bo Ningen
00:10-01:10 Le1f
02:35-03:45 L.I.E.S. Showcase: Ron Morelli
Experimental stage (Oskar Kolberg Tribute)
15:35-16:05 Same Suki
17:00-17:45 Kapela Brodów
18:45-19:35 Dakhabrakha
20:45-21:45 Frank Fairfield
23:05-00:05 Jerusalem in my heart
01:35-02:35 Karpaty Magiczne
03:00-04:15 Mark Ernestus and Jeri Jeri
MasterCard Zone
20:00-01:00 Fort Romeau
3rd of August 2014 (Sunday)
mBank Stage
15:00-15:30 Die Flöte
16:10-16:55 Thaw
17:50-18:40 Jonathan Wilson
9:40-20:40 Warszawska Orkierstra Rozrywkowa gra "Song reader" Becka
21:45-22:55 Slowdive
00:15-01:30 Belle And Sebastian
Forest Stage
15:35-16:05 Ebola Ape + Bools
17:00-17:45 Perfect Pussy
8:45-19:35 Król
20:45-21:45 Andrew WK
23:00-00:10 Fuck Buttons
01:35-02:35 The Range
Trójka Stage
15:00-15:30 Patric The Pan
16:10-16:55 Eric Shoves Them In His Pockets
17:50-18:40 Merkabah
19:40-20:40 Artur Rojek
21:50-23:00 Gary Wilson And The Blind Dates
00:10-01:10 65daysofstatic
02:35-03:45 L.I.E.S. Showcase: Svengalisghost
Experimental Stage (curated by Glenn Branca)
15:35-16:05 Hatti Vatti
17:00-17:45 Stefan Wesolowski
18:45-19:35 Evan Zaporyn
20:45-21:45 Nissenemondai
23:05-00:05 Glenn Branca
01:35-02:35 The Paranoid Critical Revolution
03:00-04:15 Etienne Jaumet
MasterCard Zone
20:00-01:00 Jonathan Toubin