Positivus Festival is back for 2014
Positivus Festival complete with international chart toppers and underground emerging talent set in the idyllic holiday location of Salacgriva, Latvia.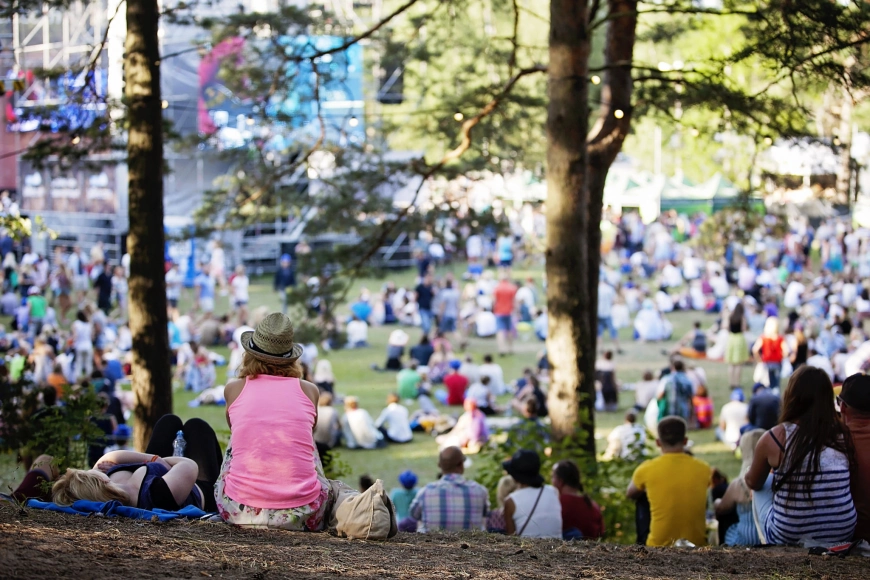 Photo by Inga Plume
Positivus Festival is a hidden gem in the Baltic States located in the picturesque coastal town of Salacgriva in Latvia. Taking place from 18th to 20th of July 2014, the festival brings a rich diversity of international chart toppers and underground emerging talent to the idyllic holiday location surrounded by woodland offering festival goers a variety of activities and plenty to explore across the three-day event. This years line-up boasts acts including; Kraftwerk, Bastille, Ellie Goulding, Elbow, Daughter, Junip, AlunaGeorge, The Kooks, Of Montrea, The 1975, Laura Mvula and many more!
Besides the music program or while you favorite band isn't playing, you can stop for a drink at a beautiful beachside bar overlooking the Baltic Sea, have a rest at one of many lounge areas located in festival site, chillout in a hammock in the woods or get busy in the entertainment zone, on the central street of the festival.
Positivus Festival is renowned for it's chilled out and relaxed vibe and offers a variety of activities for festival goers in the beautiful woodland surroundings. The Fashion Market is brimming with a wide variety of modern designer and vintage clothing, footwear, original accessories, stylish headwear and other artsy items, made in Latvia or in the neighbouring countries. The Cinema Tent offers festival visitors an inspiring program with the best films from the Baltic states and abroad, showing a wide variety of life stories from all around the world.  The Food Court serves up a wide range of local and organic food. One of the new catering areas will be furnished as a cosy safe harbour, with a menu designed for raw and slow food enthusiasts, as well as vegetarians; the other area will be US trailer park themed, with speedy services and a vast variety of meals for every taste.  The festival is also child friendly with the Kids Island hosting a variety of fun and exciting activities professional caretakers and teachers will supply them with safe, friendly and exciting activities for each day.
It that isn't enough the festival even has it's own Post Office with it's own postcode LV-4099, enabling visitors to send their belongings to the campsite before the festival and back home after, thus making travelling that much easier.
Positivus Festival was also recognised in the 2013 European Festival Awards being a finalist in the categories for 'Best European Festival Line Up' and 'Best Medium Sized Festival'.  The 8th edition will take place from 18th to 20th of July 2014.
Line-Up So Far
Kraftwerk, Bastille, Ellie Goulding, Elbow, The Kooks, The 1975, Daughter, Laura Mvula, Junip, Temples, Anna Calvi, Of Montreal, Mo, You Me At Six, Future islands, AlunaGeorge, NONONO, Chet Faker, Kid Karate, Birth Of Joy, King Charles, Pompeya, FM Belfast, And So I Watch You From Afar