Rave on Snow 2019
The name says it all. You're going to be partying to electronic music on the slopes of Austria's Saalbach-Hinterglemm ski resort.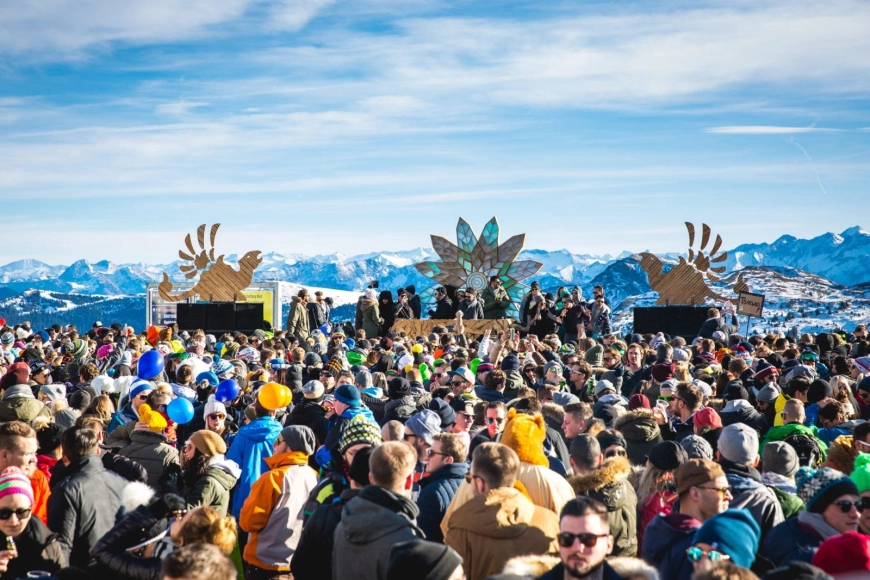 Photo by Good Bye
This event has been taking place for over two decades so be prepared to meet some seriously good times and catch some world-class DJs under the snowy skies of December.
RaveOnSnow is an annual electronic music winter festival, which takes place in the Austrian Alps. Since 1993 RaveOnSnow has brought some of the best names in the business to the town of Saalbach.
You can expect various styles of electronic music, performed at multiple in- and outdoor venues. One of the highlights of the festival is the Gipfel Party, which takes place on the peak of the Schattberg mountain, 2000m above sea level.
During the daytime there's over 200km of ski/snowboard runs to explore, and by night the whole village is transformed into a vibrant festival ground, surrounded by snow covered mountains. Rave on!

When 12th-15th of December 2019
Where Skicircus Saalbach Hinterglemm, Eberhartweg 308, 5753 Saalbach, Austria

Lineup
Butch / AKA AKA / Moonbootica / Format:B / Karotte / Anna Reusch / Magdalena / Gheist / Juliet Sikora / Chris Wood / Meat / Tom Zeta / Marius Lehnert / Padre El Ferenco / Pan-Pot / Marek Hemmann / Felix Kröcher / Matthias Tanzmann / Pleasurekraft / Mathias Kaden / Pappenheimer / Christian Smith / Kerstin Eden / Nick Curly / Marco Bailey / Cuartero / Bill Patrick / Tobi Neumann / Zenker Brothers / Daniel Stefanik / Christian Burkhardt / Animal Trainer / Domenic D'Agnelli / Chris Di Perri / Guido Schneider / Timo Maas / Joyhauser / Luna City Express / David Jach / The Reason Y / Julietta / Iris Menza / Alexander Aurel / Steffen Deux / Dan Drastic / Christian Prommer / Marius Lehnert / Annett Gapstream / Crazy Sonic / Alecante / Dennes Deen / Bodo / Sith Aka Verleger / Tonio Barrientos / Cambis / Matthew Art / Padre El Ferenco / Bernhard Jakob / Phacid / Sandy Dae / Martin Freudentanz / Karsten Breitkopf / Audioleptika / Tech & Schwefel / Danny Murano / Variance / Genji Yoshida / Haeppy Van Mazn / Michael Nowak / Adio F / Dj Shipe / Marcello / Damian Roxx / Kristof Grandits / KALUA / Leo Stussy / Alphasheep / Dee Rider / Mighty Mottl