Rave on Snow 2020
The name says it all. You're going to be partying to electronic music on the slopes of Austria's Saalbach-Hinterglemm ski resort. This event has been cancelled due to COVID-19.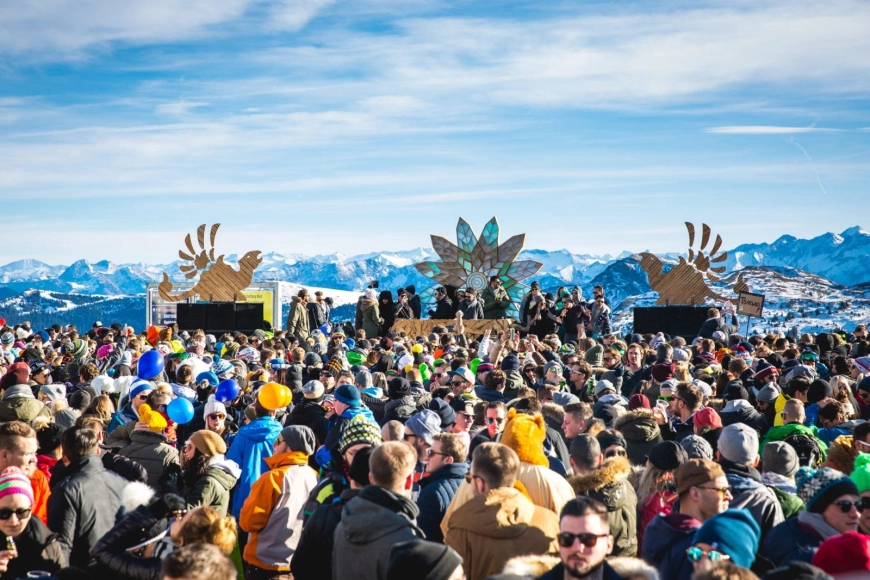 Photo by Good Bye
From the organizer:
Dear RaveOnSnow friends,
We are so sorry, but with a heavy heart, we have to cancel this year's RaveOnSnow. There was a meeting last week in Vienna on the subject of "Openings & Events" with the tourism associations and health authorities. It became clear then, that the small window of opportunity to realize our event had closed. The measures that have been put into place simply make RaveOnSnow impossible. More than that, the health of all our friends and fellow RaveOnSnow-ers is our absolute top priority.
If you have purchased a ticket, we can offer you a full refund or you may use your ticket(s) for RaveOnSnow 2021. In the next few days, we will contact all ticket purchasers via email with the next steps. We are deeply saddened that after 27 years we have to cancel the festival this winter.
But, we are already looking forward to RaveOnSnow 2021 and having an unforgettable party then.
Hope to see you all next year!
About the festival
This event has been taking place for over two decades so be prepared to meet some seriously good times and catch some world-class DJs under the snowy skies of December.
RaveOnSnow is an annual electronic music winter festival, which takes place in the Austrian Alps. Since 1993 RaveOnSnow has brought some of the best names in the business to the town of Saalbach.
You can expect various styles of electronic music, performed at multiple in- and outdoor venues. One of the highlights of the festival is the Gipfel Party, which takes place at the peak of the Schattberg mountain, 2000m above sea level.
During the daytime, there are over 200km of ski/snowboard runs to explore, and by night the whole village is transformed into a vibrant festival ground, surrounded by snow-covered mountains. Rave on!

When 10-13th December 2020
Where Saalbach Hinterglemm, Austria
Lineup
To be announced