Sónar Barcelona 2020
The Sónar Festival and Expo in Barcelona in June 2020 has been cancelled due to the global COVID-19 crisis.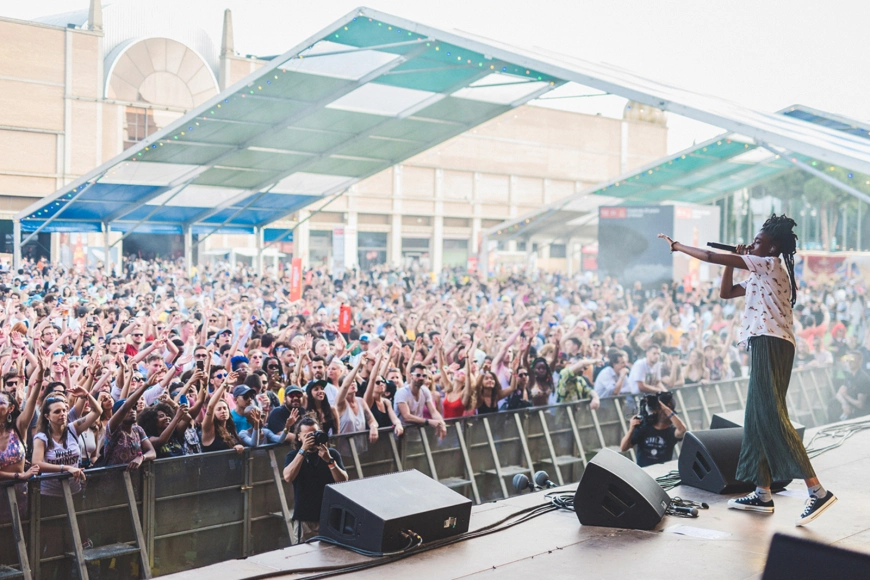 Photo by Fernando Schlaepfer/Sónar
From the organizer
Sónar regrets to announce that due to the global crisis deriving from the COVID-19 pandemic, the 2020 editions of Sónar Barcelona and Sónar+D will not be able to take place and have been postponed until 2021.
After carefully examining all of the alternatives and closely following the official guidelines, this decision has been reached as the only possible way to safeguard the health and wellbeing of all our festivalgoers, artists and teams.
The 27th edition of Sónar Barcelona, and the 9th Sónar+D congress will now take place on the 17, 18 and 19 of June 2021, in the venues of Fira Montjuïc de Barcelona and Fira Gran Via de L'Hospitalet.
Sónar is already working closely with the artists, speakers and partners in order to reschedule in 2021 the majority of shows and activities that all of us were looking forward to this year.
We'd also like to extend our thanks to you all, for your patience and understanding over the past weeks, and to reassure you of our absolute commitment to ticket holders. All Ticket or Delegate Pass buyers will be contacted directly via email on May 19, with information on the benefits created for those who wish to carry them over for the new dates, or, for those unable to attend, how to claim a refund.
About Sónar
Since 2002, Sonar has put on more than 50 shows around the world from North America to Asia to South America. The flagship event in Barcelona embodies the event at its core - to be the "pulse of the current electronic landscape". With its unique format and ever-changing style, Sonar continues to redefine the standard showcase festival.
Created in 1994, Sónar is a pioneering cultural event with a unique format and content. It's first-class reputation as a leading reference for international festivals is thanks to it's attention in curation, combining a playful nature, the avant-garde, and experimentation with newest trends in dance and electronic music.

Lineup
Afrojuice195 / Airaboi / AJ Tracey / Alina Pash / ANNA / Arca / Avalon Emerson / B1N0 / Badsista / Battles / Batu / The Black Madonna / THE BLAZE / Califato ¾ / Carl Cox / Carles Viarnès & Alba G. Corral / Channel Tres / Charlotte de Witte / The Chemical Brothers / Chenta Tsai - BaoBae / Chico Blanco / Conducta / Critical Soundsystem / Dave / Dead Normal / DESPACIO (James Murphy + 2manydjs) / Dj Marcelle / Another Nice Mess / DJ Python / DJohnston / Egosex / Eric Prydz / ETM / Folamour / Gela / Giant Swan / Headie One / Helena Hauff / Hidrogenesse / Howling / Ikram Bouloum / Ivy Barkakati / James Murphy / Jayda G / Job Jobse / Joy Orbison / Juicy Bae / Jyoty / Kaydy Cain presenta Salsa Dura / Kelman Duran / KINK / Koreless / La Fleur / Laurent Garnier / Lechuga Zafiro / Lindstrøm / Lost Souls of Saturn / Lous and The Yakuza / Lucient / Manara / Maria Arnal i Marcel Bagés / Max Cooper - Yearning for The Infinite / MBODJ / Mc Yallah & Debmaster / Midland & Shanti Celeste / Miret / Morad / Ms Nina / Mura Masa / Nara Is Neus / Nihiloxica / Niño de Elche / Nu Guinea Live Band / Or:la / People You May Know / Pixel De Stael / Polo & Pan / Princess Nokia / Project Pablo / Reinier Zonneveld (Live) / Reykjavik606 / Richie Hawtin / Rojuu / Royce Rolo / Ryoichi Kurokawa - Subassemblies / Sama' / Sega Bodega / Skee Mask / Telefon Tel Aviv / TNGHT / Tomm¥ €a$h / Venus X / Virginie / Wesphere / Âme / 2manydjs