Saint Laser EP by Anna Lann
London-based, Tel Aviv via Latvia artist Anna Lann brings a globe-spanning set of thought-provoking influences to her powerful new techno EP.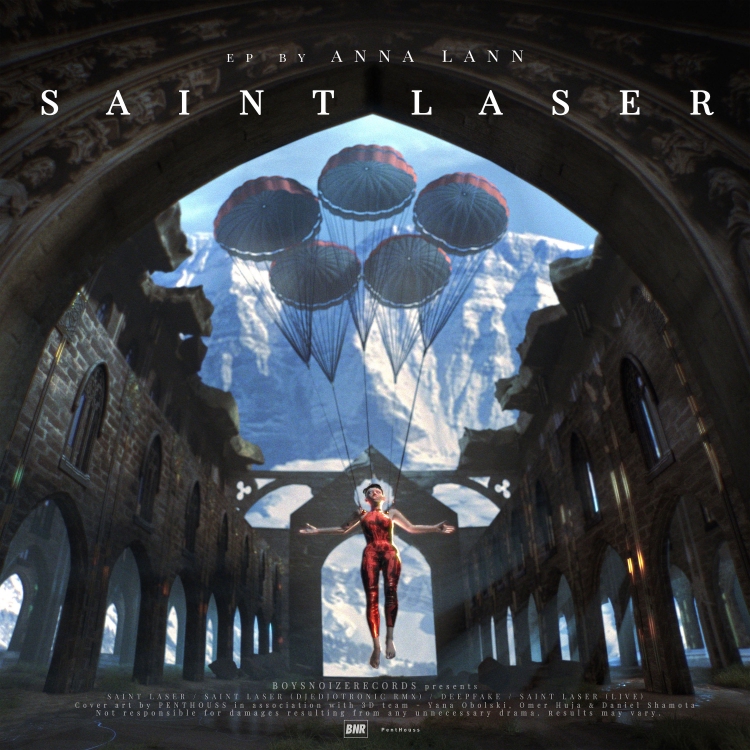 Art by Boysnoize Records
Anna Lann works in various mediums including sound design, visuals, and performance in both fine art and commercial contexts as well as making music. Her experimental, interplanetary sound is surreal yet captivating, bold yet elegant. And while the digital age has facilitated the kind of boundless practice Lann embodies, ever-expanding possibilities come from ever-encroaching technologies. Nothing expresses this fraught relationship between machines and humanity as well as Detroit-influenced techno, making it the perfect vehicle for Lann to explore here.
The fantastic title track "Saint Laser" was imagined during the time Lann lived in Paris. When navigating the city, her GPS would mispronounce the St. Lazare metro station as "Saint Laser" which drew attention to the mistranslations that become encoded in the AI-driven meta-layer of our reality. The track itself is tremendously huge, cinematic, pulsing into a stuttering snare-driven, a slowly rising climax that reaches in delirious fashion to never-ending heights. The brilliant "Deep Fake" trades the expansiveness of that opener for analog menace with an EBM arpeggio bassline, again featuring Lann's heavily processed Sprechgesang vocals to make for a fresh organic-synthetic hybrid sound. Boysnoize regular and ever unconventional innovator Djedjotronic lends a cold touch to his superb remix of "Saint Laser", and a live version that offers a different perspective is also included.
These are fascinating tracks that not only will work in the club space, but also come with layers of commentary on the state of our modern technological world.
Anna Lann - Saint Laser EP
Release Date April 2021
Label Boysnoize Records
Tracklist
1. Saint Laser
2. Saint Laser (Djedjotronic Remix)
3. Deepfake
4. Saint Laser (Live)