Snowbombing Festival reveals Arctic Disco line-ups
Snowbombing Festival reveals the world-class acts set to perform at their iconic Arctic Disco. Skrillex, MK, Carl Cox, and Idris Elba will all perform at the breathtaking igloo on the mountain top.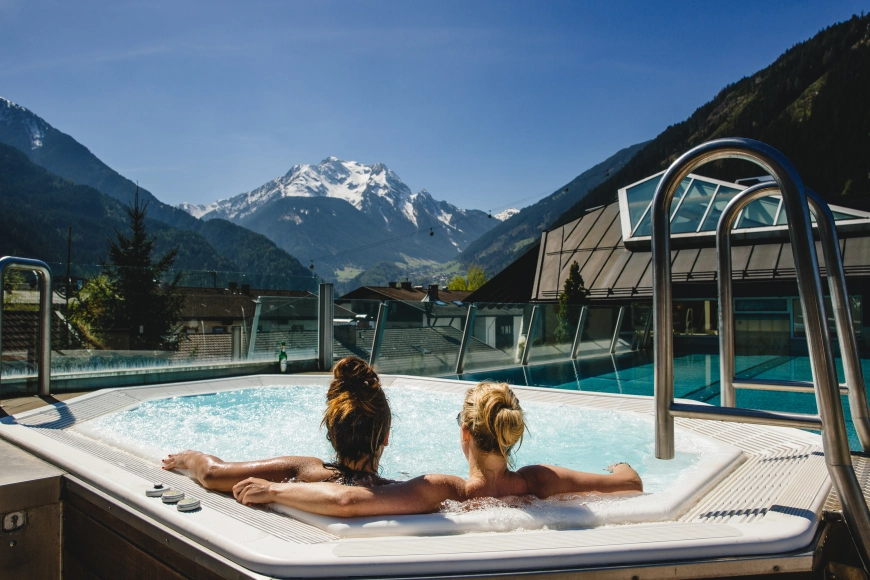 Photo by Danny North
Now in its sixteenth year, Snowbombing is Europe's largest, longest standing and most unique snow and music festival, taking place from 6th-11th April 2015, in the picturesque alpine alcove of Mayrhofen, Austria. This year, Snowbombing 2015 will host over 100 world class acts playing in unique venues along with over 80 parties across the week.
Snowbombing prides itself on its unique music venues, and The Arctic Disco is nothing short of magical. Sat on a plateau high above the village of Mayrhofen, The Arctic Disco gives revelers the chance to see world-renowned, headline artists in an intimate setting, as the igloo holds just 300 people and is located 6,000 feet above sea level. Expect roaring bonfires, the clearest stars, warm cocktails, stunning mountain views, luxurious fur lined seats and three bars sculptured entirely from ice and snow!
One of the acts playing this famous ice stage is world renowned DJ and producer Skrillex, one of global dance music's biggest icons. The multi award winning Dubstep superstar is sure to bring some sub-zero sub-bass at 6,000 feet, not to be missed!
Also confirmed is actor and DJ Idris Elba who, with a bag packed with RnB, house and party classics is set to get Snowbombing ravers dancing. Idris will be closing The Arctic Disco on the final night, with an explosive one and a half hour set that is sure to sell out fast.
Having once hailed Snowbombing as the "highlight" of his year, Carl Cox will also be spinning an incredibly rare funk and soul set, giving techno a night off and indulging his passion for funk. Not to be seen anywhere else!
Marc Kinchen, better known simply as MK, will be making his first debut at The Arctic Disco, gifting festival goers with his trademark blend of classic House cuts and dancefloor anthems.
Returning from a one-year hiatus, Snowbombing is also delighted to announce the return of one of the festival's most popular traditional Austrian venues, the Bruck 'N Stadl. When dusk falls this pretty, wooden lodge, transforms into what can only be described as an alpine Berghain, housing some of the world's greatest DJs for one week only.
Snowbombing has also expanded it's non-music offering for 2015. Indeedy Musical Bingo, who swap numbers for music, will be making their big debut. Snowbombing has also announced Lunchtime Disco, a daytime dance party with international DJs that will be popping up at random all over the festival and Shockaoke, which will see competitors battle it out to win, but they will be doing more than just singing.
Snowbombers can also expect; Ski Lift and Cable Car Raves, Ski Lift Speed Dating, Ski Lift Karaoke, Hula Hooping, Sound of Music Sing A Long, Craft of Daft and much more.
With mountains as its backdrop and natural boundary, Snowbombing provides some of the most awe inspiring festival venues in the world. Alongside The Arctic Disco, the festival also plays host to an enchanted forest complete with lasers, cosy alpine lodges and medieval barns all posing as Austria's answer to Fabric.
So if dancing the night away to groundbreaking music acts against a picturesque alpine backdrop, relaxing in a luxury spa or just skiing on the fresh white snow appeals, then join Snowbombing for what's set to be the most incredible year yet.
Arctic Disco line-up
Monday 6th April Skrillex
Tuesday 7th April Carl Cox (Funk & Soul)
Wednesday 8th April MK
Saturday 11th April Idris Elba

Complete lineup
2manyDJs (DJ Set) / Artifact / A-Skillz / Alex Metric / Alex Niggemann / Ame / Anja Schneider / Artwork / Benjamin Damage / Breakage / Cadenza / Cassy / Carl Craig / Citizen / Crazy P (DJ Set) / Cristoph / The Cuban Brothers / Damian Lazarus / Danny Byrd / David Rodigan Mbe / Dense & Pika / Disciples / Doorly / Doc Daneeka / Dubfire / Dub Pistols / Eats Everything / Ejeca / Erol Alkan / Etherwood / Ewan Pearson / Friction / Gotsome / Guti (Live) / Hannah Wants / Heidi / Henrik Schwarz / Hot Since 82 / Huxley / Idris Elba / Jack Beats / Jackmaster / James Zabiela / Jennifer Cardini / Job Jobse / Justin Martin / Konstantin Sibold / Krafty Kuts / Lele Sacchi / Lewis Boardman / Loadstar / London Elektricity / Marc Roberts / Maribou State / The Martinez Brothers / Mefjus / Metrik / Mj Cole / Modeselektor / My Nu Leng / North Base / Nu:tone / Oliver Dollar / Paul Woolford / Pbr Streetgang / Pedestrian / Ralf Kollmann / Randall / Re.You / Rodriguez Jr / Ruede Hagelstein / Sam Divine / Sasse / Seb Chew / Secondcity / Shy Fx / Sonny Fodera / Stanton Warriors / Tensnake / Tiefschwarz / Toddla T / Tom Demac / T.Williams / Venum Sound / Wayward / Waze & Odyssey / Will Saul / Yousef / Aartekt / Apexape / Capulet / Ceri / Daddy Nature / Derek Martin / DJ Chewy / Ed Norris / Gaz Ultra / Jacques Adda / Jamie Roy / Laurie Neil / Mark Craven / Matt Morey / Max Powa / Mr Doris / Oli Hackett / Rafael Da Cruz / Ryan Monaghan / Sebastian Spring / Stamina Mc / Stephan Porter / Steve Lynam / The Farm Yardies / Tonn Piper / Tippa / Wax Wreckaz