Soundwave Festival Croatia announces eclectic full lineup
Soundwave Festival Croatia celebrates its fifth year in the sun, making a bold statement and revealing a lineup that showcases influential, inspired, and innovative artists and DJs from the UK and around the world.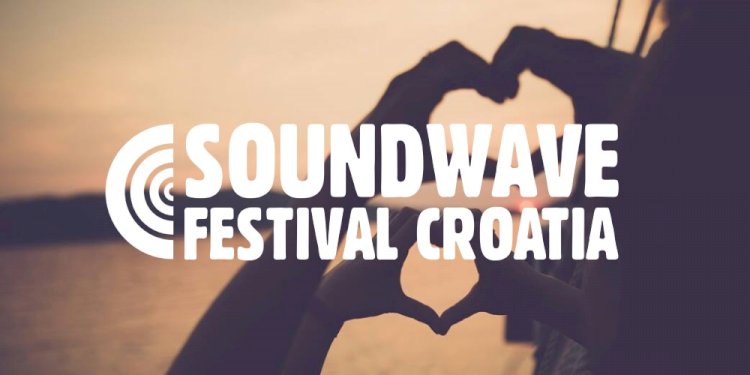 Photo by Soundwave Festival
Soundwave Festival Croatia celebrates its fifth year in the sun, making a bold statement and revealing a lineup that showcases influential, inspired and innovative artists and DJs from the UK and around the world. Bringing together a list of artists to surpass all that has gone before - from stunning live acts to truly talented producers and the very best sound systems - Soundwave Festival Croatia hosts three stages (and a boat) over five days, as revellers are invited to enjoy the finest boutique festival experience in the ultimate sun-drenched location.
Having curated an intelligent selection of acts that sit at the forefront of their genres, Soundwave Festival Croatia is proud to announce it plays host to Bonobo, DOOM (MF DOOM), Quantic live with Ondatropica and Robert Glasper Experiment as their very special guests. Joining them on the bill are Alice Russell, Ghostpoet, Submotion Orchestra, Riot Jazz, Craig Charles, Com Truise and Channel One Sound System and a whole list of others, making a trip to Soundwave a priority stop on the summer music festival calendar.
Soundwave Festival Croatia's prominent live aspect ensures a veritable feast of first-class performers. Bonobo brings forward-thinking electronica, with a full live band promising an unforgettable experience. His is one of UK electronica's most enigmatic live shows. Creating a new sound, Quantic live with Ondatropica reinterprets the tropical musical heritage of Columbia; cheerful collision of styles, there's everything here from cumbia dance to salsa, and the rhythms of gaita, ska, hip hop, dub and, most of all, fun.
MF DOOM is one of the biggest names in hip hop with slick beats, eccentric wordplay and a unique, sample-heavy production style that is recognised the world over. Robert Glasper Experiment explores fusions of jazz and hip hop. Boldly staking out new musical territory, they transcend genres, drawing from jazz, hip-hop, R&B and rock.
Alice Russell - a British favourite and a true talent who has collaborated with the likes of Fatboy Slim and Mr Scruff - ranges from samba-infused Latin with tinges of uplifting jazz and funk to a more laidback, hip hop and soul-inspired sound. Mercury Prize nominee Ghostpoet brings his innovative mix of rap and musicality - exciting things from this singer and producer who promises a new album in the spring. Submotion Orchestra is one of the UK's most interesting and original outfits; drawing upon dubstep, soul, ambient electronica, jazz and dub, their unique music is atmospheric but firmly rooted.
Channel One Soundsystem add the roots and culture flavour from one of the best soundsystems in the world. Com Truise is a true synth enthusiast - a musician whose striking album 'Galactic Melt' received praise across the board. Craig Charles - whose Funk and Soul show on BBC Radio 6 Music has a cult following - brings a soulful vibe.
Anchorsong, Kidkanevil and Kelpe deliver their mind-blowing displays of live electronic music including atmospheric favourites, reinterpreted dubstep and slick hip hop samples. Riot Jazz go big and brass. Eliphino had an amazing year in 2012 dabbling in the UK house and garage sound, which he brings to Soundwave. High-energy DJ sets come from the likes of Tempo Clash favourite Om Unit, underground name Kutmah, the inimitable Flako and Jonny Dub, who will get the party moving as they lay down their experimental beats. Acclaimed British hip hop producer Mr Thing joins the fray. And quality hip hop productions will be championed by the likes of the hotly tipped New Yorker Homeboy Sandman and Chicago-via-Detroit sample-smith Tall Black Guy. Hoya:Hoya's Jon K and Illum Sphere make an appearance, as do soul and funk connoisseurs Scrimshire, and futuristic sampler Memory9. Ghostly's prolific one-to-watch Shigeto brings his ambient and explorational production, and Ninja Tune's dynamic duo Letherette bring their dreamy beats and unique blend of hip hop, R&B and soulful house live. And there's lots more.
Soundwave Festival Croatia is the place to let loose, unwind and party to quality hip hop, reggae, soul and funk this summer. Set in a secret cove at the heart of Tisno and right on the Dalmatian Coast of Croatia, The Garden is an utterly beautiful backdrop to one of Europe's finest boutique festivals. Whether you stay on-site, camp close to the action, or hire an apartment or villa - the site is just a short walk from the small town of Tisno in this idyllic part of Croatia, which sits between Zadar and Split airports. Flights are available from all over the UK and Europe, and transfers will be available to book throughout the festival.
Line-up
Bonobo (live) / DOOM (MF DOOM) / Quantic & Ondatropica / Robert Glasper Experiment / Alice Russell / Ghostpoet / Submotion Orchestra / Riot Jazz / Craig Charles / Channel One Sound System / Com Truise / Mr Thing & Yungun / Homeboy Sandman / Kutmah / Eliphino / Kidkanevil / Kelpe / Om Unit / Anchorsong / Tall Black Guy / fLako / Shigeto / Letherette (live) / Andrew Ashong / Illum Sphere / Cheeba / Jonny Dub / Jon K / Scrimshire / Memory9 / Dom Servini / Gilla / Tamara Saul / Catching Flies / New York Brass Band / Capitol 1212 / Nubiyan Twist / Phrixus Phrixus / So Flute / Renegade Brass Band / Solko / Phoria / Bedmo Disco / Boba Fatt / General Roots / Soundcrash / Ninja Tune / Tru Thoughts / Tempo Clash / Hoya:Hoya / Rebel Soul / DOP / Wah Wah 45s / Hyponik / Work It / First Word / Hit&Run / Shadow City / Sounddhism / La Raffinerie / Well Founded Crew / MIMM / Holy Dubs / Shake / Gretchen / Astro Jazz / Taste The Difference / Tuesday Club / Keep Up