The Thick And Thin Of It All by Basic Operators
Barcelona's Galaktika Records delivers The Thick And Thin Of It All featuring The Lazarus Man from Basic Operators, backed with Acumen and Alexander Maier remixes.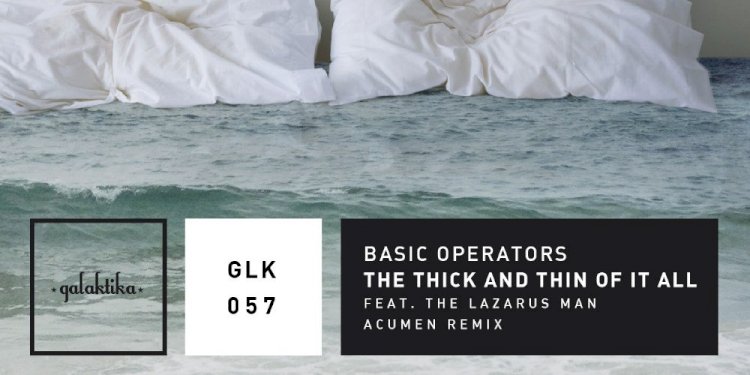 Photo by Galaktika Records
Basic Operators is the new collaborative guise of Thomas Sari and Alexander Maier, the latter has been involved in the industry for quite some time now with material on Moodmusic, Buzzin Fly, Hypercolour and Fresh Meat in his back catalogue. Here we see the pairs newly formed alias return to the Galaktika imprint with a new single featuring The Lazarus Man, following their remix of Cosmic Cowboys 'Hydra' on the label earlier in the year.
The original mix of 'The Thick And Thin Of It All' kicks off the single and sees Basic Operators deliver an ethereal slice of deep house fuelled by airy pad melodies, organic rhythms, glitched out synth tones and a bumpy bass hook, all running alongside The Lazarusman's poetic vocal stylings. A 'Dub' versions follows and as the name suggest strips things back to it's rawer, instrumental form.
On the latter half of the release French producer Acumen reshapes 'The Thick And Thin Of It All' into a bass heavy, stripped back number with growling sub bass tones, loose and evolving rhythms and tripped out snippets of the original's vocal lines.
One half of Basic Operators, Alexander Maier, then offers up his own interpretation of things, offering up a smoothly progressive take on things with drawn out melodies and shuffling drums to close the package.
Basic Operators - The Thick And Thin Of It All
Release date 20th July 2015
Label Galaktika Records
Tracklist
1. The Thick And Thin Of It All feat. The Lazarus Man (Original Mix)
2. The Thick And Thin Of It All feat. The Lazarus Man (Dub)
3. The Thick And Thin Of It All feat. The Lazarus Man (Acumen Remix)
4. The Thick And Thin Of It All feat. The Lazarus Man (Alexander Maier Remix)