Trauma & Oppression by Alexander Church
Tireless electronic innovator Alexander Church returns to his Life Scripts label with four more thought-provoking club tracks.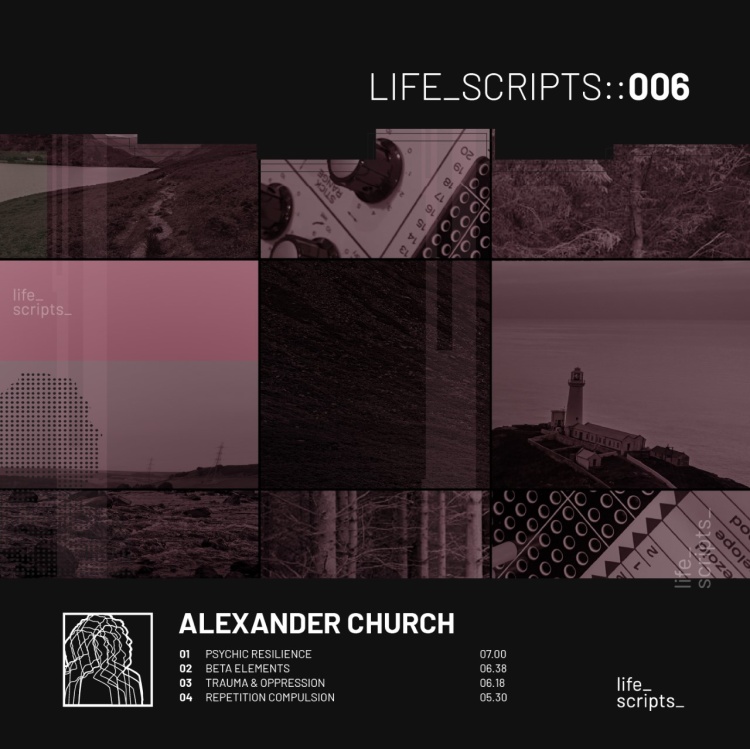 Art by Life Scripts
The Bradford-based Church is a prolific producer who also runs the Configurations of Self and produces with James Welsh as Common Factors. He has been a key voice in the underground since the nineties and is noted for his exquisite sound designs and adventurous spirit. The music he makes is conceptual and deeply emotive. Elements of breakbeat, techno, and ambient all infuse the grooves, and this sixth EP is another widescreen exploration.
Meticulously crafted opener "Psychic Resilience" takes you deep into a world of sci-fi electronics, where wispy pads and deft synths add detail to a driving breakbeat. Lush harmonies keep your head amongst the stars, then the excellent "Beta Elements" get your body moving with loose, jostling beats. Majestic synths bring warmth and soul as they spiral about the mix to a hypnotic affect.
There's an alluring tension to "Trauma & Oppression" with its crunchy breaks and more edgy chord sequences. It's a track with subtle hints of 90s nostalgia but all reworked through Church's unique lens. The final track "Repetitive Compulsion" is the most dramatic of them all. Booming drums and a cavernous groove are filled with brilliantly dystopian energy that will hit definitively on the dance floor.
Alexander Church - Trauma & Oppression
Release Date November 2021
Label Life Scripts
Tracklist
1. Psychic Resilience
2. Beta Elements
3. Trauma & Oppression
4. Repetitive Compulsion