10 reasons to go to Snowbombing Festival
Snowbombing, Europe's biggest snow and music festival, will host its 15th edition from 7-12 April 2014 in the village of Mayrhofen, Austria. Here are 10 reasons you should go Snowbombing this year!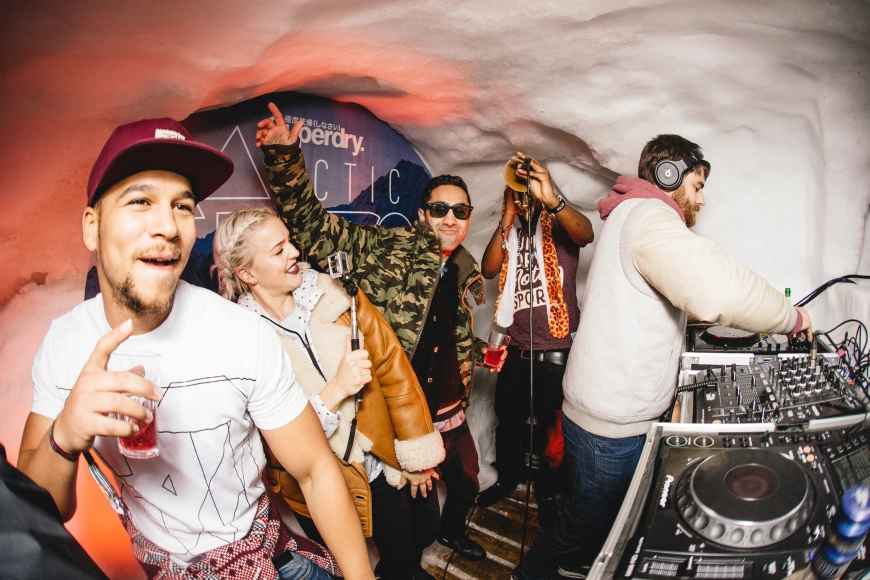 Photo by Snowbombing Festival
Snowbombing is home to some of the world's most unique party venues. From the Arctic Disco - an ice cool Igloo made entirely of snow - to a 300 year old lumberjack mountain retreat and a beautiful enchanted forest, it's a one-of-a-kind festival that has to be seen to be believed. With warm spring rays, 5* spas and pure powdery perfection all topped with a world class selection of live acts and DJs, it's a festival experience of a lifetime. Still need some persuading? Here's 10 reasons you should go snowbombing this year!
Party In An Igloo
Have you ever partied so close to the stars that you can almost touch them? Danced the night away inside a real igloo complete with two dance areas, a chill out space fitted with luxurious fur rugs and three bars sculptured entirely from ice and snow (including the furniture)? Sipped hot gluhwein and cocktails whilst world class DJs spin tunes to get your snow boots thumping? No? Welcome to the Snowbombing Arctic Disco! A truly once-in-a-lifetime experience. This years acts include Dusky, Nina Kraviz, Radio Slave and a rare Soul and Funk set from Carl Cox.
Fancy Dress
Ever seen 6,000 people all dressed in Lederhosen and Tyrolean hats with gigantic moustaches? Well, here's your chance… Ever since the phrase Snowbombing was first uttered, fancy dress has been a crucial ingredient of what makes it what it is. Snowbombing's inherent silliness and sense of fun has seen some of the greatest party get-ups of all time! This years fancy dress fun begins at the Street Party. Every year Snowbombing parks a stadium rock Funktion 1 P.A system on the Mayrhofen village music pavilion and invites the entire population of Mayrhofen to join the party. Taking Mayrhofen back to its roots, this year's Street Party has been given the theme of 'Leder-Hoe Down!'.
World-Class Line-Up
The 2014 edition sees Snowbombing celebrate their 15th birthday with their biggest line-up to date. Those famous fire-starters The Prodigy will take over The Forest stage, treating Snowbombers to a high octane, adrenaline-fueled performance like no other! The Chemical Brothers are also set to unleash their Block Rockin' Beats on the 'Greatest Show on Snow' with their debut DJ set at Snowbombing. Other acts for 2014 include Bicep, Rudimental, Foxes, Pete Tong, The Martinez, Four Tet, Daniel Avery, Daphni, James Zabiela, Scuba and Chase & Status.
Full Line up
The Prodigy / The Chemical Brothers (Dj Set) / Carl Cox B2b Nic Fanciulli / Chase & Status (Live) / Groove Armada (Dj Set) / Four Tet (Live) / Rudimental (Dj Set) / Subfocus (Dj Set) / Aartekt (Flux) / Alex Niggemann / Anja Schneider / Anna Wall / Anthony Naples / Apex Ape / Artifact / Artwork / A-Skills / B-Traits / Ben & Lex / Ben Klock / Ben Pearce / Bicep / Breach / Breakage / Citizen / Clean Bandit (Live) / The Cuban Brothers / Daphni / Daniel Avery / David Rodigan Mbe / David Sachon / Dense & Pika (Live) / Dismantle / Dj Mostwanted (Hypercat) / Dj Yoda / Dub Pistols (Live) / Dusky / Dj Ez / Ed Ed / Ed Norris / Ejeca / El Row Djs / Face Djs / Foxes /  George Fitzgerald / Gerd Jansen / Get Low Cartel / Gorgon City / Hannah Wants / The Heatwave / Horse Meat Disco / Hospitality Presents High Contrast, London Elektricity, S.P.Y , Logistics , Etherwood, Dynamite Mc & Wrec / Hot Since 82 / Huxley / Jacques Adda (Flux) / Jaguar Skills / Jakwob / James Zabiela / Jaymo & Andy George /  J.G. Wilkes (Optimo) / Joris Voorn / Kidnap Kid / Kolsch (Dj Set)  / Kove / Krafty Kuts / Kyntro / Lele Saachi (Radio 2) / Marc Roberts / Maribou State / Mario Basanov / The Martinez Brothers / Mat Playford /  Midland / Mistajam / Mosca / Musika Djs / My New Leng / New York Transit Authority / Nina Kraviz / North Base / Oli Hackett (Drop The Mustard) / Paul Woolford / Pbr Streetgang / Pedestrian / Pete Tong / Pfeffa / Plump Djs / Psychemagik / Radio Slave / Rafael Da Cruz (Faze) / Raffle Mafia / Rattus Rattus / Reeps One / Redlight / Rodriguez Jr (Live) / Roman Flugel / Roska / Route 94 / Sangers / Sasse / Scuba / Shy Fx / Skream / Smash Hifi / Special Request / Toby One /tom Odell / Unkle Dugs / Will Saul / Will Tramp / Yousef
Snow!
Snowbombing is blessed with stunning alpine peaks and panoramic snow covered plateaus. With 625 KM's of pistes, Austria's steepest piste, a 3286m glacier AND an award-winning terrain park, Snowbombing offers pure powdery perfection. One of the best runs in Mayrhofen is the Ahorn Abfart, a life-affirming descent of 3,700 feet in around 15 mins! With sunny and treeless summit slopes, broad carving areas and challengingly steep north slopes, fantastic deep snow areas with cornices, humps, powder runs and fun slopes there is something here for everybody. If you're new to the snow you can book in for some lessons or just watch the pros at work at the Ride & Seek ski & snowboard competition which takes place throughout the week.
Go Back In Time At The Backcountry Party
The Backcountry Party, one of Snowbombing's best loved rave institutions takes place in a lumberjack's mountain retreat in "the forgotten valley" of Floitental. Party revellers are taken by coach through the centre of a mountain (in a 2 km long tunnel) to a 300 year old Tristenbachalm: a converted traditional wooden farmstead, complete with sound system, split level bars and of course... decks! This year's Backcountry Parties play host to Mayrhofen mischief-makers Austrian Filter House (Artwork & Ben Westbeech) and We Love… residents PBR Streetgang. Outside on the terrace, traditional musicians play and fires will keep you warm under the stars, as plucky souls Challenge the Lumberjack in a series of tree-trunk lifting and log-carrying tests of strength, spirit and sobriety.
Relax
Mayrhofen plays host to one of the most luxurious spas in the Austrian mountains, from roof top hot tubs offering panoramic views of the gasp-inducing peaks, to balmy Moroccan-themed pools and relaxation rooms. Snowbombing is the only festival where you can enjoy 7 different types of sauna before watching the headline band! This serene 'ying' to the 'yang' side of Snowbombing, creates a balance for Snowbombers, many of whom make full use of a rejuvenating selection of detox/pre-tox treatments or simply chill out and meditate in the Zen garden, soaking up the sunshine and catching up on the gossip...
Mountain Top Music
With a BRIT Award for the Critic's Choice category and a number one album under his belt, Tom Odell has gone from strength to strength. He will perform twice at the festival, including a once in a lifetime, mountaintop set outside the Superdry Arctic Disco. Expect crisp alpine air, breathtaking views and lots of wow factor as Tom Odell treats an intimate number of guests to a show like no other.  
Mud-Free Festival Fun
Whisper it very softly, but the fact is that Snowbombing is one of the only festivals in the world that comes with a 'mud free guarantee', in fact we promise the only mud we'll see is the one the beautician puts on your face! Which other festival offers you the chance to enjoy a rooftop Jacuzzi rather than a draughty tent or cold shower block?
Austrian Filter House
If you've been to Snowbombing before, or indeed know someone that has, you will know about the legend of Austrian Filter House. A musical movement inspired by the magic of the mountains and executed by two mysterious characters in lederhosen, the notorious native Tyrolean's Arnold Schnitzelfinger and Hurtzall Zebeats (Artwork & Ben Westbeech). On Monday 7th April, for the first time in Austrian history, they will be occupying the Backcountry party and bringing their 'beatz' with them.
Eddie The Eagle
Despite finishing last in both the 70m and 90m ski jump events, Eddie 'the Eagle' Edwards captured the hearts of the world at the 1988 winter Olympics. This year Eddie will return to snowbombing to give snowbombers his tips for the slopes at a special Q&A session on the mountain. A competition to win lessons with Eddie will be live soon and available to all ticket holders.
If for any reason you are still in doubt, check out the highlights video from Snowbombing 2013 below.