Amsterdam Dance Event 2016
The ultimate annual business and inspiration platform in the field of electronic music with over 2.000 artists playing at 450 different events at 115 different venues. This is the Amsterdam Dance Event 2016.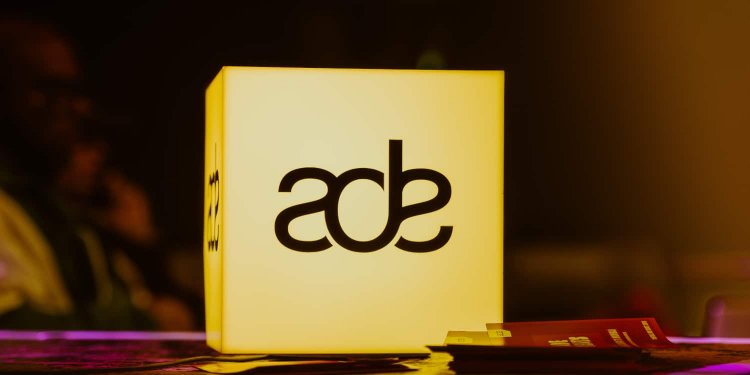 Photo by Jordy Brada
Music
ADE's renowned festival makes Amsterdam one of the busiest and most inspiring clubbing cities in the world. The program features the biggest artists on the planet alongside fresh, upcoming talent and everything in between, covering the whole spectrum of electronic sub-genres.
Pop-up
A secret rave in the Red Light district, a rooftop party with a killer view, or a temporary studio in a location you probably wouldn't expect. From listening sessions, hidden performances and temporary screenings to pop-up stores and hop-on party buses, ADE Playground's pop-up program has it all.
Gear
Leading brands from across the globe showcase their latest gear and software at ADE Playground. Join one of the many workshops and masterclasses, get your hands on the latest high-end production gear at the Gear Testlab, or watch an exclusive product demonstration by one of your musical heroes.
Art
Enjoy the fine selection of dance-related art exhibitions, shows and installations with can be found across the city. ADE's Art program fixes itself in the here-and-now as it takes a wider look at craftsmanship and design and how they integrate into today's modern dance music climate.
Film
Including red carpet world premieres, in-depth documentaries on global nightlife, and short films on clubbing capitals around the world. During ADE you can enjoy a wide variety of film screenings at multiple cinemas and theatres throughout the city.
Talks
The ADE MusicTalks series offers you a unique opportunity to be in direct contact with your musical heroes. Get inspired by some of the biggest names in the music industry as they share their experiences, passion, and music.

Lineup
A Skillz / Acid Arab / Adam Beyer / Adam Port / Afrobot / Agent Orange / Agoria / Alan Fitzpatrick / Alan King / Alek Soltirov / Aleks / Alesso / Alex Millet / Alex Orion / Alex Politi / Alex Seda / Alexander Madness / Ame / Andhim / &me / Anna Tur / Anri / Anthony Rother / Apollonia / Apparat / Applescal / Arjun Vagale / Arjuna / Art Department / Ary / Atb / Atmozfearz / Aurora Halal / Axel Boman / Axwell / B Traits / Bakermat / Bambounou / Bart Skils / Baunder / Beatiful Swimmers / Bedroom Culture / Behrouz / Ben Eidani / Ben Klock / Ben Sims / Benny Camaro / Benny Rodrigues / Benoit And Sergio / Black Legend Project / Blawan / Bog / Brent Roozendaal / Brutuzz / Bryan Kearney / Butch / Cairo Liberation Front / Cari Lekebusch / Carlo Lio / Cassy / Cesan Bucek / Cesar Vinzent / Chorris / Chosen Few / Chris Montana / Christian Hornbostel / Christian Smith / Cid Inc / Cleric / Cluett / Cosmic Gate / Coyu / Craig David / Crash Course In Science / Crystal Castles / Cuebrick / D. Ramirez / Dale Middleton / Damon Grey / Dan Rubell / Dance With The Dead / Daniel Avery / Daniel Miller / Dannic / Danny Fontana / Danny Morales / Dano / Darin Epsilon / Dasha Rush / Dave Clarke / David Guetta / David Mayer / David Moreno / David Penn / David Tort / Davide Fiorese / Davide Squillace / Dbn / Dennis Ferrer / Derrick May / Digitalism / Dixon / Dj Deep / Dj Jacko / Dj Q / Dj Spen / Dj Tennis / Dmitry Molosh / Dobble / Dosem / Drumcell / Dubfire / DVS1 / Echonomist / Edwin / Egbert / El Fuerte / Electronic Youth / Ellen Allien / Emka / Enzo Siragusa / Estroe / Extrawelt / Fabio Ferro / Fabrizio Marra / Fango / Fedde Le Grand / Federico Scavo / Ferry Corsten / Flaming Cactus / Floorplan / Franco Moiraghi / Francois K / Gaiser / Gan Gah / Gardens Of God / Gary Beck / Gary Caos / George Adi / Gerd Janson / Gidge / Gigi Frassanito / Graziano Raffa / Gregor Salto / Gregor Tresher / Guilio Bonaccio / Haeken / Hansol / Hardwell / Hector Couto / Henrik Schwarz / Henry Saiz / Hernan Cattaneo / Honey Soundsystem / Hot Since 82 / Huxley / Ian Green / Ida Engberg / Industrialyzer / Ivan De Rossi / Jabo / Jackmaster / James Ruskin / James Zabiela / Jamie Jones / Jane Fitz / Jay Lumen / Jeff Mills / Jennifer Cardini / Jeroen Search / Jewel Kid / Johanna Schneider / John Askew / John Khan / John Morales / John Ocallaghan / Joris Voorn / Joseph Capriati / Julian Jeweil / Karenn / Karotte / Katya Gabeli / Kenny Carpenter / Kettenkarussell / Kiasmos / Kill The Buzz / Kink / Kjeld Langeveld / Klaide / Kobosil / Koen Groeneveld / Kolsch / Konstantin / Kraak And Smaak / Krafty Kuts / Kurtis Blow / La Grena / Laurent Garnier / Lenny Fontana / Leo Lippolis / Leon Vynehall / Leroy Styles / Less Hate / Leviathan / Levon Vincent / Lilly Palmer / Liquid Soul / Loco Dice / Lonya / Louie Vega / Lucien Foort / Luigi Madonna / Luis Radio / Luke Slater / Maceo Plex / Magda / Manny Ward / Marc Marzenit / Marcel Dettmann / Marcel Fengler / Marco Bailey / Marco Resmann / Margaret Dygas / Margot / Markantonio / Markem / Martin Garrix / Mason / Massimiliano Pagliara / Matador / Mathew Jonson / Matrixmann / Matthew Jonson / Matthias Tanzmann / Mau Rixio / Max Cooper / Max Lean / Maya Jane Coles / Menno De Jong / Michael Gray / Michael Murica / Michel De Hey / Mike Ivy / Mike Lachman / Mike Risk / Mike Storm / Mind Against / Mispoes / Mollono.Bass / Monika Kiss / Monika Kruse / Monolink / Natural Flow / Neil Pierce / Niall Redmond / Nick Karsten / Nick Warren / Nicky Romero / Nicole Moudaber / Nihil Young / Nova Caza / Nuno Dos Santos / Octave One / Okocea / Olaf Stuut / Olivier Schories / Onno / Onur Ozer / Oscar Mulero / Pablo Martinez / Pablo Nouvelle / Pan Pot / Paolo Barbato / Paolo Zampetti / Patrice Baumel / Patrick Topping / Paul Hazendonk / Paul Jockey / Paul Oakenfold / Pedro Aguiar / Peppe Citarella / Phil Asher / Planetary Assault Systems / Plastik Funk / Pleasurekraft / Pole Folder / Polynation / Praia Del Sol / Pray For More / Prins Thomas / Puis / Ramiro Lopez / Raresh / Recondite / Red Axes / Reza Athar / Reznik / Ricardo Villalobos / Richard Earnshaw / Richie Hawtin / Richy Ahmed / Riva Starr / Rob Boskamp / Robert Hood / Roberto Sarcona / Robin Schulz / Rod / Rodhad / Rogier / Roman Flugel / Roman Poncet / Roog / Roy El Kei / Ryan Marciano / Ryan Paris / Sante / Scuba / Sean Tyas / Sebastian Ingrosso / Sebastian Mullaert / Seth Troxler / Severed Heads / Shall Ocin / Sharam Jey / Shermanology / Shifted / Shinedoe / Shmlss / Sian / Sick Individuals / Sidney Charles / Simon Dunmore / Sinisa Tamamovic / Skream / Slam / Solar / Solee / Sonic Union / Soul Clap / Stas Drive / Stefan Kuipers / Stephan Bodzin / Steve Bug / Steve Mulder / Steve Rachmad / Stonebridge / Sunnery James / Suzanne Kraft / Sven Väth / Swindle / Tahko / Tale Of Us / Tash / Terri B / Terry Hunter / Thara Bergen / The Advent / The Big Bird Cage / The Chainsmokers / The Martinez Brothers / The Sandman / Thomas Newson / Tiesto / Tim Sweeney / Timmy Regisford / Tom Hades / Tommy Four Seven / Tommy Kornuijt / Tonka / Tracy Hamlin / Truncate / Tyler Rouse / Vaal / Victor Simonelli / Wayne Williams / Wesley Roberts / Will Atkinson / Yung Internet / Zepherin Saint