Bianco & Rosso EP Part 1 & 2 by Psycho Weazel
Psycho Weazel takes us straight back to the 80s with their vintage synths and hair spray hairstyles on their superb, two-part Bianco & Rosso EP on Argent Sale.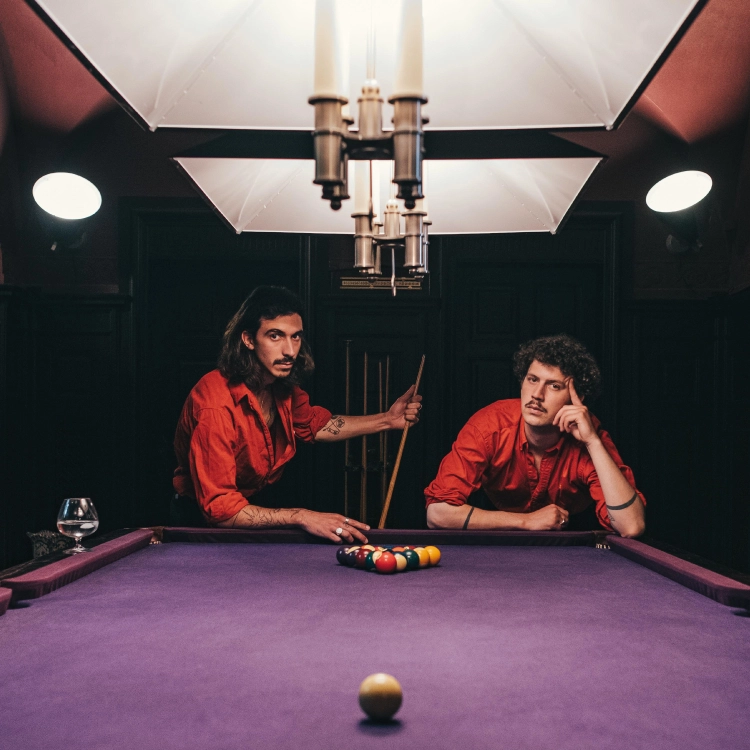 Photo by Argent Sale
The Psycho Weazel duo met when compiling playlists at summer camp as teenagers. They decided to work together and have never looked back since. The Swiss pair have released music on the likes of Correspondant, Sol Eterno, and various other labels and now land on Argent Sale. They use production techniques popular in the 80s such as glossy arpeggios, cowbells, and snare rolls while re-claiming earworm melodies from the era all served up with a fresh and polished sound. These new tracks are a bit like both sides of the same coin and include influences that shaped the duo's sound, namely indie dance, Italo, disco, cold wave, and EBM.
Opener "Disco Moon" immediately sets off on a strident retro disco groove with plenty of shiny arps and crunchy drum tumbles. The fantastic "Polarized" is a more slow and steamy cut with breathy female vocals and a rugged bassline overlaid with off-grid percussion. "Elettra" is then an exquisite eight-minute adventure to the stars on tinny drums and crashing perc while a rigid lead synth brings the color as it sprays about the mix. Sandford features on the "Gomina" track which is another dramatic and loose-limbed disco cut, this time with lashings of Italo melody and theatric drum work. The radio edit of this was already released on the 6th of May, while the extended mix features on the full EP and gives even more of a thrilling dance floor workout doused in disco dazzle.
"Chrome" opens with big throwback drum fills and the wiggling bass and catchy grooves sweep you off your feet while the withering sci-fi keys and cowbells all add detail to this lush groove. The magnificent "Lola" closes down with a fat bassline and widescreen disco sound that is packed with a charming personality.
These six tracks sound like the future of hedonist club music, 2022 style.
Psycho Weazel - Bianco & Rosso EP Part 1 & 2
Release Date May 2022
Label Argent Sale
Tracklist
Bianco EP
1. Disco Moon
2. Polarized
3. Elettra
Rosso EP
1. Gomina feat Sanford (Radio Edit)
2. Gomina feat Sanford (Extended Mix)
3. Chrome
4. Lola