Bruder EXP-6
The Bruder EXP-6 is something different, yet strikingly similar at the same time. A rugged off-road capable Australian-built caravan to escape in comfort with.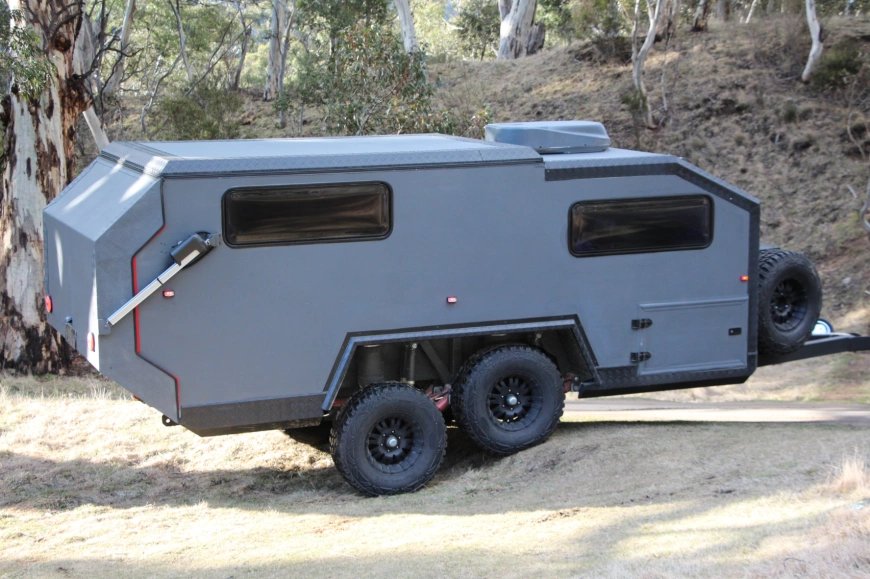 Photo by Bruder Expedition
Go Anywhere Capability
Weight distribution, balance, strength, and size are carefully measured during the design process, but nothing beats real-world testing in Australia's roughest and toughest terrain. With the press of a button, the Bruder EXP-6 can raise from sports mode into off-road mode even whilst on the fly. Our system allows you to enjoy the benefits of lesser wind drag during freeway use as well as the benefit of huge ground clearance off-road.
Designed to go anywhere your tow vehicle can, the EXP-6 wheel track can be altered to suit the tow vehicle for maximum efficiency in sandy conditions. Built to fit down tight and twisty off-road trails the EXP-6 body is also narrower than most tow vehicles, which increases efficiency and makes travel - in all conditions - easier.
A snorkel is also discreetly mounted to all EXP-6 trailers for pressurization in dusty conditions and a Warn rear winch is mounted at the rear of the EXP-6 and can be used to aid others in recovery. With the press of a button, the EXP-6 will level and transform itself into camping mode by electronically raising the rear into an instant awning and shelter. For over 7ft in the headroom, the roof will electronically lift.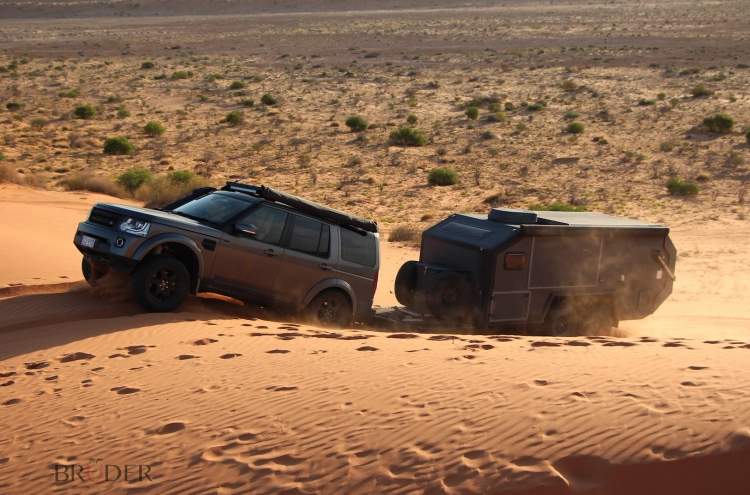 Efficient, Lightweight, Strong, And Safe
Up to 50% lighter than conventional constructions, the EXP-6 is also immensely strong. Developed from the ground up, the EXP-6 body cell is constructed by hand from German-manufactured composite material, a revolutionary step in modern off-road camper construction.
The chassis is capable of holding 11 times its own weight and comes standard with a Warn winch system and recovery points. Using rolled and tubed materials our chassis is also stronger than typical square box section designs and is completely airtight so no mud, sand, salt, or dirt can get inside.
The EXP-6's innovative design is further enhanced with body cell vibration matting and dual compression isolation mounts throughout separate and supports the body, significantly reducing the transfer of off-road vibrations.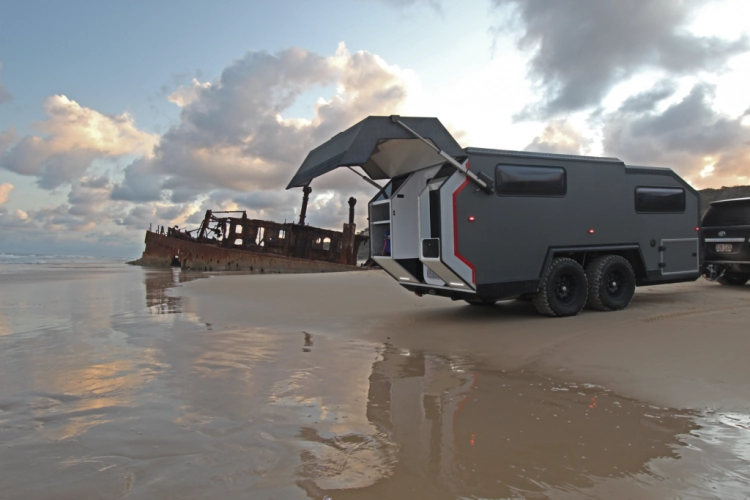 Extreme Versatility
The exterior of the EXP-6 is extremely versatile. It is designed to blend inside and outside living together seamlessly while maximizing space and shelter. With huge storage spaces as well as dedicated storage for smaller items, say goodbye to clutter and mess.
Its overall stance and dimensions are streamlined to produce less drag, at less than 2m wide the EXP-6 can fit down narrow tracks and trails as well as significantly increase efficiency and improve the fuel economy of the tow vehicle.
Escape In Comfort
The ease of use extends into the interior where every feature is systematically focused on making your camping experience a dream. The fully digital control display presents everything you need to know and keeps you up to date with the solar charge, battery condition, and draw.
LED lighting can be adjusted to suit your needs with courtesy, mood, and bright illumination available. Enjoy the outdoors in air-conditioned comfort or enjoy the winter snow with the self-regulating heating system.
If you want yours, then there is a 9-month waiting list...