by:Larm announces 2015 Jury's Selection
This year, for the first time the Jury also collaborated with a hip hop jury to select seven Norwegian Hip Hop acts for the Jury's selection, a result of Norway's burgeoning Hip-Hop scene.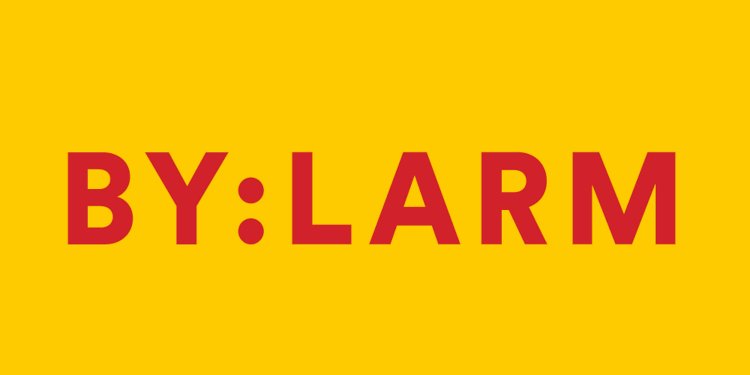 Photo by by:Larm
From March 4 to March 7, the very best of Nordic music scene will gather in the heart of Oslo for Norway's premiere music showcase festival by:Larm. Today, the festival announces the 2015 Jury's Selection artists.
Each year in October, a jury consisting of some of Norway's best trained ears (artists, journalists, label representatives etc.) convene at by:Larm's head office in Oslo to take on the difficult task of choosing which artists will be in the Jury's Selection. After listening to hundreds of demos, discussing, arguing and passionately fighting for their favorites, the 20 jurors select a group artists who really stand out from the crowd. These are all new, up-and-coming artists who are working towards a breakthrough.
This year, the jury has selected more artists in the genres hip hop and rap than ever before, a result of the burgeoning Norwegian Hip-Hop scene. In total, seven hip hop artists were selected by the main jury in collaboration with a hip hop jury. These acts include Kuuk, $ushi X Kobe and Unge Ferrari. The main jury also chose an additional 15 artists to play at by:Larm 2015 as the Jury's Selection, including Broen, Kimichi, Loveless and Palmface.
2015 Jury's Selection
BROEN
In an ocean of sameness, Broen is a little pioneer squid, adrift from the swarm, spraying it's musical propaganda like ink – part instinct, part natural defense – into obscure Norwegian musical waters. Each song is constructed around a singular concept, with discernible building blocks from hip-hop, spoken word, surf and West-African rhythms.
CHAIN WALLET
Meet Chain Wallet. The bittersweet 'Stuck In The Fall' is their first single, written and recorded in an old abandoned kindergarten, hidden somewhere on the outskirts of Bergen. The b-side, 'Same Place', explores the trio's shared musical influences and their lust for adventure in songwriting and riff-making, but on a much darker tip.
INGEBORG OKTOBER
19 years old, Ingeborg Oktober sings songs that sail gentle seas somewhere between singer/songwriter, maritime folk and poetic pop and all in her own dialect. She steers clear of the predictable, one-dimensional, self-piteous, diary scribblings that plague much contemporary pop: her music may be catchy, but it's not uncomplicated. It may, too, be beautiful, but it's not without resistance. And it may be young, but it's certainly not naive.
KEVZTA
Kevzta started of in the entertainment business as a dancer in Oslo, on stage with artists like Madcon, Karpe Diem, Nico & Vinz and many more. Today, he's grown to be a singer, song and poetry writer, dancer, actor and choreographer. His lyrics speak of hope, love & joy.
KIMICHI
Kim is one of Oslo's fresh, new disco kids. His music blends the origins of real French house vibes with the sound of artists like Crydamoure, Le Knight Club or early Bangalter. Kim keeps filter house alive in Oslo through the Diskorama collective, which includes prominent musicians such as Mathias Stubø, Ralph Myerz and Bendik Baksaas. For a long time, Kim has been one of Oslo's most hardworking DJs – now he's entering the music scene with a bag full of brand new Norwegian disco.
LOVELESS
After several years as prominent characters in each their end of the Norwegian music scene, Eirik Tillerli and Filip Kollsete established Loveless in late 2013. Being R&B and British club music lovers at heart, Filip and Eirik now hope to create the music they love – soulful music over rhythm and bass melodies.
LUGN
LUGN is a band from Oslo that plays alternative indie pop music full of contrasts, with a rich sound full of melodic vocal harmonies and driving rhythms. Their first single, "Mundane", was released in the spring of 2014.
MISS TATI
Miss Tati started her career as a back-up singer and has played with bands such as Datarock, Kakkmaddafakka, Superfamily and the rapper Store P – but now the time has come to do her own thing. Her next single, "Don't Let Go", will be released in January 2015, and the debut album is due out in March.
OMAR
After reaching the semi finals in the first season of The Voice in 2012, Omar focused on finding his own unique sound, combining soulful vocals with a clubby backdrop and workig with producers like Axel Carlson (Axxe) and Tailors. Inspired by Donny Hathaway, Brandy and Stevie Wonder, the soul aspect in his music was inevitable. But with a growing interest in the pop and club scene, a combination of these genres became a natural progression.
PALMFACE
The indie darlings from Aakra, on the Island of Karmoy, finally released their debut album, "Waste A Day", in October 2014. Palmface are genius songwriters who make irresistible power pop, inspired by bands like Pavement and Television. With a lyrical content that deals with teenage frustration in a calm and cool way, and sweet melodies to accompany its jangly sound, this refreshingly untidy coming-of-age album is a standout in the Norwegian music scene this year.
RESIRKULERT
Resirkulert is a young indie band from the North of Norway, known for their guitar based music and energetic live shows. Their debut EP will be released in the spring of 2015, and an album is set to be released in 2016.
RYTMEKLUBBEN
Rytmeklubben is a Norwegian live band, production-team and DJ-crew who make and play electronic music and are known for their innovative live shows. The collective began to cause quite a stir in the beginning of 2014, remixing new indie artists in Norway. They have also collaborated with the Swedish blog Discobelle to create a myriad of remixes which included Lykke Li, Craig David, Mariah Carey, Jeremih – the collection of remixes picked up over 150k plays and lead to the release of debut single "Seen".
SILJA SOL
Silja Sol speaks her mind. Her observations are direct, verbal and humorous. Her debut album, "På Hjertet", is a collection of spontaneous and immediate pop songs, with folk inspired melodies in a concise and punkish format. Released in October 2014, "På Hjertet" has garnered rave reviews from some of Norway's biggest newspapers.
SLUTFACE
Slutface from Stavanger makes dirty, fuzzy pop rock. Like an angrier version of the Wombats, or a more funky Savages, the band mixes influences from british pop rock and new wave, adds a slice of west coast garage rock, thereby becoming the perfect soundtrack to an angst-filled teenage life.
TELLEF RAABE
Tellef Raabe's unique combination of dark folk and weird pop, as well as his deep and rich voice, has attracted the attention of many over the past year. Having toured with his five-piece band this summer, his reputation as a live artist is growing steadily as well.
CEZINANDO
Cezinando is an 18-year-old rapper and producer from Oslo. He made his debut entering the Norwegian hip hop scene with the album "framtid:sanntid", following numerous guest appearances with well known Norwegian acts such as Jaa9 & OnklP, NastyKutt, Big Ice and Raggabalder. During the last three years he has built a solid fan base, and now he's set to release his second album "Multiskitzo".
IVAN AVE
Known for his jazzy sound and introspective lyrics, Ivan Ave is an established MC in the Norwegian hip hop scene. International listeners are now tuning in to his latest EP "Low Jams", produced by Stones Throw artist Mndsgn, described as "an enveloping headnodder that peppers irresistible grooves with vivid double-entendres and exists in the same elusive strata of true school perfection occupied by Nas' debut Illmatic LP."
KENNETH ENGEBRETSEN feat khat/hashish
Kenneth Engebretsen made waves in the Norwegian rap underground with his 2012 mixtape "Baksiden av medaljen", and the cult hit video "For Groruddalen", which quickly became something of an anthem for the east Oslo boroughs. Since then, Kenneth has established himself as a live force to be reckoned with, opening shows for Action Bronson and local rap royalty Lars Vaular and Tommy Tee. He is now set to release his full-length collaboration with production duo khat/hashish, who also doubles as DJs/"backing band" live.
KUUK
With dirty lyrics, dancers and crazy stage outfits, KUUK is an explosive, aggressive and confrontational live act, offering a dark and promiscuous insight into the minds of the two front girls. KUUK's live show was described by a critic as "Two mean girls playing bass fueled rap that has the power to incite riots should the mood change, live KUUK is as aggressive and confrontational as any punk band and I hope they stay that way".
MATS DAWG
Mats Dawg is a rap artist rooted in northern Norway, based in Bergen alongside fellow members of the indie label NMG/G-Huset (Lars Vaular, Store P, Jonas V etc.). His out-of-the-box lyrics and a wide vocal range has caught rap enthusiasts' ears for years. He's made a name for himself through mixtape releases and collaborations with label mates, as well as northern rappers like Joddski, Klish, Oter and RSP. The "Daogen" EP is his first solo release.
$USHI X KOBE
Onge $ushimane and Kobe-wan Kenobi joined infamous trap group Yoguttene on stage in 2014 for what was considered one of the highlights of the ?ya festival by international media. The rap music scene of Bergen has been an innovative force in Norwegian hip hop the last few years, and the sudden rise to regional fame of $ushi & Kobe, driven by energetic live performances and party enhancing trap songs, indicates that they are next in line. Dubbed «Norway's next big export», they have worked with producers such as Kvamkollektivet and Drippin.
UNGE FERRARI
Unge Ferrari, one of the most exciting Norwegian newcomers to look out for in 2015, grew up listening to everything from Craig David and Usher to G-Unit. With his music, he aims to take listeners high and far into space by combining futuristic 808-beats with melodic R&B in the intersection between hip hop and pop. His first project will be an upcoming EP in collaboration with JNSMSC/Soul-Division and producers Castiel, AxXe and Filip K.
Next week, we'll reveal the other 17 artists of the Jury's Selection 2015.