Elrow Vol. 4 mixed by Basement Jaxx & Richy Ahmed
After years of global success, party starters elrow have pioneered some of the world's craziest, most frantic, and awe-inspiring events, forging their genre-defining festivals as rightful cornerstones in electronic music culture.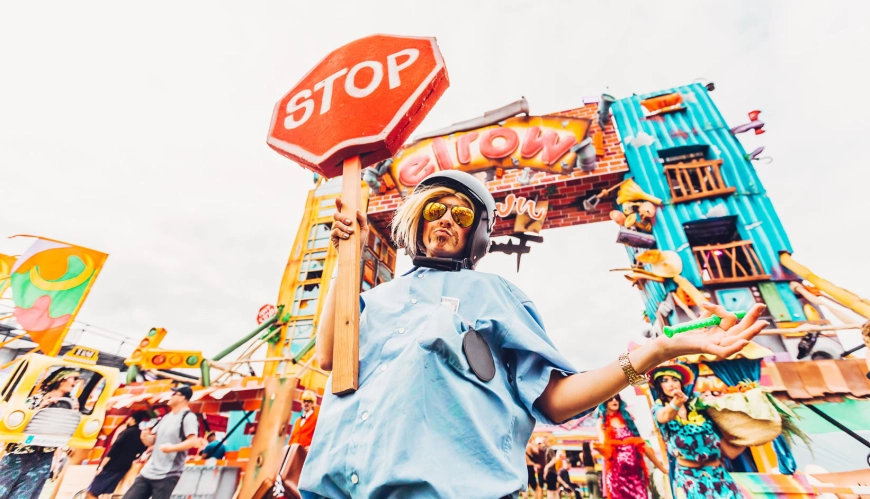 Photo by Elrow
The sheer magnitude of elrow's achievement is staggering, a total of 150 shows across 67 cities in 26 different countries to 2.3M attendees in 2019 alone, continuing to cement the festival's position as a global spectacle that is simply unrivaled.
Cr2 Records are thrilled to announce the forthcoming release of "elrow Vol. 4", the 2019 edition that features the best line-up yet, including the likes of Paco Osuna, Jansons, Mihalis Safras, Paul Woolford, and plenty more.
Coinciding with their headline set at Elrow Town in Amsterdam on 7th September, with two BRIT Awards, a Grammy, and a string of hit records to their name, dance music legends Basement Jaxx curate mix 1 of Vol. 4 which includes 2 brand new tracks plus 2 unreleased remixes of their biggest hits, adding their vibrant energy and festival vibe to the album.
Mix 2 is curated by Richy Ahmed, one of the biggest names in the global underground scene, a Dj who has spent years playing at the world's largest clubs and festivals including the likes of Glastonbury, DC10, Circo Loco, Watergate, and Burning Man, performing alongside the likes of Jamie Jones, Seth Troxler, Carl Cox, Joseph Capriati, and The Martinez Brothers. Richy supplies a class selection of underground house and techno grooves including his latest infectious cut "Acid Electronic", providing a perfect balance to Elrow Vol. 4 and a scintillating mix to complete the album.
Various Artists - elrow Vol. 4 mixed by Basement Jaxx & Richy Ahmed
Release Date September 2019
Label Cr2 Records
Tracklist
Basement Jaxx Mix:
1. Frank Nitty, J8man - La Noche (Harry Romero Extended Remix)
2. Basement Jaxx - Let's Start It Up (Say Mollie Mix)
3. Demuir - Rawness Beat 3
4. Basement Jaxx - Yodel Song (House Mix)
5. Marco Strous - LMAO
6. Basement Jaxx - Red Alert (Mihalis Safras Bass Remix)
7. Avision - Big Shot (Paco Osuna Remix)
8. Basement Jaxx - Where's Your Head At (Wh0 Remix)
9. Irregular Synth - Miles Away
10. Maddjazz - 303 Day
11. CPEN, Bluey - When You Say (Dub Mix)
12. Black V Neck - Mouth Music
13. Joeski - Everybody Come On
14. Basement Jaxx - Do Your Thing (Robbie Rivera Juicy Summer Mix)
15. Henrix & Celeda - The Underground (Ronnie Spiteri Remix Instrumental)
16. Behrouz, Squire - Honey On My Lips
Richy Ahmed Mix:
1. Djebali & Chris Stussy - Shades
2. Black Loops - NYC Dirty Talks
3. Joss Moog, Around 7 - Oasis
4. Seb Zito - We Need Love
5. Instinct - Pistol Whip
6. VONDA7, NRVVS - That's Right
7. Jansons - Boxed
8. Richy Ahmed - Acid Electronic
9. A&R - I Don't Care (Andy Daniel Myoozikk Remix)
10. Trevor Rockcliffe & Joe Brunning - Jack Back
11. Jansons & Senzala - Take Me Away
12. Paul Woolford - Mind Over Matter (Skylark Remix)
13. Tom Dunne - Gone
14. Traumer - Azure