Essay by Karol XVII & MB Valence
Get Physical Music family members Karol XVII & MB Valence unveil their stunning new album, Essay, this month.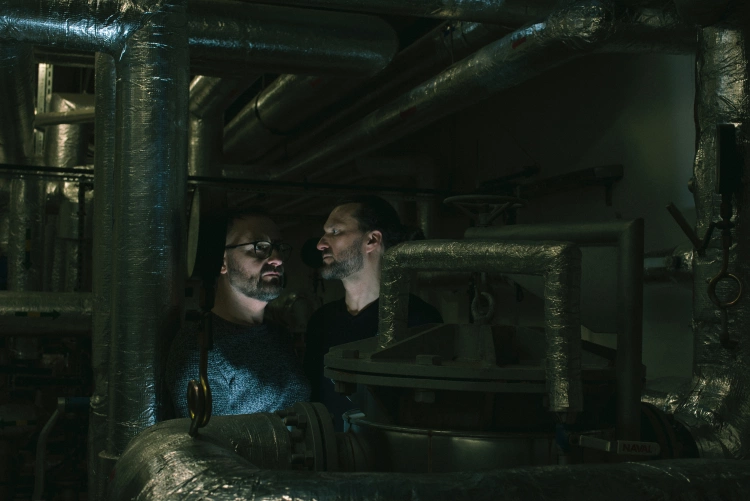 Photo by Get Physical Music
Polish pair Karol XVII & MB Valence have been a key part of the global dance scene for more than a decade. In that time, they have established their own Loco Records, been nominated as Best Deep House Artists at the Beatport Music Awards, and have continued to push the genre forwards. Drawing on their backgrounds as composers and sound engineers, the duo has put out plenty of singles on Get Physical and contributed to 2020's "Retrospective," but "Essay" is their boldest artistic statement to date.
The lovely atmosphere of "Old Memories" opens the album with dreamy ambiance and soothing breakbeats before "Aqua" sinks you into a vast and pillowy deep house groove. It's a gorgeous track detailed with delicate synths. The lead single 'Whispers' is another stylish and seductive track featuring Johannesburg native and vocalist Lazarusman, before Jono McCleery features on "Fool's Gold," a richly melodic and harmonic lullaby with vulnerable vocals.
Real late night tension defines "Echoes & The Beauty" (Jackspeare Interpretation) with its frazzled synths and mysterious rolling beats, while "Disharmony" is characterized by an uneasy, unsettling synth motifs that loop over more cavernous deep house drums. The fascinating album continues through the absorbing dub house and delicate pads of "Waterfall Drops." Another Jackspeare Interpretation, this time of "Sonus," makes for perfectly meditative and melancholic listening, and "Bang Bang" then layers soft shakers over big rubbery kicks while a sensuous vocal hangs in the air. The stunning "Jackspeare Theme" is nearly four minutes of suspensory cosmic ambiance and the album then plays out with the organic broken beats of "Digisong," electro-tinged future soul of "Universum" (Jackspeare Original Interpretation), and pensive synth craft of sublime closer "Humanity."
Karol XVII & MB Valence - Essay
Release Date February 2022
Label Get Physical Music
Tracklist
1. Old Memories (The Beginning Mix)
2. Karol XVII & MB Valence - Aqua (Album Edit)
3. 2022 Whispers (Album Retouch) feat. Lazarusman
4. Fool's Gold (Album Original Version) feat. Jono McCleery
5. Echoes & The Beauty (Jackspeare Interpretation)
6. Disharmony (Original Mix)
7. Waterfall Drops (The Last Update Mix)
8. Sonus (Jackspeare Original Interpretation)
9. Bang Bang (Back to 2013 Mix) feat. Keely Timlin
10. Jackspeare Theme (Album Version)
11. Digisong (Original Vision)
12. Universum (Jackspeare Original Interpretation)
13. Humanity (Album Final Cut)