Frankie Knuckles (1955-2014)
Frankie Knuckles sadly passed away last night at the age of 59. He was instrumental in the creation of House music in Chicago in the late 1980s and will forever be the Godfather of House Music. Rest in peace, Frankie.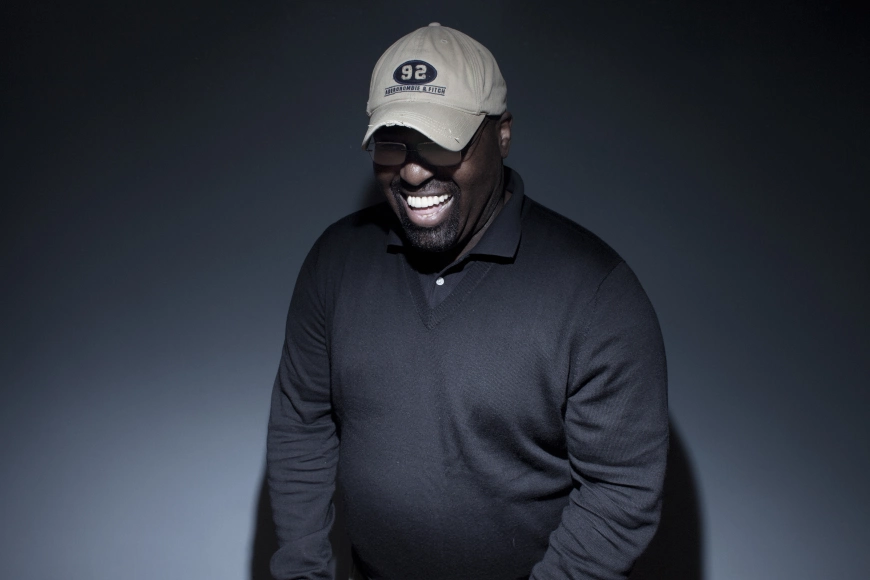 Photo by Frankie Knuckles
Frankie Warren Knuckles, Jr. (January 18, 1955 – March 31, 2014) was an American DJ, record producer, and remixer. He was born in the Bronx borough of New York City and later moved to Chicago. He played an important role in developing and popularizing house music in Chicago during the 1980s when the genre was being created. In 2005, Knuckles was inducted into the Dance Music Hall of Fame for his achievements.
Due to his importance in the development of the genre, he is often known as "The Godfather of House Music".

The 1970s–1980s
While studying textile design at FIT in New York, Knuckles began working as a DJ, playing soul, disco and R&B at The Continental Baths with fellow DJ Larry Levan. He moved from New York City to Chicago and when the Warehouse club opened in Chicago in 1977, he was invited to play on a regular basis. He continued DJing at the Warehouse until 1982 when he started his own club in Chicago, The Power Plant.
Knuckles bought his first drum machine from a young Derrick May who regularly made the trip from Detroit to see Knuckles at the Warehouse and Ron Hardy at the Music Box, both in Chicago. Knuckles also had a musical partnership with Chicago artist Jamie Principle, and helped put "Your Love" and "Baby Wants to Ride" out on vinyl after these tunes had been regulars on his reel-to-reel player at the Warehouse for a year.
As house music was being innovated in Chicago, producer Chip E. took Knuckles under his tutelage and produced Knuckle's first recording, "You Can't Hide", featuring vocalist Ricky Dillard. Then came more production work, including Jamie Principle's "Baby, Wants to Ride", and later "Tears" with Robert Owens (of Fingers, Inc.) and (Knuckles' protégé and future Def Mix associate) Satoshi Tomiie.
Knuckles left the Warehouse to start his own club, The Power Plant, in 1983. When the Power Plant closed in 1987, he DJ'd for 4 months at Delirium in the UK. Chicago house artists were in high demand and having major success in the UK with this new genre of music. Knuckles was the featured resident DJ at The World, and also had numerous other residencies. Knuckles also had a stint in New York, where he continued to immerse himself in producing, remixing and recording.
The 1990s-2000s
Knuckles did a number of popular Def Classic Mixes with John Poppo as a sound engineer. Knuckles partnered with David Morales on Def Mix Productions. With several important original productions and remixes to his name, by the early 1990s, Knuckles was becoming a well-known name in the increasingly popular house music genre.
In 1991, Knuckles' debut album Beyond the Mix, released on Virgin Records, contained his biggest hit to date, "The Whistle Song". The Def Classic Mix of "Change" by Lisa Stansfield done around this period also featured the whistle-like motif. Another track from the album, "Rain Falls" featured vocals from Lisa Michaelis. Key remixes from this time include his rework of the Electribe 101 anthem "Talking With Myself" and "Where Love Lives" by Alison Limerick. 8,000 copies of the album had sold by 2004.
When Junior Vasquez took a sabbatical from Manhattan's The Sound Factory, he took over and launched a successful run as resident DJ until Vasquez made his return, at which point Knuckles became the resident DJ at The Sound Factory Bar. Knuckles remained part of the underground scene. Knuckles won the 1997 Grammy Award for Remixer of the Year, Non-Classical.
Knuckles continued to work as a remixer through the 1990s and into the next decade, reworking tracks from Michael Jackson, Luther Vandross, Diana Ross, Eternal, and Toni Braxton. He released several new singles, including "Keep on Movin'" and a re-issue of an earlier hit "Bac N Da Day" with Definity Records. In 1995, he released his second album titled Welcome to the Real World. By 2004, 13,000 copies had sold.
In 2004, he released a thirteen track album of original material - his first in over a decade, entitled A New Reality, which was critically well-received. In October 2004 "Your Love" appeared in the videogame Grand Theft Auto: San Andreas, playing on house music radio station, SF-UR. On 19 September 2005, Knuckles was inducted into the Dance Music Hall of Fame for his outstanding achievement as a DJ.
Knuckles is featured in the 2006 documentary film, The UnUsual Suspects - Once Upon a Time in House Music by Chip E., and the 2005 documentary film, Maestro by Josell Ramos.
Death
Knuckles died in Chicago from complications related to diabetes, his death was reported on March 31, 2014
Selected discography - Releases
"Rain Falls" (single)
"You Can't Hide from Yourself" - CBS Records
"Tears" (single); Frankie Knuckles presents Satoshi Tomiie - FFRR
"Your Love/Baby Wants to Ride" - Trax Records
Beyond the Mix - Virgin Records
"The Whistle Song" - Virgin Records
Sessions Six - Mixed by Frankie Knuckles - Ministry of Sound
Choice: A Collection of Classics - Trax Records
"Keep on Movin'" - Definity Records
A New Reality - Definity Records
Selected discography - Remixes
"Change" - Lisa Stansfield
"Left To My Own Devices" - Pet Shop Boys
"This Time" - Chanté Moore
"Happy" - Towa Tei
"Let No Man Put Asunder" - First Choice
"Ain't Nobody" - Chaka Khan
"Watcha Gonna Do with My Lovin'" - Inner City
"Talking with Myself" - Electribe 101
"The Pressure" - Sounds of Blackness
"Where Love Lives (Come on In)" - Alison Limerick
"I Want a Dog" - Pet Shop Boys
"Notgonnachange" - Swing Out Sister
"Because of Love" - Janet Jackson
"Love Hangover" - Diana Ross
"Bring Me Love" - Andrea Mendez
"Rock with You" - Michael Jackson
"Scream" (remixed by Knuckles and David Morales) - Michael Jackson
"Thriller" (remixed by Knuckles and David Morales) - Michael Jackson
"You Are Not Alone" - Michael Jackson
"Closer Than Close" - Rosie Gaines
"Unbreak My Heart" - Toni Braxton
"Sunshine" - Gabrielle
"I'm Going to Go" - Jago[disambiguation needed]
"Blind" - Hercules & Love Affair
"You've Got the Love" - The Source ft. Candi Staton
"Million Dollar Bill" - Whitney Houston
"Forever Came Today" - The Jackson 5 (Released On "The Remix Suite")
"Wrong" - Depeche Mode