goldRush Rally 2020
Join the goldblooded family for an epic road trip taking you from Beverly Hills, California to Seattle, Washington via Las Vegas, Salt Lake City, and more.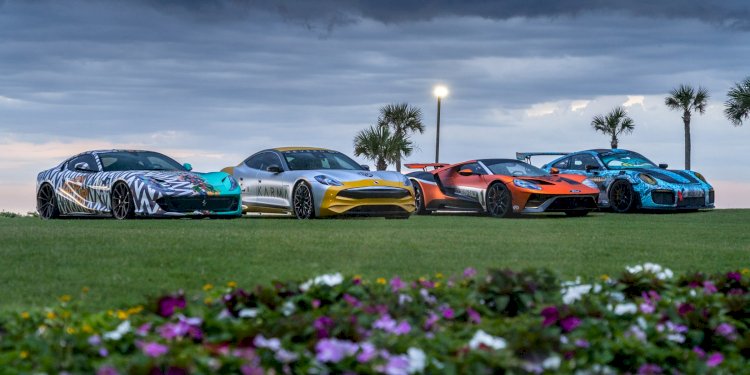 Photo by Mo Satarzadeh/goldrush Rally
The goldRush Rally family is proud to have accomplished over a decade of world-renowned luxury and exotic vehicle rallies which are not just drives, but experiences remembered for a lifetime. They continue to elevate, boost, and revitalize the rally game like no others can. With that, welcome to GR2020, The Road Less Travelled.
The cities they visit and routes they take will provide the foundation of your greatest memories. The cars and the scenic routes bring you alive. The experiences only goldRush Rally can provide leave you in awe. The people, the fans, and your goldblooded family will always bring you back.
GR2020 takes us back to some of our goldRush rallies of the past. Remembering those breathtaking drives through not only some of America's most sought-after roads but also the roads less traveled that our goldRush logistics team curates for you year after year.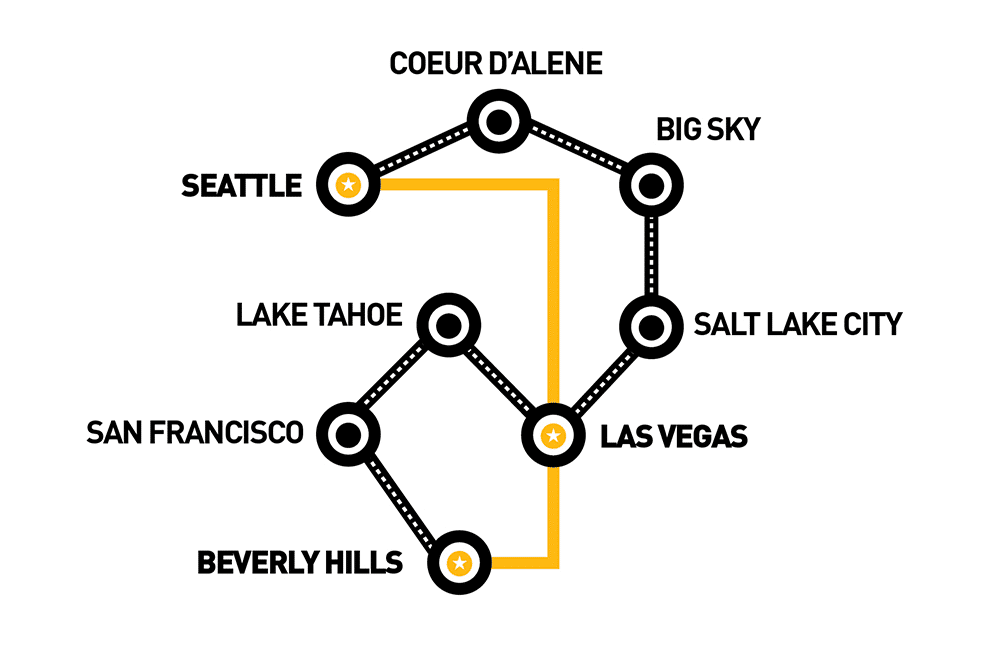 For GR2020, the carefully crafted combination of a luxury and picturesque experience has been established. Allow them to be your guide by kicking it off in the 90210, Beverly Hills, the center of all things 5-Star and Red Carpet. Traveling North via some of the world's most glorified roads, they arrive in San Francisco, home to their old friend, the Golden Gate Bridge, one of goldRush Rally's most iconic, and replicated moments.
Onward to the Jewel of the Sierras, Lake Tahoe. They then hope you prepare to Sin, with arrival and 2-day visit to Las Vegas. Your journey continues to the crossroads of the West, Salt Lake City, and then, a majestic exploration to Big Sky, Montana.
The final 2 legs take on a panoramic adventure to Northern Idaho and Coeur d'Alene, with our grand finale to be in the Emerald City, Seattle, Washington. GR2020 will be packed with exclusive VIP parties, prime street closures, track events, luxury hotel accommodations, breathtaking routes and so much more. They are looking forward to presenting you The Road Less Traveled. Join the rally on June 5th to the 13th for an adventure of a lifetime.
Full Rally
Beverly Hills - Friday, September 18th, 2020
San Francisco - Saturday, September 19th, 2020
Lake Tahoe - Sunday, September 20th, 2020
Las Vegas - Monday, September 21st, 2020
Las Vegas - Tuesday, September 22nd, 2020
Salt Lake City - Wednesday, September 23rd, 2020
Big Sky - Thursday, September 24th, 2020
Coeur D'Alene - September, June 25th, 2020
Seattle - Saturday, September 26th, 2020
First Leg (5 Days and Nights)
Beverly Hills - Friday, September 18th, 2020
San Francisco - Saturday, September 19th, 2020
Lake Tahoe - Sunday, September 20th, 2020
Las Vegas - Monday, September 21st, 2020
Las Vegas - Tuesday, September 22nd, 2020
Second Leg (5 Days and Nights)
Las Vegas - Tuesday, September 22nd, 2020
Salt Lake City - Wednesday, September 23rd, 2020
Big Sky - Thursday, September 24th, 2020
Coeur D'Alene - September, June 25th, 2020
Seattle - Saturday, September 26th, 2020
Prices
The full rally (A team of two in one room) - 19.000 USD
First Leg (A team of two in one room) - 11.000 USD
Second Leg (A team of two in one room) - 11.000 USD