Gumball 3000 2011 - London to Istanbul
8 days, 8 countries, driving 3000 miles, an adventure of a lifetime! With stops in London, Paris, Barcelona, Monaco, Venice, Belgrade, Sofia, and finally Istanbul.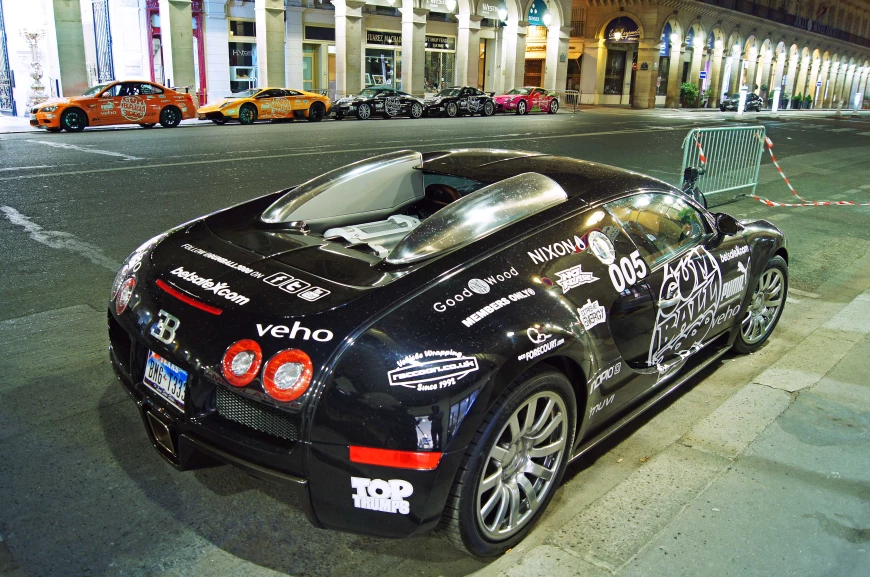 Photo by Gumball 3000
The event will combine automotive with music, film, and entertainment throughout the 3000 miles, closing the streets in each city to create a Gumball festival!
Who will be participating?
Celebrities, Athletes, and Artists participating in 2011 are Christian Slater, Eve, Cypress Hill, Reggie Bush, Ndamukong Suh, Djibril Cissé, Bun B, David Hasselhoff, Dirty Sanchez (Pritch & Dainton), Cody Glenn, The Dudesons (Jukka, Jarppi, Jarno & HP), Tamer Hassan, Costas Mandylor, Shane Lynch, Jenny Jones, Estevan Oriol, Matt & Brett Landes, Buttsy Butler, Ben Gott, Jon Olsson, Erik & Mackan, Jade Jagger, Ezra Chapman, Steve Goldfield, Team Pavo (The Alturki family) and many more. Rumors have it that the BBC Top Gear team (Jeremy Clarkson, Richard Hammond & James May) will enter this year's rally, but it has not been confirmed or denied.
What type of cars can one expect in the 2011 Gumball 3000 Rally?
What we've gathered there are going to be the following type of cars participating in the 2011 Gumball 3000 Rally from London to Istanbul. Basically high-performance Gran Turismo cars like Bugatti Veyron, Toyota Supra, Rolls Royce Phantom Drophead Coupé, BMW M5, Porsche Cayenne Turbo, Bentley Continental GT, Ferrari F430, Bentley GTC, Aston Martin DB9 Volante, Aston Martin Rapide, Audi S5, Lamborghini LP670 SV, Aston Martin DBS, Audi R8, Mercedes CLS 55 AMG, Maserati Gran Turismo, McLaren SLR, Porsche Panamera Turbo, Range Rover, Ferrari 599 GTB, Lamborghini Gallardo, Maserati Quattroporte, Porsche 997 GT3 RS, Ferrari 612 Scaglietti, Nissan GTR, Porsche GT2 RS, Ferrari 360 Modena, Ferrari 599 GTO, Aston Martin One-77 and many more. Even ECO-friendly cars will also be participating as well as many aftermarket tuned ones. It's one of the best events for car spotting in the world with many opportunities for great photos.
How to follow the Rally, if not participating?
Since we live in a digital age, it's not really that hard to follow the ins and outs of the Gumball 3000 Rally of 2011. If you are an avid fan of Twitter you can simply follow the hashtag #Gumball3000, which is the official hashtag for the 2011 Rally. Other places that have good information are, obviously the official website of the Rally as well as the best unofficial fan site Gumball-3000.com which has a lot of good information and a rather good history of the event. Betsafe has a live coverage website that is a must for all those wanting to take part in the event and also is updated on what is going on.
The Agenda
25th May - The Pre-party
Starting for the 10th time in England's capital, we will be hosting the most extravagant Gumball event in our 12-year history. We will register each driver on the 25th before they attend the VIP launch party. The next morning on the 26th is when their adventure will truly begin!
City: London, England
Date: Wednesday 25th May
Location: Playboy Club
Time: 9.30 pm – 3 am
Happening: Official Gumball 3000 2011 launch party. The red carpet event of the year at the brand new Playboy Club!
26th MAY - The Start
City: London, England
Date: Thursday 26th May
Location: Covent Garden
Time: 9 am - 4 pm
Happening: Come to Covent Garden to see the celebrities and over 100 amazing vehicles on display including the future in eco-supercars, buy the official "Tour T-Shirt", and soak up the atmosphere before the flag drops at 1200
26th MAY - Paris
A short drive under the English Channel, our first tour stop on our 3000-mile adventure in Paris! We'll be showcasing Eco and Green concept vehicles within a stone's throw of the Eiffel tower & experiencing fine Parisian dining by candlelight before partying all night with our 'Baller VIP's!!!
City: Paris, France
Date: Thursday 26th May
Location: Outside VIP Rooms and the Collette store
Time: VIP Rooms 6 pm onwards. Collette all week.
Happening: Fantastic Eco-car displays outside VIP Rooms and the Collete store, showcasing the most jaw-dropping futuristic cars and supercars
27th MAY - CHECKPOINT 1 - The Racetrack
City: Albi, France
Date: Friday 27th May
Location: Circuit D'Albi, Albi
Time: Gumballers arriving & departing between 12 pm - 4.30 pm
Happening: The public is invited to watch the Gumball drivers take their own Gumball cars and the incredible super eco-race cars around the race track.
27th MAY - Barcelona
The 'Ballers will draw up to Barcelona seafront for the car display. Once they've checked into their rooms, dinner will be served overlooking the beautiful turquoise Med.
City: Barcelona, Spain
Date: Friday 27th May
Location: The W Hotel, Barcelona
Time: Gumballers arrive from 17.30 staying until 1 pm 28th May
Happening: Check out the display of all the Gumball cars!
28th & 29th MAY - F1 Grand Prix, Monaco
Prepare for the serenity of the French countryside to disappear as the sound of 25 Formula One car hits you straight between the eyes! A dazzling 2 days of non-stop partying in the capital of indulgence is ahead!
City: Monte Carlo, Monaco
Date: Saturday 28th May
Location: No public event
Time: No public event
Happening: Eco-car displays within Monte Carlo - exhibiting the future in automobiles and the Green concepts to hit the market.
30th MAY - Venice
Pick up a speed boat ride to the steps of the Gumball Hotel, the Betsafe girls will be on hand to help you recoup your Monte Carlo losses at the Betsafe Poker Tournament!
City: Venice, Italy
Date: Monday 30th May
Location: Tronchetto
Time: Gumballers arriving from 1700
Happening: The longest car display of the rally stretching along the waterfront, showcasing an amazing display accessible by water bus or private taxi - great photo opportunities!
31st May - CHECKPOINT 2 - Zagreb
City: Zagreb, Croatia
Date: Tuesday 31st May
Location: Checkpoint at the Mimara Museum
Time: Gumballers arriving & departing between 1 pm-3 pm
Happening: Gumball 3000 arrives in wonderful Zagreb on its national celebration day.
31st MAY - Belgrade
Entering Belgrade is like entering no other city en route!!! Crowds on motorways and bridges will line the way as Gumball fever grips the city and fans besiege the route!
City: Belgrade, Serbia
Date: Tuesday 31st May
Location: Hotel Continental Belgrade
Time: Gumballers arriving from 9 pm
Happening: Huge live event of music and Gumball merchandise on sale, large public car display within the grounds of the Hotel Continental Belgrade.
1st June - CHECKPOINT 3 - Sofia
City: Sofia, Bulgaria
Date: Wednesday 1st June
Location: Checkpoint at the National Art Gallery
Time: Gumballers arriving & departing between 12.30 pm-2.30 pm
Happening: Stunning car display outside the National Art Gallery, which is on the main route to Istanbul through the fantastic city of Sofia!
1st JUNE - Finish in Istanbul
The climax of our tour is the mighty Turkish city of Istanbul! This current 'European Capital of Culture' better prepare for a new ruler...GUMBALL 3000 2011 is about to invade! It's going to be one hell of a finish party!
City: Istanbul, Turkey
Date: Wednesday 1st June
Location: Central Location, Istanbul
Time: Gumballers arriving from 8 pm
Happening: Final destination and car display. The Gumballers cross the finish line of their 3000-mile road trip in the beautiful city of Istanbul.
Want to enter the Rally?
The fee is 25,000 GBP per car (two people), for a full-on week of partying, high jinks, and adrenaline-fuelled adventure! The fee includes hotels each night, food, parties, and checkpoints on route.