15th Anniversary Gumball 3000 Rally - The Schedule
The 15th-anniversary rally is about to begin. Here is the schedule so that you can keep up where the Gumballers and their cars are during their trip across Europe from Copenhagen to Monaco.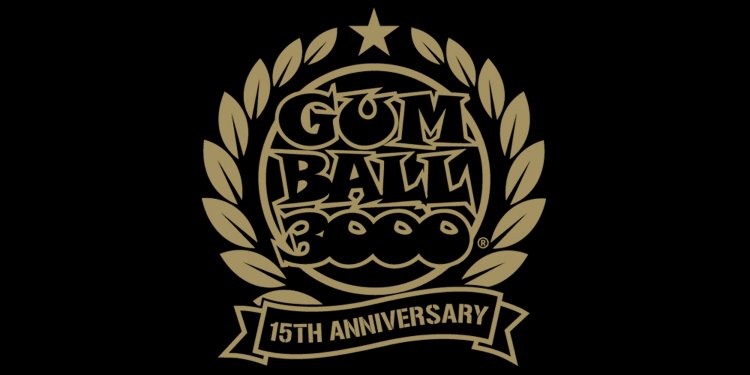 Photo by Gumball 3000
The Schedule
Saturday 18th May // The Official Launch Party
9pm Copenhagen Opera House - Copenhagen
Where: Ekvipagemestervej 10, 1438 Copenhagen, Denmark
When: 21.00-late
Gumballers arrive at the Copenhagen opera house for a night of live music, socialising, and above all hard-partying ahead of the 3000-mile rally.

Sunday 19th May // The Flag Drops
10am City Hall – Copenhagen, Denmark
Where: Rådhuspladsen 1, København k
Cars on Display: 07.00-11.00
Rally Start: 10.00-11.00
At 10am the flag drops at City Hall and 120 Spectacular supercars and celebrities begin their epic journey passing through the start gantry, hosted by the Cuban Brothers.
// Swedish Checkpoint
11am Koenigsegg Factory - Angleholm, Sweden
Where: Koenigsegg Automotive - Valhall Park, 262 74 Ängelholm, Sweden
When: 11.00-13.00
The cars will arrive at their first checkpoint in southern Sweden. The Koenigsegg factory will host a light lunch along with an exclusive tour of the factory.
// Betsafe Car Display
12pm Kings Palace - Stockholm, Sweden
Where: The Royal Palace - Kungliga Slottet, 111 30 Stockholm, Sweden
When: 12.00-18.30
Gumball Cars on Display: 15.00-18.00
2013 Rally Partners Betsafe are hosting a Car display directly outside the Kings Palace in the centre of Stockholm. Fans will be able to get up close and personal to the cars in the company of his royal highness, the king of Sweden.
// Overnight Boat to Finland
6pm Värtahamnen Port – Stockholm, Sweden
Where: Vartahamnen Port, Södra Hamnvägen 46, 115 74 Stockholm, Sweden
When: 18.30
On the evening of Sunday 19th May when we reach Vartahamnen port - Stockholm, where we will be boarding our Ferry to Turku in Finland. The ferry at Stockholm will be the first overnight stop of the rally. All cars will board the boat and the entrants will proceed to a sit-down meal followed by a party.

Monday 20th May // Finnish Checkpoint
9am Kamppi Centre - Helsinki, Finland
Where: Kamppi Shopping Centre, Mannerheimintie 22-24 00100 Helsinki, Finland
When: 09.00
Cars on Display: 09.00-11.00
Having driven from the port of Turku, Gumballers will arrive in Helsinki City Centre for a car display and a snowy stunt display hosted by Battery Energy Drinks. You're going to have to see it to believe it.
// Circuit Checkpoint
10am Premier Park – Porvoo, Finland
Where: Oljytie 1007, FI-06830 Kulloonkla (Porvoo)
When: 10.30-14.00
After a short drive from Central Helsinki, the Gumball rally hits its first circuit. Premier Park near Porvoo, is a 'tight and twisty' handling circuit perfect for allowing the supercars to enjoy some adrenaline-fuelled fun.
// Car Display, Hotel & Party
9pm St Isaacs Square - St Petersburg, Russia
Where: St Isaac's Square, Saint Petersburg, Russia 190000
When: 21.00
Cars on Display: 21.00-00.00
120 supercars cross the Finnish/Russian border from around 2pm and drive directly into St Petersburg with a convoy of Russian Police cars. The cars are given a rest on display watched over by Russian Military Armed guards whilst the Gumballers party in the W Hotel.

Tuesday 21st May // Estonian Checkpoint
12pm Town Hall Sq - Tallinn, Estonia
Where: Raekoja 1 10114 Tallinn, Eesti 645 7900
When: 11.00
Cars on Display: 11.00-15.00
The Gumball convoy crosses the Estonian border leaving Russia from around 11am and continue back in Europe arriving in the stunning Town hall square at mid-day via the narrow cobbled streets.
// Car Display, Hotel & Party
7pm Radisson Blu Elizabete - Riga, Latvia
Where: Elizabetes iela 73, Riga, LV-1010, Latvia
When: 15.00
Cars on Display: 15.00-00.00
Gumball 3000 takes over Riga city centre closing roads in order to display our supercars. After checking in at the Radisson Blu Elizabete, we enjoy exquisite food at the Biblioteka and then party hard at Coyote Fly.

Wednesday 22nd May // Lithuanian Checkpoint
11am Town Hall - Vilnius City Centre, Lithuania
Where: Gaono gatve 7, Vilnius 01131, Lithuania
When: 11.00
Cars on Display: 11.00-15.00
We set off from Riga at 9am sharp, driving south and into Lithuania. We arrive in Vilnius city centre and display our cars on the exclusive square directly in front of the Townhall courtesy of the city Mayor.
// Hotel, Party & Skate Demo
8pm Pilsudski Square - Warsaw, Poland
Where: PILSUDSKI SQUARE Sródmiescie Pólnocne 00-078 Warsaw, Poland
When: 08.00-09.00
Cars on Display: 18.00-00.00
On the evening of Wednesday 22nd, we arrive at Pilsudski Square greeted by Battery energy drinks, Betsafe and above all, a half-pipe having just arrived directly from the Barcelona X-Games. Tony Hawk takes to the halfpipe along with some very special guests.

Thursday 23rd May // Polish Checkpoint
3pm Engineering Museum – Krakow, Poland
Where: Wawrzy?ca 15, Kraków, Poland, 12 421 12 42
When: 14.00-16.00
After driving the long and winding roads from Warsaw the Gumballers will stop for a look around the Engineering Museum of Krakow and enjoy some lunch from a nearby restaurant before hitting the road again for their penultimate hotel stop.
// Car Display, Hotel and Party
8pm Volksgarten - Vienna, Austria
Where: Volksgarten, Burgring 1 1010 Vienna, Austria
When: 20.00
Cars on Display: 20.00-00.00
Once again on exclusive land, the Gumball 3000 cars will be lined up on display in the grounds of the Austrian Parliament and directly outside the legendary Volksgarten club where we will be partying through the night.

Friday 24th May // Italian Checkpoint
4pm Hotel Byblos - Verona, Italy
Where: Hotel Byblos, Via Cedrare, 78, 37029 Corrubbio, Province of Verona, Italy
When: 16.00-18.00
We're kicking back and enjoying some art and culture within the stunning grounds of the Byblos Art Hotel in Verona. After a light lunch, and a tour of the artwork the Gumballers jump back into their cars ready to drive the final leg of the rally. Next stop: Monaco.
// The Chequered Flag is Waved in Casino Square
7pm The Fairmont – Monaco, Monte Carlo
Where: Place du Casino, 98000 Monaco
When: 19.00-23.00
The chequered flag will be waiting in Casino Square, Monaco and the Gumballers will pass under it through the twisting streets as they reach their final destination.
// Car Display and F1 Practice
9pm Monaco, Monte Carlo
Where: 12 Avenue des Spélugues, 98007, France
When: All Day
The Gumball 3000 drivers are finally given the chance to kick back, relax and come to terms with their rally so far before enjoying a weekend of parties and live and luxurious motorsport.

Saturday 25th May // The Official Finale Party
9pm Amber Lounge – Monaco, Monte Carlo
Where: 22 Avenue Princesse Grâce, 98000 Monaco, France
When: 21.00-late
Our epic journey all comes to an end at the Amber Lounge club in Monaco where the rally host, Maximillion Cooper officially awards the prestigious Spirit of the Gumball trophy. Once the formalities are done with we party through the night.

Sunday 26th May // F1 Racing from the Rooftop
The Fairmont Hotel Terrace - Monaco, Monte Carlo
Where: 12 Avenue des Spélugues, 98007, France
When: All Day
The Monaco F1 has to be the most famous motor race around the world and the Gumballers get the premium view from the terrace of the Fairmont hotel for the 2013 Grand Prix.