The Gumball 3000 - Artists, Cars and Fun
On Saturday the 1st of May 2010 they started in London and on the 7th of May they finished in New York. Here is a glimpse at Gumball 3000 2010.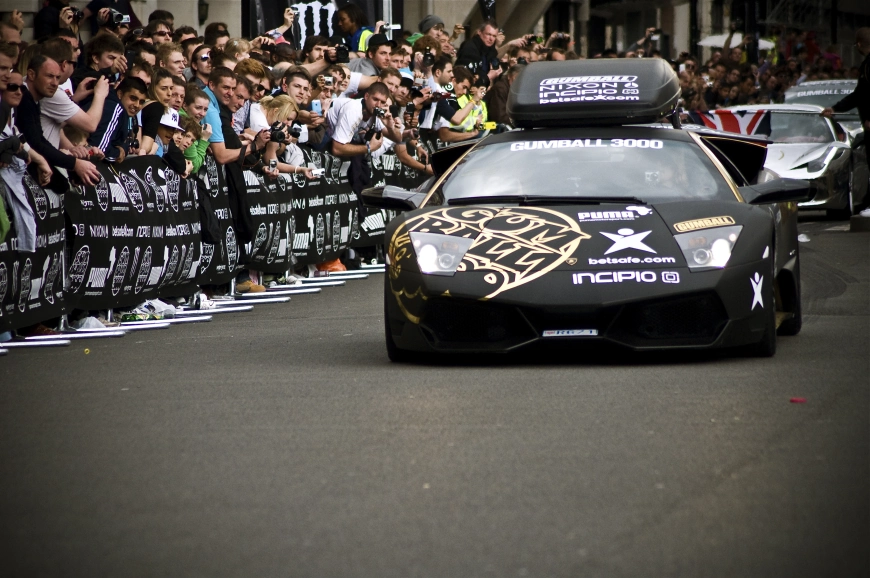 Photo by Gumball 3000
Most people are familiar with the Gumball 3000 Rally, but very few have ever experienced it in person. Even fewer people have taken part in the rally. The 12th Annual 2010 Gumball 3000 Rally started in London at the Pall Mall on the 1st of May and took the participants on a road trip to Amsterdam, Holland - Copenhagen, Denmark - Stockholm, Sweden - Boston, USA - Quebec, Canada - Toronto, Canada - New York, USA.
So, what does Gumball have to do with music?
The Gumball 3000 Rally attracts a lot of people, who are willing, to pay an entrance fee of around 30.000 GBP to be a part of this unique rally. This is where music artists, actors, businessmen, and petrolheads come in. In this year's rally, we saw Xzibit, DJ Fingaz, DJ Muggs, Eve, DJ Sharam (Deep Dish), Maximillion Copper, Tony Hawk, Bun B, Jon Olsson, Mike "Rooftop" Escamilla, John Dale, Jesse Fritsch, Brett Landes, Matt Landes, Michael Madsen, Jade Jagger, Ezra Chapman, Steve Goldfield, Alexandre Teplitxky, Moe, Matt n Moth, Buttsy Butler, Idris Elba, Erik & Mackan and many more.
Music, Parties, Fast Cars, and beautiful people are in perfect synchrony during the Gumball and the participants over the years have shown again and again that music and Gumball are one. Past music-related participants have been: Travis Barker (Blink 182), Swizz Beats, DJ Muggs (Cypress Hill), Mario, The Enemy, Avenged Sevenfold, Placebo, Happy Mondays, Goldie, Dannii Minogue[, DJ Ghost, Jay Kay (Jamiroquai), Sandi Denton (Pepa of Salt-n-Pepa), Mark Berry (aka Bez), Kym Mazelle and not to be forgotten Ministry of Sound which sponsored the rally in 2006. We all know the Ministry of Sound as one of the biggest clubbing brands in the world, if not the biggest, with many commitments around the world, but mainly music and club-oriented ventures. Will the future hold any sponsorship by other clubbing and music brands like the Ministry of Sound?
The Roots
The inspiration for Gumball comes from back when in 1933 legendary motorcycle racer Mister Baker, had crossed the United States coast-to-coast in 54 hours, earning him the nickname Cannonball. He had had an annual race ever since 1914 (when he needed 11 days) and bettered his time ever since. In the 1970s motor journalist, Brock Yates of Car and Driver magazine had started the Cannonball Baker Sea To Shining Sea Memorial Trophy Dash in honor of Cannonball. The first race was held on April 1, 1971, and the first prize was a Gumball dispenser.
The first race was won by Yates and Dan Gurney, former race drivers for Formula One and Le Mans, who drove a Ferrari. They needed about 35 hours from New York to L.A. These events inspired the 1976 movies "The Gumball Rally" and "Cannonball", as well as sequels such as "Cannonball Run", and "Cannonball Run 2". The original Gumball race was finally canceled in 1979.
Drawing inspiration from the 1970s race, the movies "Two-Lane Blacktop", "Vanishing Point", "Bullitt" and Le Mans, Maximillion Cooper started the modern edition of the game in the summer of 1999. Gumball 3000 has since gained a reputation as a road race for the modern era and has captured the attention. With celebrity participation, the public has been brought closer to the race by witnessing it on everything from MTV to reading about it in Vanity Fair. Gumball 3000 - Isn't a Race, It's a Rally.
Some of the funniest moments during the 2010 Gumball 3000 Rally
DJ Sharam (Deep Dish) managed to get 5 tickets in one day and to top all things off it was within the borders of New York City. Here is what he had to say: I think we broke all Gumball ticket records with 5 in one day! Here is the punchline: not ONE was for speeding! We got them for Seatbelt, Cell phone use, Lack of insurance card, Failure to yield to the public and, a bad start? The last 3 were for the Burnout in Time Square.
Xzibit managed two (2) speeding tickets and one (1) breathalyzer test in Sweden alone, in one (1) day with his partner in crime, DJ Fingaz.