House Party Vol. 4 by Toolroom Records
Toolroom drop the fourth installment of their popular House Party series, with Piero Pirupa, Maxinne, and LEFTI stepping up on mixing duties.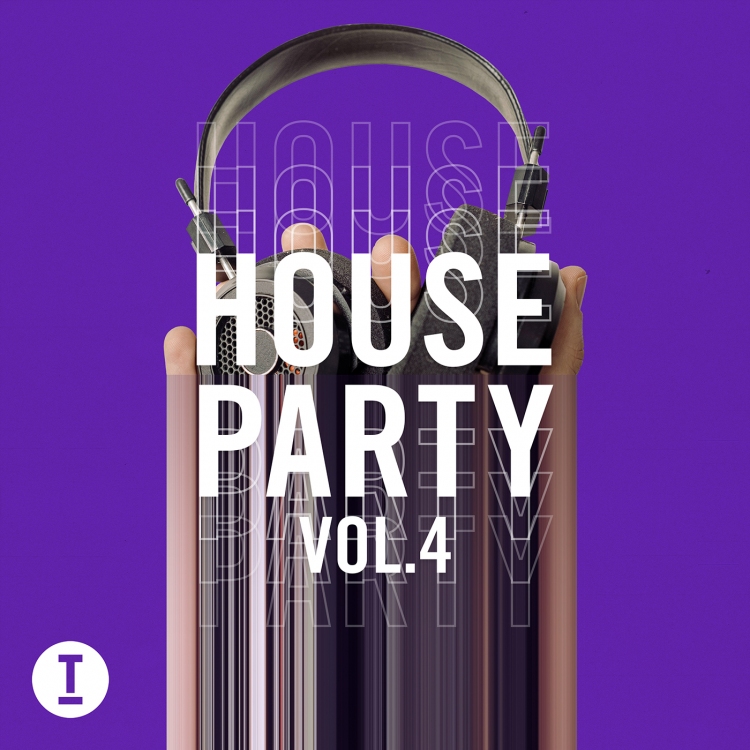 Art by Toolroom Records
Introduced earlier this year, but now featuring as one of the label's most popular artist and compilation series, Toolroom's "House Party" brings a collection of the year's biggest records straight to your home, mixed by a hand-picked trio of artists from across the globe. An outlet for both unreleased and exclusive productions from Toolroom Family members alongside fresh, rising talents, but also featuring a selection of standout releases from Toolroom and the scene's biggest imprints, late-November now welcomes the latest installment in the series as Italian house favorite Piero Pirupa, Toolroom's very own Maxinne, and New York's LEFTI mix the fourth compilation in the bubbling series.
Delivering a huge eighty-track package offering, with tracks from leading names including Nic Fanciulli, Andrea Oliva, Yousef, Green Velvet, and Technasia, alongside Toolroom regulars Leftwing:Kody, Friend Within and Martin Ikin, plus remixes and originals from label boss Mark Knight, the project also features exclusives from all three mix artists and more - delivering yet another killer collection of records capturing the industry's biggest hits of recent months.
Various Artists - House Party Vol. 4
Release Date November/December 2020
Label Toolroom Records
Tracklist
1. Piero Pirupa & Kid Enigma - Bang! [Toolroom]
2. Maxinne - One I Want [Toolroom]
3. LEFTI feat. Bymaddz - Remedy [Toolroom]
4. Wankelmut & Anna Leyne - Free At Last (Martin Ikin Remix) [Toolroom]
5. Nic Fanciulli & Andrea Oliva - Medium Rare [Saved Records]
6. Technasia & Green Velvet - Suga (David Penn Remix) [Toolroom]
7. Leftwing:Kody - Keep Pushin' On (Peter Pavlov Remix) [Lost Records]
8. My Digital Enemy & Errol Reid - Guiding Light [Toolroom]
9. Mason feat. Jem Cooke - Drowning In Your Love (Mark Knight Remix) [Toolroom]
10. Dombresky & Boston Bun - Stronger (Danny Howard's 'Stronger Together' Remix) [Toolroom]
11. Yousef feat. Molly Green - Save Me [Saved Records]
12. Piero Pirupa & LEON (IT) - Get On [Toolroom]
13. Vanilla Ace & Black Sense - The Way You Get [Toolroom]
14. Mark Knight - Mona Lisa [Toolroom]
15. Maxinne - Get Up [Toolroom Trax]
16. Jay de Lys - Feel It [Toolroom]
17. LEFTI feat. Ann Nesby - Rejuvenate [Toolroom]
18. Elternhouse & Marco C. - Get You Up [Toolroom]
19. Friend Within - For You [Toolroom]
20. Pagano - Peace & Unity [Toolroom]
21. KC Lights & Juliet Sikora - Tonight [Toolroom]
22. Amine Edge & DANCE, Maxinne feat. Mizbee - What U Say [Toolroom]
23. Ammo Avenue - Sigue [Toolroom]
24. Hannah Wants & Eskuche - Way Gone [Etiquette]
25. TCTS & Todd Terry - Get Freaky [Toolroom Trax]
26. Lizzie Curious & James Hurr - In Your House [Toolroom]
27. Latmun - Try Stop Me [Kaluki Musik]
28. Clyde P, Illyus & Barrientos - Acid Vogue [Toolroom]
29. Pirate Snake, Pleight - Keep Moving [Toolroom]
30. Wh0 vs. Sllash & Doppe - The Fire [Toolroom]
31. Huxley - Who Sez [Toolroom]
32. Iglesias & Proudly People - Do You Wanna Dance [Kaluki Musik]
33. Sted-E & Hybrid Heights feat. Mr. V - Back To Basics [Toolroom]
34. Andrea Giudice & Larry Cadge - Baby (Mark Knight Rework) [Toolroom]
35. Mat.Joe - Off Ma Mind (Mat.Joe PRïMA Revisit) [Nothing Else Matters]
36. Danny Rhys - Hold Me [Toolroom]
37. Saffron Stone - Disko Dancin [Etiquette]
38. Friend Within X Alex Preston - Bits & Pieces [Toolroom]
39. Dave Summit - Way Of Love [Toolroom]
40. Mason - Loosen Up feat. The Melody Men [Toolroom]
41. Mendo - Give It To Me [Toolroom]
42. Anden & Local Dialect - Palmetto (Before You Leave) [Zerothree]
43. Low Blow - Call It Love [Toolroom]
44. Hector Couto - Trapezium [Saved Records]
45. Siege - Dirty Maddy [Saved Records]
46. DJ Lora feat. Karmi - Hit (DJ Lora Remix) [Toolroom]
47. Denton feat. Lauren L'aimant - Give It Up [Nothing Else Matters]
48. Sam Sonder - High [Toolroom]
49. Anthony Attalla - Revolution [Saved Records]
50. Tom Wax & Terry Lee Brown Jr - Nothing Can Get You Higher [Rhythm Distrikt]
51. Kraak & Smaak - Aftersun [Toolroom]
52. Rene Amesz & David Tort - Or The Other Way Around [Toolroom]
53. Rafa Barrios - Wait To Marx [Saved Records]
54. Seb Zito - Don't Stop [Saved Records]
55. Pirate Copy & Iglesias - Copicat [Kaluki Musik]
56. Frederick & Kusse, Siege feat. Frankco - Monster [Toolroom Trax]
57. Liguori - Off My Shoulder [Love & Other]
58. SOHMI - Switch [Nothing Else Matters]
59. Johan S, AndMe & Bastian - Come Back Home [Toolroom Trax]
60. DJ Chus & Siwell - Love Me [Toolroom]
61. Papa Marlin & Bondar - Come To Me [Strangelove]
62. MANT - Jazz [Saved Records]
63. Citizenn - Stay With Me feat. Kat Leon [Saved Records]
64. Ludo Lacoste - When You Were Down [Toolroom Trax]
65. Manda Moor - What U Want [Kaluki Musik]
66. Hollt - Fusion [Zerothree]
67. Space Disco - Automatic feat. Ryan Konline [Toolroom]
68. amour - afterparty (Gigamesh Remix) [Dreamwave]
69. Kodewerk - Wonderful One [Etiquette]
70. CJ Jeff - In Your Soul feat. Georges Perin [Etiquette]
71. Kaniun - Free Touch [Lost Records]
72. Joey Daniel - Don't Lose It [Kaluki Musik]
73. Rony Breaker feat. Shyam P - New Dawn [Toolroom]
74. FATHER AND SON - You Got It [Toolroom Trax]
75. Mar-T - Keep On Movin' [Saved Records]
76. DBL-C & Narda - Egoist [Lost Records]
77. Richie Blacker - Hysteria [Nothing Else Matters]
78. ODCEE - Funky Psychedelic [Strangelove]
79. James Organ - Faded [Nothing Else Matters]
80. Ron Costa - Oyek [Etiquette]