Interview with Boy George
I first started spinning records back in 1979 alongside Jeremy Healy, the most hardworking and well-travelled DJ I know.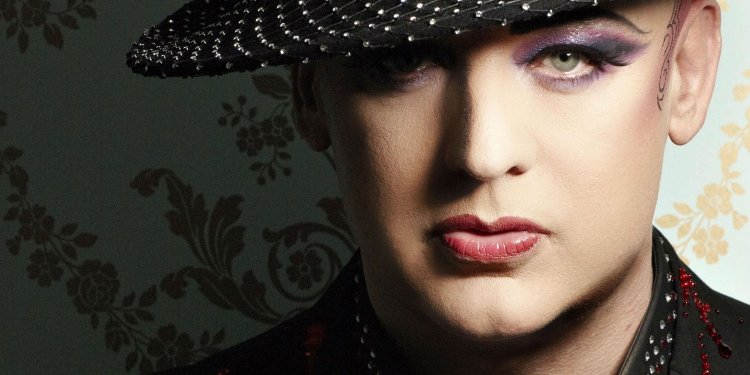 Boy George
When did you first start spinning?
I first started spinning records back in 1979 alongside Jeremy Healy, the most hard working and well travelled DJ I know.
You went to school with Jeremy?
We met on a bus in Lewisham. I was a blonde spiky haired punk on my way to a loveless job in a printing firm. As usual, I was late for work and had to jump on the first bus I saw to get to the train station. I was propped against the bus window, half-asleep, when I noticed an urchin like schoolboy in a posh school uniform, except for a large and very bright pair of 'teddy boy' creepers clomping off the bus. "Like your hair" he said, and I responded with an equally gorgeous comment about his shoes. Over the coming weeks, Jeremy and I kept bumping into each other at train stations, charity shops and punk gigs and we became friends. We even took a job together in a fruit-packing factory because we thought it would help with the boredom. I got sacked after three weeks and Jeremy left too and vowed never to take a proper job again. He kept to his word but went on to indulge in a life of music, which took form in the early eighties quirky pop group Haysi Fantazee. BUT! Before all that, we were just a couple of attention seeking club kids and if you venture into my picture gallery, you will see pictures of us looking fantastically cool and ridiculous.
We were discussing the DJ thing!
Jeremy and I shared a madness for buying records and when our mutual friend Phillip Salon opened his New Romantic club Planets, we were roped in as DJ's. Phillip knew that we would enjoy being up in the DJ box in full display and we were cheap too. I think we got about fifteen pounds and all the blackcurrant and lager we could swallow. There were no mixing skills needed back then. The music was an eclectic, neurotic blend of current dance pop, vintage reggae, spitting punk anthems and we even played cuts from ' The Sound of Music'. At first, this was simply to get rid of the punters at closing time but we started getting requests for 'The Lonely Goatherd' and 'Climb Every Mountain'. Phillip would lead a quasi-foxtrot or waltz and the crowd would refuse to leave. It was mega camp.
And you were both in 80's pop groups?
Jeremy had success, first with Haysi and the song 'John Wayne is big Leggy'. It was played constantly on the radio. I called it the soundtrack to my despair. We both demanded the spotlight and fell out over something futile, a can of hairspray or who had dreadlocks or who wore what first. But by the time I formed Culture Club, we were sworn enemies. I went round to see him at his flat to play some early demos and he was indifferent, touching on scathing. At one point in the eighties, we were booked to do a radio show together in Scotland and we didn't exchange a word. Haysi didn't last as long as Culture Club but when they folded, Jeremy went off and started writing music for adverts and films and running clubs like 'The Circus'. At some point we started talking again and he was always giving me these bonkers mix tapes which I still have somewhere, and then he became Mr Superstar DJ. It was a while before I followed in his tracks.
You once called him your 'DJ Guru'?
He got me to buy my first set of decks but they were more of a fashion statement and simply gathered dust. We carried on clubbing together and went to Ibiza to check out the summer of love, which got us hooked on the 'Acid House' scene in London. Clubs like Spectrum and Shoom (getting past Jenny Rampling on the door of Shoom was always tough but we got in once or twice). She said 'It ain't your crowd' and later insisted that she thought I'd get bashed up, forgetting of course, that I come from the gutter, ha ha, I am a South East London child. When we finally got in it was very friendly, lots of rough East End boys on Ecstasy who wanted to embrace you. Aargh.
What was the early Acid vibe like?
The early 'Acid' scene was a breath of fresh air for me, having come from the excessive constraints of inter - nation pop stardom. It was bliss to be able to go out clubbing and not be bothered all night. I got recognised but there was no mobbing or hysterics and I got to wear silly dayglo t-shirts and unflattering dungarees. We used to follow Danny Rampling from club to club enjoying his high spirited sets and I started collecting early 'Acid and House' tunes. One thing I am proud of is that I never watched from the sidelines. I always jump in head first at the risk of looking silly, but fuck it! It was a scream. I'd rather look a cunt than be one.
When was your first DJ gig?
My first real DJ gig was at Venus in Nottingham for the pre-David Beckham sarong wearing legend James Ballie. I took my tunes in a cardboard box and played alongside MC Kinky, while Jeremy and Danny Rampling took care of the main dance floor. We had recently made a record called 'Everything Starts with an E' which was the combined efforts of myself, Jeremy, Kinky and Simon Rogers (who later formed Slacker). Jeremy had found a Ronald McDonald educational LP that was meant to teach the kids the alphabet whilst luring them to eat junk food. The Everything starts with an E line was perfect for a tongue in cheek send up of the Acid House scene which was brimming with loved up football thugs who were discovering the benefits of MDMA and hugging their mates and the odd gay pop star. The song was always meant to be a bit of a send up but we were also celebrating and documenting something we knew would be huge. Looking at how corporate Dance Music has become, I think we were spot on. We were called the Ezee Posse and 'Everything Starts with an E' was our finest moment.
What happened to the Ezee Posse?
Jeremy turned into Diana Ross and wanted to write everything himself so I went off and formed Jesus Loves You, which spawned another, Closet Classic called 'Generations of Love'. I had already started a dance label, More Protein, through Virgin Records but they had no idea about dance, they couldn't see a future in it and the label eventually got dropped. Before that happened we released a smattering of cool dance tunes with Eve Gallagher and MC Kinky but then More Protein went on to become independent and Kinky and I fell out with a major bang. To say she hates me is both an understatement and an under garment, possibly a chastity belt. It's a shame because I think she's talented but the last time I tried to make friends, she kept screaming 'go away you ugly, fat, pig' (why use one insult when you can use three?). Then she had me arrested for assault, I had to go to the police to be formerly charged and give a statement. Kinky alleged that I had punched her at a big fashion bash at Harvey Nichols in Knightsbridge. I apparently punched her in the boobs, put her arm up her back and pushed her to the ground and finished off the attack by stamping on her. She dropped the charges and I got the message.
How did DJing become a second career?
I had started DJing around the UK in about 1989. A handful of promoters like Charlie Chester, Russell and Pete at Progress and the crew at Arena in Middlesborough booked me to play and allowed me to learn in public. Some might say I am still doing that but most things in life are a work in progress. I had done a few back room sets for Debbie and Rick, who threw the big, glamorous Puscha raves and that led to other promoters offering me work. I also played for my friend Philip Sallon at The Mud Club at Bagley's warehouse in Kings Cross. My career as a DJ was never planned, it just grew out of a few nervous gigs for friends but I started to love it. My manager was absolutely horrified that I was DJing for three hundred pounds a night in dingy clubs and thought it would destroy my reputation.
Was it just a reaction to Culture Club falling apart?
I had reached a very realistic point in terms of how I looked at my career. The fact is, I didn't have one. Radio in the UK and all over the world were happy to play 'Karma Chameleon' but that was it and I had no desire to be held in the past. The British music industry and its media hate it when you've had your turn and refuse to fuck off and open a greasy cafe in the suburbs. I got music because it was my saviour as a kid. I grew up on Bowie, T-Rex, the whole Glam explosion, Philly Soul, Lovers Rock, Punk and Electro. Music was the only important thing in my life other than handsome straight boys. Little has changed in that respect. I like going out to clubs and being part of something that is creative and exciting.
How did fellow DJs take to seeing you behind the decks?
At first, I got a lot of bitterness from other DJs who felt that I was only getting work on the back of my eighties fame. It was true but no one ever handed me success on a plate. I worked for years to build my reputation as a musician and I was well aware that I was a novice on the decks. The dance world is bitchier than fashion or pop. I still get shit. Recently, I spent what I thought was a cool weekend in Boston with some hacks from 7 Magazine. This cow journalist said, 'nothing will hold Boy George back, despite his average turntable skills'! You try playing with a bunch of gits standing behind you with their arms folded, willing you to fuck up. I'll never forget the first gig I did with Sasha down in Hastings on the South Coast. I was shitting myself but Sasha was really cool and complemented my set. I discovered that the bigger the DJ, the more cool they were. It's very British to think that you can only succeed at someone else's expense. Anyway, lots of DJs have started trying to be pop stars and I have no problem with that. I know I'm a better musician than a DJ but I am learning all the time.
Do you feel more accepted now?
As a DJ, I know I still have my detractors but I'm getting more relaxed about it. I used to be so scared and shaky. Everyone fucks up a mix from time to time, I've seen them all fuck up. The best advice I ever got was from Jon Pleased. I was playing in Manchester and I did a right clanger. John said, 'at least they know you're here'. I think some DJs take it too seriously, it's only playing records.
How would you describe your style?
I certainly don't have a loyalty to any particular sound. As far as I'm concerned there's only good and bad music. Of course, it's all relative and down to personal taste. Recently, I read the review section in Muzik Magazine, which was being hosted by Judge Jules. He was dissing and Azuli track called 'Burning Up' and said "not everyone can be a Lennon and McCartney but I don't think lyrics should be an afterthought". I couldn't help thinking of the lyrics to 'Pitching' or 'The War Song', ha ha. But what it really proves is, that when it comes down to it, we are all blagging. There's a lot of crap talked about what makes a great dance track but I'm always playing tunes that should be at the top of the dance chart, while some anaemic piece of Shiite is being held as genius.
Do you think the UK dance is in a healthy place?
The British dance scene is an absolute monopoly and let's face it, the power is in too few hands. My favourite saying is "touched by the hand of cool". It's all about who you know or how cool you're considered to be. I love the freedom I have as a DJ, especially now that pop music is so generic. If someone gives me a tune they've knocked up in their bedroom, I can play it and no one can stop me. I don't scan the dance chart to see what's big and I don't play for the crowd because these days the crowd mostly wants to hear what they know. I want to excite the crowd but I also want to feel excited about what I'm playing.
What makes a perfect dance tune?
If I had to classify what makes a perfect dance record for me, I'd have to say anything with a good bassline, clever percussion and annoyingly wicked keyboard noises and sassy use of the hi-hat. Tough with a camp twist. Most of the best dance tunes are really simple. It can be one little noise that makes it work. When records get too fast, they become un-sexy and I think a lot of the really hard stuff is for white boys who haven't discovered their hips. I don't like to write off any style of music but 'hard house' seems very angry and about as far away from the hips and heart as you can get. There is a kind of antisocial quality to that sound which I appreciate. It's not really the sort of music mums would like and it wouldn't work at a wedding. I like some of Rachael Auburn's hard house mixes but most of it is too fast and noisy for me.
What about favourite DJs?
Carl Cox is a wizard and I have a lot of respect for Danny Rampling, Oakenfold, Tomislav, Digweed, Andy Penny, Dean Millward and Jon Pleased who's a mate. There's loads of resident DJs that are genius but they don't get the attention. I get more excited about records or producers than DJs. You have to remember that without the music, there would be little to talk about. I love labels like 'Whole Nine Yards', producers like Dylan Rhymes and Meat Katie. I think Bedrock is one of the best labels, Whoop and Junior too.
What about pop, are you a fan of current pop?
Pop music has become really cynical and everyone wants to be famous. It's as if the music is secondary to the desire for fame and money. I think MTV and videos are the problem. Videos have brought music to the level of advertising. If you get the right stylist and make up artist, you can make anyone look interesting. The nineties have been all about the revenge of the stylist, the choreographer and the stage school brat. My favourite pop star at the moment Is Missy Elliot. And I love stuff like David Grey and the Rae and Christian tune ' Get a Life' with Bobby Womak. I love classic song writing and vocals but it seems we always have to wait for summer to hear any decent vocal tracks.
You have a bit of a cheesy pop history yourself?
When I was writing stuff like 'Karma Chameleon' it was what I was feeling. It was very different to lots of other records at the time. It was like some mad song you would bash out around the campfire at boy scouts. Anyway, I don't hate pop, I love it. I'd just prefer it to be more honest and self contained. I don't like the idea of bands being put together by record companies or manager. These manufactured groups today are so primed for stardom. They have such huge expectations it's almost arrogant. I don't think it's fair to attack individuals. These kids just want success and glamour. It's the record companies that need a slap. Bowie recently said, 'being a musician has become a career opportunity, a respectable job'. It's true and it's pointless moaning because it doesn't change a thing but I like to bitch. I think you can get too fixated on it. Kids don't seem to want to rebel against the system too much these days. I find Geri Halliwell really aggravating. The faces she pulls, staged in sincerity, are really annoying.
What do you think of Eminem?
Don't get me started. I think he has a talent for rapping and he has a colourful mind but he's using his talent in a childish and destructive way. I keep hearing 'he's so clever' but I was being called 'a faggot' by five-year-olds at school. There's nothing clever about buying into stereotypes, a white rapper should be breaking new ground. Rap is so homophobic anyway and Eminem should say something original. A pro-gay rapper, now that would be fresh. He is probably gay. Let's hope so. I'd give him one, ha ha. My biggest issue with Eminem is that he won't really defend his work. He keeps saying 'Don't believe everything you hear or read about me', but you can't go on about 'stabbing fags' if you don't back it up.
Did you see his big duet with Elton?
I think Elton would sing with anyone if it meant more attention. I mean, what does he have in common with Eminem? If I did a duet with Britney Spears, it would only be an attempt to steal her audience and I can't see the point. Elton said, 'Eminem is the most important artist since Bob Dylan'. Come on! Dylan was rallying against stereotypes and social oppression. I don't really want to live in a world where everyone thinks the same. The whole Eminem thing has been fuelled by the media, who secretly love him because he represents their underlying opinion that men shouldn't fuck other men. It's all about, excuse me, cocks up arses! Gay culture has become far too prominent for some people and Eminem is an attempt to put us in our place. All straight men have and in built fear of buggery and yet the male G spot is in the anus. Trippy or what!
You think everyone's gay?
No, no, that's far too simplistic, but I do think the human being is a multitude of sexual possibilities. Just because you don't act on impulse that doesn't mean it doesn't exist. Most people are happy to admit that they could kill another human but homosexuality gives them the horrors. How can you not be attracted to what you are? Masturbation is still playing with a penis or a vagina, even if it's your own. I think sexuality is a real mind set and even if you decide not to indulge in same sex relations it is important to acknowledge, that you could, given the right circumstances. I accept that I am a bit straight but it doesn't bother me. I think I would fail miserably with a woman. But I like being fancied by women. I prefer female company to male company any day. I think anyone who craves fame is a bit self obsessed and homosexuality is one of the highest forms of self-worship. For me, body builders are really queer. All that staring at yourself in the mirror!
What kind of men do you go for?
Funnily enough, really cold, uptight, aggressive types, that wouldn't give me a second look. Indifference, what an aphrodisiac! Have you ever heard the saying 'the victim identifying with the persecutor'? Seriously, I like vulnerability, nice eyes and a kind heart. I don't mind a bit of pudge or skinny guys. I'm not a size queen either.
Do you get loads of DJ groupies?
I wish, no, I get wannabe DJ's who think they can flirt their way to a career. I don't mind if there's a degree of honesty, I mean social climbing is an art, but some people are so obvious and desperate. The thing is, I'm not stupid. There ain't a line I haven't heard or one I haven't used. A lot of people are attracted to the lifestyle and the fame, and sometimes you give into that. I'm quite careful and I'm quite good at spotting users but some of them are gorgeous. I guess fancying someone because they are famous is no worse than fancying someone because they look cute. It's all surface but for a relationship to work, or a friendship, you have to get past all that rubbish quite quickly.
Do you think you are seriously misunderstood?
Isn't everyone? I think my image and my personality, which is outwardly loud and confident, gives people the wrong impression. Inside, I'm a quivering mess, but I hide it well. I think for someone to really love me, it would take time and effort. I'm very selfish and complicated with my emotions but I'll always pay for dinner.
How do you feel about fame now?
It's a kind of madness. Fame is a figment of other people's imaginations. If I decided I was Napoleon tomorrow and convinced enough people it was true then I would probably become Napoleon. Being famous doesn't amount to much in the grand scheme of things. You can rob a bank and become famous. I think as a child, I just wanted to be popular because I spent so much time on the outside. I guess, in sense, I equated fame with being liked or loved. This foolish idea, that if millions of people love you, you must be special. But I realise now that it's an inward journey. You have to experience fame in order to understand how worthless it is. If you don't love yourself, it doesn't matter how many people recognise you or tell you they love you. Don't get me wrong, fame has its advantages, but it's not as important as it was. I'm glad I'm still working and enjoying what I do.
Are you an attention junkie?
Yes and no. Obviously I like attention on some level but there's a part of me that hates it. If I'm in control, which I rarely am, I don't mind it. I guess, it was a novelty at first but you grow tired of it. Every day of my life I have to put up with people pointing and nudging and making personal comments. The way I dress, the fact that I wear make up, gives a false idea of who I am and of course, my sexuality walks ten paces in front of me. In a funny sense, you become what you wear or what you do in bed, which is nuts. I think we all feel safer if we can put each other into categories but it's never that simple. I think only a handful of close friends ever really know you and even some of them amaze me with their assessments of my character. I'm like most human beings, a work in progress. I hate being judged and yet I can be terribly judgmental, but I am always willing to admit I'm wrong. Actually, that's more of a recent development. I tend to go against popular opinion. I can slag someone off but if everyone's doing it, I tend to change my stance. I hate the whole Jerry Springer mentality. I think a degree of bitching and self - depreciation is healthy but ganging up on other people is so vile. I am not essentially cruel and when it boils down to it, I'd rather be nice than nasty. I'm not into who's who and all that bullshit. I take people as I find them but so many people have already made their minds up about me.
What's your motto?
Two things, "Remember you're a Womble" and "You teach best that which you need to learn".