Interview with ETC!ETC!
ETC!ETC! started making music at the early age of 16. He has been producing music for the past 6 years. He started to officially release tracks in 2008. His first EP was called Mediaboy and was released on Rot10 Musik. Jeffrey Nolet has the story.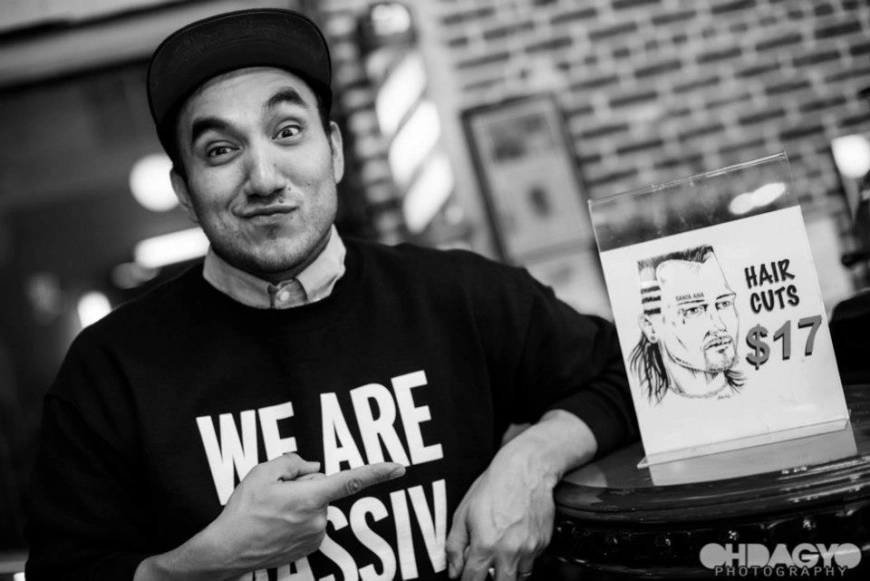 Photo by Rot10 Musik/Ohdagyo Photography
ETC!ETC! started making music at the early age of 16. He has been producing music for the past 6 years. He started to officially release tracks in 2008. His first EP was called Mediaboy and was released on Rot10 Musik. Ever since the release of Mediaboy on Rot10 Musik, he has been pumping out original tracks, EP's, and remixes. ETC!ETC! is an artist unlike others with a style of music that is not like anything else you've listened to before. From dj'ing at a young age developing his skills to perfection, this man knows what he wants, and how to get it done.

It is hard to tell where he gets his inspiration from since his music is unlike any artist's music out there. This tells you that his inspiration comes from within, wanting to change music, and be different. Instead of following the music, ETC!ETC! has become a leader from doing things his way. He has proved that he will give any artist a run for there money when he remixes a song. He is currently the VP of Rot10 Music, and is continuing to produce fantastic tracks!

What's the biggest factor that has led to you being where you are now?
Well, there are a lot of factors, to be honest with you. The main one is being able to sign to rot10 early last year and releasing tracks out to the public. Being signed to rot10 switched my mentality from just pumping tracks out on a weekly basis to making tracks, full tracks knowing they would get heard everywhere. Second is just being consistent, putting out as music as I can and sending them out to blogs, playing gigs, getting my name a little out there. Word of mouth also did a huge part.

How did it come about to you becoming part of Rot10 Musik?
Early last year Josh (Mr. Vega) found me on SoundCloud and wanted to release my tracks through his label. We hit it off pretty good releasing "drop like a seizure" which was pretty big for us and the label and since then. It's been an awesome ride. Josh asked me if I wanted to become VP and I agreed and together, we are making the label a little more known artist by artist and track by track.

Do you have a close relationship with other artists on the label?
Yes, Josh and I have a close bond. Whether it be on the business side (label) or outside of work. We communicate on a daily basis. So it's safe to say he is one of my best friends and someone I can confide in, also with Merchi (Kid Cedek) he has been a good and loyal friend and humble most of all. He is definitely someone I can trust. I have two close friends who we just signed (Que Serock) they are L.A. Fam and they have also been there with me from the beginning to the end also great dudes and people I confide it. We like to keep the label friend based / everyone asks each other ideas/questions etc. It's a small family.

Who are your favorite artists to work with? Why do you enjoy working with them so much?
Everyone I work with is a great experience. To see how everyone works and how they implement their style on a track we work on always amazes me. And I learn something from them.

What has been the biggest event/release in your career to date?
Currently is San City High. But I've had the pleasure to release with a bunch of labels, all big in a different way.

Are you currently working on new stuff?
Yes, I am. Just finished a new single with J-trick (AUS) and its called "heavy hustle" should be coming out soon and working on a new track with Paul David (CAN). Other than that just normal remixes here and there. I always try to stay busy and in the game.

How do you feel about the release of your new EP "Renegaide" on Rot10 Musik?
I am very proud of Renegaide. First the first guitar riff on that track I knew it had to be massive EP. It lived up to its promise everyone who is on the remix (Crystal Vision / Que Serock / Electric Soulside / Dj Kue) everyone did an amazing job and I couldn't ask for me. It's safe to say that Renegaide has been my proudest moment as a producer to date.

Tell me about the artists that remixed your track on your new EP Renegaide.
Ok, well let's start with a crystal vision. I knew I wanted them to remix my track since I've started listening to their production they are a duo from Oklahoma and their tracks all are solid. All different in a way that it makes to floors pound, speakers bang and people shake their rumps. Que Serock is upcoming producers from LA and longtime friends. Their way of interpreting a track is beyond belief, their synth work is off the charts so there was no way I couldn't have them on it. Dj Kue is a legend; no one can make the electro-pop tracks that he makes. He takes every track he works on and puts his stamp on it, poppy, radio-friendly, but most of all banger, and he did that. Electric Soulside some of my favorite producers out there right now. Their space/electro tracks make every dance floor shake. If you listen to all their originals you'll know why I had to ask them to be part of this release (I recc moonroller) these guys are low pro - but big on the dance floor. I was fortunate that all these artists made time for this release and I am in their debt.

Can we expect more EPs and tracks in the coming months?
Yes. Probably another ETC!ETC! single but later this year. I have a few collaborations coming out that will be EPs too but as ETC!ETC! probably not till later.

What are you most excited for in your career?
To see where this takes me, I'd like to make this a full-time job. Currently, I am working an actual full-time job, but if I can produce & tour and make this a living, Why not? I'd like to tour and to work with a lot more artists. I've been fortunate to release a remix on San City High and am thankful that Kissy Sell Out has supported my tracks on BBC Radio 1 and in his live performances. I'd like to be on their on a constant term and played in everyone's car stereo.

Your first EP was released in 2008 called "Mediaboy" do you think you've grown as an artist since your first release?
Oh yes. If you listen to media boy and listen to Renegaide you can see how my sound has grown and how I have found my style.

With the success of your past two remixes "Kissy Sell Out - Redrinkulous" and "Crystal Vision - Pickled beets" can we expect more remixes coming from you any time in the near future?
Yes! I have tons in the vault that I play live that are yet to be released. Soon they will all see the light of day, and who knows maybe some big artists such as the guys you named will pick me up to do a remix for them.

You must have a lot of surprises in store for your fans, can you give us a little hint on your latest one? Well, we (rot10) are currently setting up "dance harder" events in different cities. So we are organizing that at the moment and hopefully a tour soon! I don't know?
We like to keep surprises as such, but I spill the beans a lot so if there is a surprise, you'll know.

Tell me about Dynasty and what's it like working with Mr. Vega.
Working with Mr. Vega as Dynasty is amazing. Only because we both know what we want and how we want it to sound. We think alike in a way and we know when something isn't working or is. We have never sat in a studio together. Just network, I start a track / send it to him and back and forth, it works for us. I guess we found a loophole in some way, which works perfectly for us.

Are there even bigger things in the works with Dynasty compared to your personal projects?
Yes. Dynasty will be releasing their first EP on Top Billin sometime this year. Our tracks are already supported by Steve Aoki and Mustard Pimp. So this should be good for us. Soundcloud has some snippets of it!