Interview with The Swedish House Mafia
Mathias Haegglund met up with The Swedish House Mafia before their gig tonight at Pure Pacha. This is what Sebastian Ingrosso, Steve Angello, and Axwell had to say.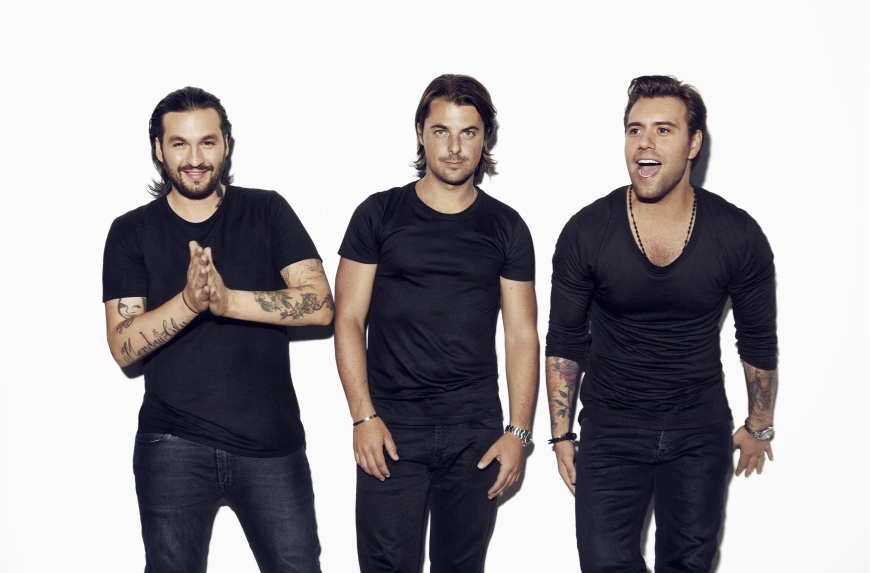 Swedish House Mafia
De La Soul once declared that three was the magic number - and in the case of Steve Angello, Sebastian Ingrosso and DJ/producer Axwell, that couldn't be closer to the truth. Collectively known as the Swedish House Mafia, the trio are that rare breed: friends who act like brothers who work together, play together and genuinely love each other to bits. "We all go and do our own thing, but without each other we wouldn't be the same," says Seb sweetly.
Have you always been friends?
Axwell: "No. I only moved to Stockholm six years ago - I got my studio and didn't know many people but before I knew it, Sebastian had forced his way into my life! I met him out drinking one night. He's a very social person. I met Steve via Seb and it's been fun ever since. Together, I think we've really ended up accomplishing something."
2007 was a pretty momentous year for the Mafia, wasn't it?
Sebastian: "Yes, but it was also an 'on the road' year. It wasn't so inspiring for me because the Berlin minimal thing came in really big – techy and cool is fine but it just wasn't my cup of tea. Now Eric Prydz is back making music and Axwell is as well so good music is coming again. But it was definitely the best year of my life. We got all the feedback from the crowd and a lot of fanmail and I still get touched by every fan I see. I can't get enough of it!"
Steve: "We can only build and build. Doing the Essential Mix was amazing, Ibiza was amazing, my American and Brazilian tours were amazing and Australia was phenomenal. As long as you work as hard as we do, it's fine. I always have a goal so we're always looking to take the next step."
A lot of people have fond memories of that Essential Mix gig you did in Ibiza.
Sebastian: "We had the main stage and we the perfect warm-up for Sasha, a hero for us since we were kids. We played everything from 'I Found You' to 'Umbrella' and there was a perfect sync between all of us. I didn't sleep for three days and I don't do drugs! I went to P.Diddy's villa for an after-party and then directly to Malta. I was really happy."
Steve: "We just had an amazing party. I partied for four days before then and went on to play one of the best gigs of my life. And to play with Sasha was such an honour. He's like an airline - he takes you on a journey."
Axwell: "It's just been a big leap forward. The Radio 1 Week with that gig at Amnesia felt like we were there! But did I think 'I Found You' would be big? Definitely not - it just proves that you can never really know."
Steve: "The gigs were too good so we had a party for the whole year. But this year is different - there will be a lot more music. I probably have 20 records coming out. I did a new one yesterday!"
What is the secret of your success?
Sebastian: "We all have our spots – and every weekend we represent on our own which is good for our own egos. But at the end of the day, it's all about SHM. We've had our little bits of 'discussions' but without each other we wouldn't the same. Three heads is better than one."
Steve: "You just put three really good DJs in a room and let them do their thing. It's a bit like mixing Italian, Japanese and steak and it might just be the best meal you've ever had. It's a good recipe. Some fans are more fans of Axwell than us and vice versa. We bring a really good show."
Who would be your ultimate collaboration?
Axwell: "I just wrote a track for Cyndy Lauper's album - she's a bit of a legend! But the ultimate is still Pharrell."
Sebastian: "Quincy Jones."
Steve: "That's a really hard question. I would love to work with Daft Punk. The kings of dance."
I understand you are all playing at Pure Pacha this season, but you have your own Swedish House Mafia night this week – are you looking forward to it?
Sebastian: "It's all about the Swedish house mafia!! Wait and see. We've been in the studio a lot preparing for Pure Pacha!"
If you're in Ibiza make sure you catch the Swedish House Mafia at Pure Pacha on 18th July 2008
Axwell, Sebastien & Steve on various dates over the summer at Pure Pacha:
22nd August - Sebastien Ingrosso
5th September - Axwell
12th September - Steve Angello & Sebastien Ingrosso
26th September - Axwell