Jaguar Celebrates 80th Anniversary with Mille Miglia
Derek Bell, David Gandy, Jodie Kidd, Elliot Gleave, James Martin, Nick English, Giles English, Charley Boorman, and Ian Callum will be piloting the classic Jaguar's.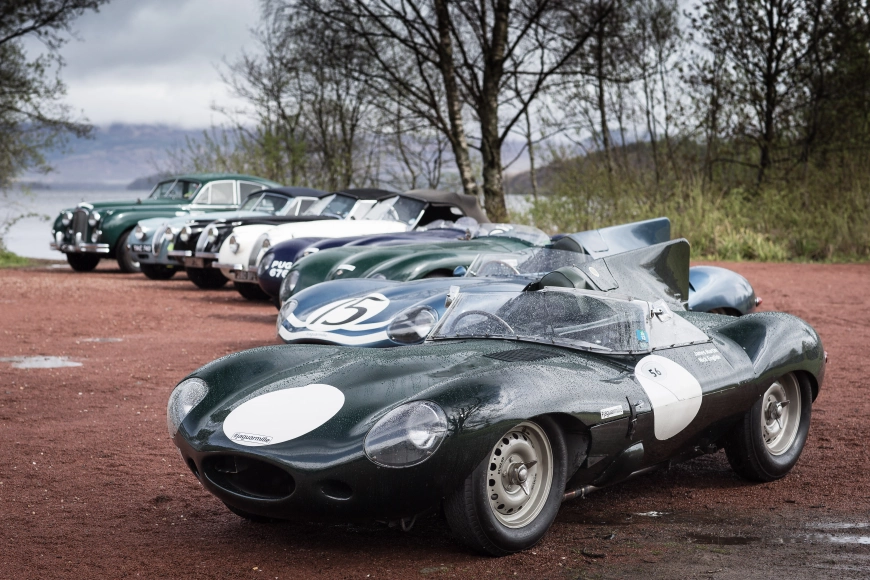 Photo by Jaguar Land Rover
Jaguar is celebrating its 80th anniversary by once again taking on the legendary challenge that is the Mille Miglia. Held from 14-17 May in Italy, Jaguar Heritage Racing will be fielding a team of drivers who will cover more than 1,000 miles from Brescia - Rome - Brescia in nine of the marque's most celebrated models.
Famous faces from the world of motorsport, TV, and music will put their historic Jaguars through their paces on the grueling route which takes place over four punishing but unforgettable days starting in Brescia, heading to Rimini, Rome, Parma and then back to Brescia. Crowds lining the route will get to see examples of historically-significant Jaguar XKs, C-types and D-types hurtling past them with famous faces in the cockpits.
Five-time winner of the Le Mans 24hr, three-time Daytona 24hr winner and world sportscar veteran, Derek Bell, will make his Mille Miglia debut driving a Jaguar C-type. Derek is driving as a guest of art collector and classic car enthusiast Adam Lindemann.
Piloting the second C-type, 'NDU 289', will be Jaguar Vehicle Integrity Chief Engineer Mike Cross, while the final C-type, 'PUG 676', will be driven by Royal Automobile Club Motoring Committee Chairman, Ben Cussons.
Driving 'RSF 303', a priceless Jaguar D-type 'Long Nose' Ecurie Ecosse racer, which finished second at Le Mans in 1957, will be Jaguar Director of Design, Ian Callum. A veteran of the Mille Miglia, Ian drove with US chat show host Jay Leno in the 2014 event - this year he will be partnering up with businessman and classic car enthusiast, Clive Beecham.
At the wheel of a Jaguar MK VII will be a man who's no stranger to speed and sleep deprivation - Charley Boorman. More used to two wheels than four thanks to his many motorbike adventures, Charley will be partnered by Bremont co-founder Giles English. The fastest saloon car of its day, a Jaguar MK VII was famously piloted to victory in the 1956 Monte Carlo Rally by Ronnie Adams with co-drivers Frank Biggar and Derek Johnstone.
Making for a very glamorous cockpit is 'OOF 748' - the XK120 roadster of the model, TV presenter, and current host of Channel 5's The Classic Car Show, Jodie Kidd, whose co-driver will be male supermodel, GQ columnist and classic car enthusiast, David Gandy.
The host of the hugely popular BBC One show, Saturday Kitchen and well-known TV chef, James Martin, will be partnered by Bremont co-founder Nick English, brother of Giles. They will share the penultimate 'Long Nose' Jaguar D-type ever built, registered '393 RW'. Completing the trio of D-types will be one of the classic car world's most respected experts, Simon Kidston.
Completing the Jaguar Heritage team line-up is a successful British singer/song-writer Elliot Gleave, otherwise known as Example. Elliot will be driving an XK140 with his father, Michael, as co-pilot. The XK140, registered 'TAC 743', was once owned by successful British racing driver David Hobbs.
On the Mille Miglia, a number of new Jaguar XEs will also support the Jaguar Heritage Racing team, following the full route through Italy with broadcast crews and VIP guests.