Land Rover Discovery Sport
The world's most versatile and capable compact 5+2 SUV features enhanced design, the latest user-friendly technology, and more efficient, electrified engines. This is the new Land Rover Discovery Sport.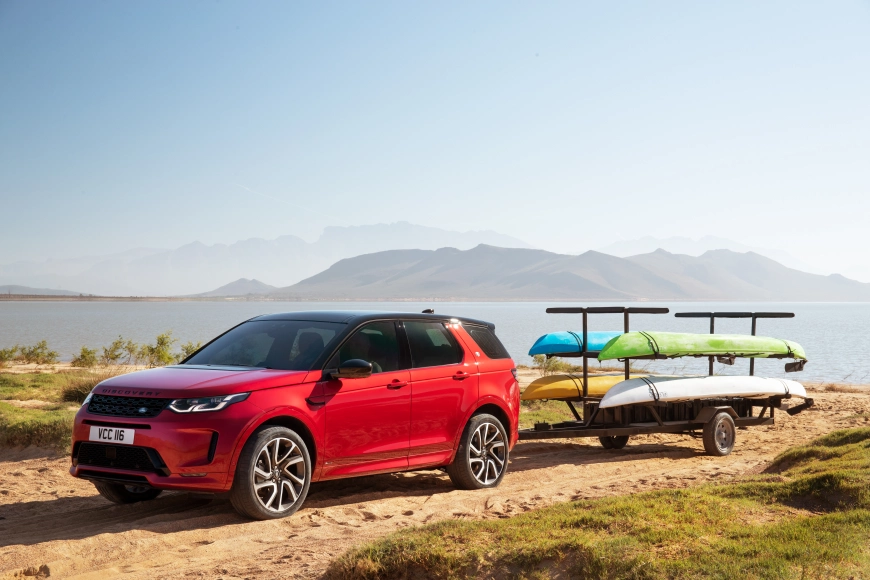 Photo by Jaguar Land Rover
From overland expeditions to family adventures, Land Rover has been designing vehicles with composure and capability at their heart for more than 71 years. For the last three decades, the Discovery family has combined contemporary SUV design, unrivaled versatility, and advanced technology for families with a spirit of adventure.
The new Discovery Sport is the latest addition to the bloodline and pushes the boundaries of the premium compact SUV sector with an enhanced exterior design and transformed interior. New vehicle architecture ensures the fastest-selling Land Rover ever produced is now more efficient, technologically-advanced, and versatile than ever, keeping its occupants safe and comfortable in all conditions.
Discovery Sport has been a real sales success for Land Rover, leading the way for the past three years and selling almost half a million vehicles to date. During that time, it has won a number of awards and introduced a large number of new, younger families into the brand who are looking for something different. The new Land Rover Discovery Sport is a true Land Rover that embodies what the Discovery family stands for: amazing versatility that allows our customers and their families to make more of their world. While the exterior design has undergone a refined evolution, the all-new Premium Transverse Architecture revolutionises comfort and handling, and supports electrification with our advanced Mild and Plug-in Hybrid Electric Vehicle powertrains.
Felix Brautigam, Chief Commercial Officer at Jaguar Land Rover
With new features and the very latest technology, the new Discovery Sport delivers superior interior space and refinement, while its 5+2 interior features a new infotainment interface with the latest connectivity, plus a more flexible seating arrangement with up to 24 combinations for enhanced versatility.
Under the skin, Land Rover's new Premium Transverse Architecture (PTA) accommodates efficient new electrified engines, including a 48-volt mild-hybrid from launch, to help reduce emissions and fuel consumption. The new body is 13 percent stiffer than its predecessor, with rigidly-mounted subframes that reduce noise and vibration intrusion into the cabin, improving comfort and providing maximum safety in the event of a collision.
Trademark Discovery design cues, including the clamshell bonnet, rising beltline, and tapered roof remain, but the new model is a bold exterior evolution. The proportions have been optimized to project a more striking visual with new signature LED headlamps at the front and rear, alongside a new front grille and bumpers.
The new Discovery Sport is available in S, SE and HSE trim, in addition to the R-Dynamic variant, which features Satin Dark Grey alloy wheels, unique front, and rear bumpers and Shadow Atlas script on the bonnet and tailgate. Inside, Ebony seats with contrast stitching, black gearshift paddles, and unique treadplates provide a sportier character.
The Discovery Sport makes the most of its compact exterior dimensions with a versatile interior that has been enhanced to optimize interior space, provide improved small-item stowage across all three rows, and a 20 percent increase in fuel tank capacity (up to 65-litres). With the option of Land Rover's Activity Key, a wearable waterproof wristband that allows customers to lock and unlock the vehicle without using the traditional keyfob, the compact SUV is more usable than ever and designed to take your family further.