Max Maviors take on a pair of Bomber For Bentley Skis
Emerging pop artist Max Mavior collaborates with Bentley Motors to paint a unique pair of skis from the Bomber For Bentley collection.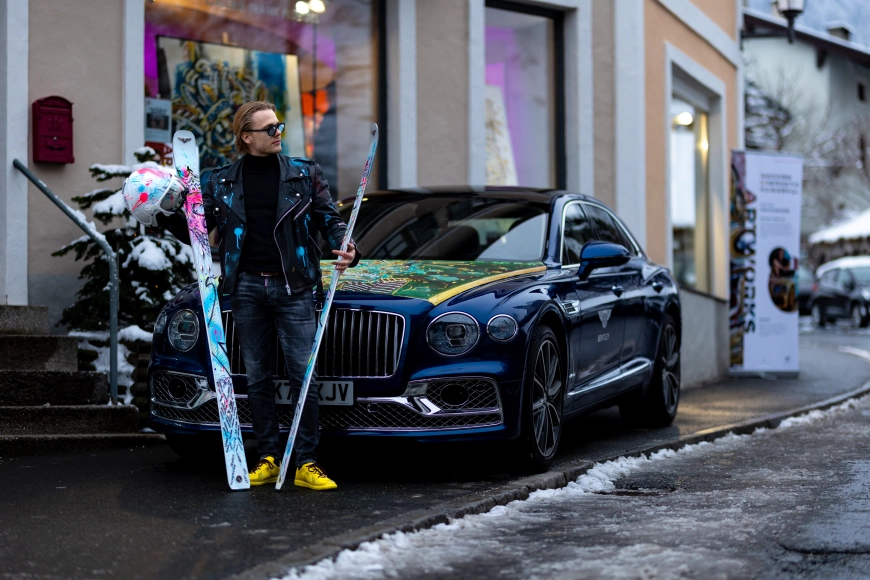 Photo by Bentley Motors
Bentley Motors has collaborated with emerging German pop artist Max Mavior to transform a pair of skis from the new Bomber for Bentley ICE Edition collection into a truly unique piece of artwork, timed to coincide with the hosting of the 2023 Hahnenkamm Races.
The skis form part of the new Bomber for Bentley ICE Edition collection, which was created for the 2022/23 winter season and is the latest from the partnership between Bentley and Bomber, the performance luxury ski equipment brand. Limited to 200 pairs, each set of skis is made exclusively from the finest materials and incorporates cues from the Bentley product range, such as the silver-plated 3D diamond emblems that imitate the embroidered motifs found on the brand's latest leather upholstery.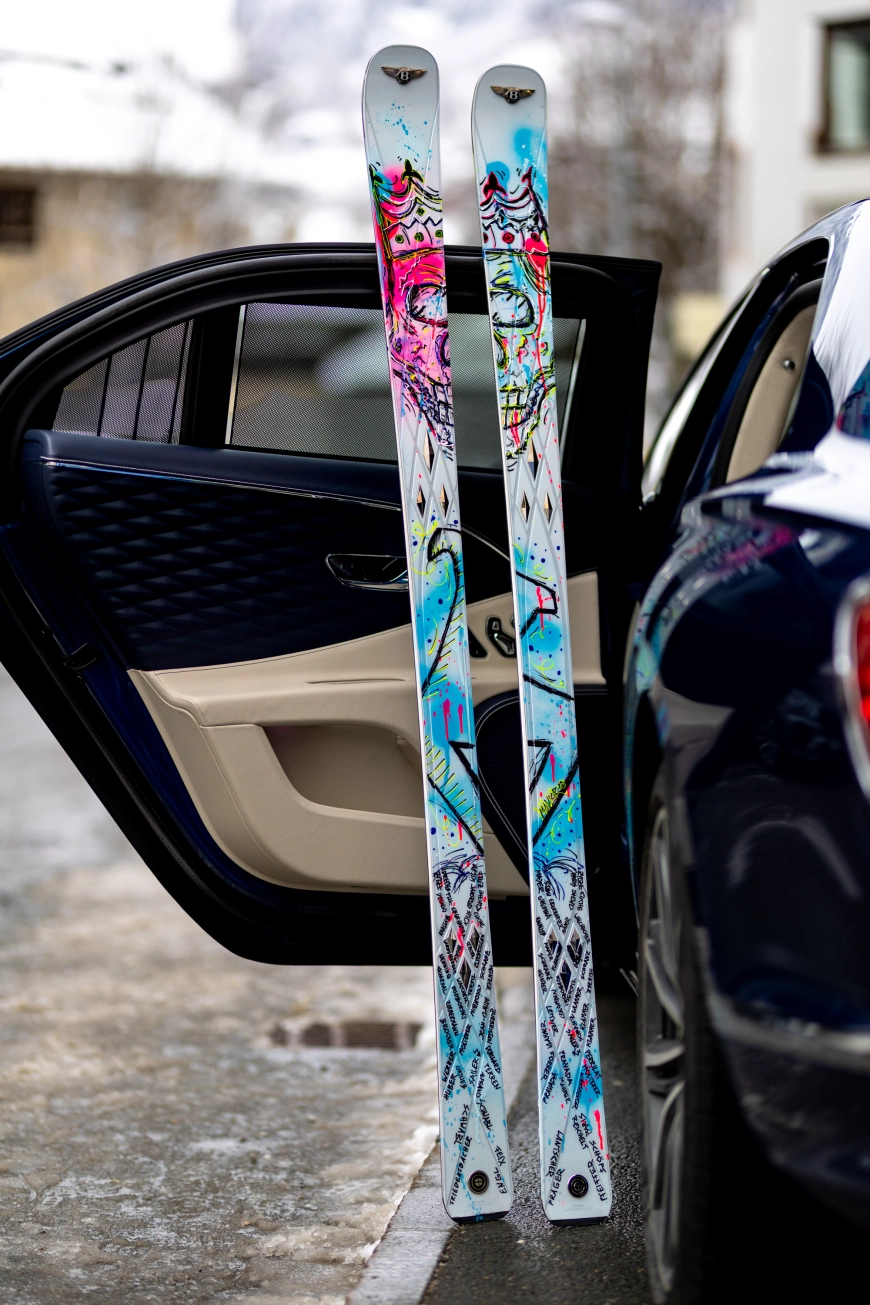 Accessories available for the new collection include state-of-the-art ski poles that recall the heritage of Bentley gear levers from the past, and an ultra-lightweight, hand-crafted carbon fibre helmet. Designed for style and speed, as well as safety, the helmet discreetly features the famous Bentley badge on both sides.
Working with Bentley, a brand that boasts such a remarkable history, has been a huge honour. My own inspiration comes from significant figures from history, and my artworks are meant to embody the spirit, courage and challenge of the lives of our ancestors. The inspiration for this specific project were the brave skiers who have taken part in the legendary Hahnenkamm race over the decades, setting remarkable milestones for downhill skiing on the way to winning their races. Signifying the victories and legacies of each individual downhill race winner, there is a symbol of a king with a crown on each of the skis.
Max Mavior
Having linked up with the British luxury brand last summer to create a unique Flying Spur Hybrid art car, Mavior's latest collaboration with Bentley was revealed at his vernissage in Kitzbühel, Austria, and sees the young German apply his flair for painting to a pair of skis. Using spray cans in bright neon colours, permanent markers and acrylic tubes, Mavior created the design in his own distinctively modern style. The exhibition was held during the prestigious Hahnenkamm Races, which have been held annually in Kitzbühel since 1931.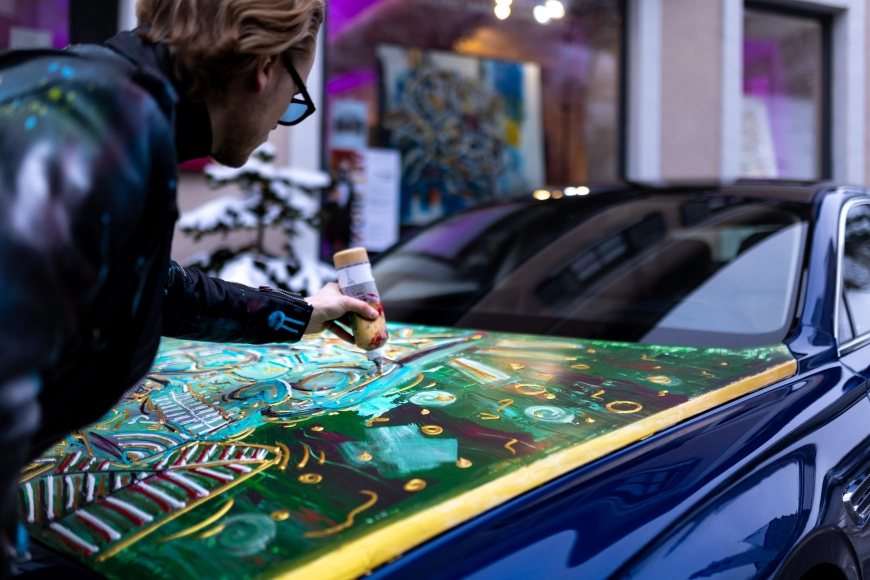 Mavior's artworks draw on a wide range of pop culture and historical art influences and are explosive, memorable and individual. The 25-year-old artist's use of abstract figures and strong colour combinations exude a lust for life and a sense of vitality. Inspired by important personalities who created and left a legacy, his goal is to arouse emotions with his art and inspire others to take courage and embrace life's challenges to leave their own legacy.
Also on display outside the Pop Art Galerie Flügel in Kitzbühel were two of Bentley's newest models - the Flying Spur Azure V8 and Bentayga Extended Wheelbase (EWB). Delivering a unique balance of luxurious craftsmanship, exhilarating performance and well-being, the Bentayga EWB SUV has a larger cabin space than any competitor, as well as an advanced, optional Airline Seat Specification. Elegant and timeless, the Flying Spur Azure sets a new standard for luxury sedans.