Mercedes-AMG GT Roadsters
The new Mercedes-AMG GT Roadster and Mercedes-AMG GT C Roadster: Open-top driving performance as a twin pack.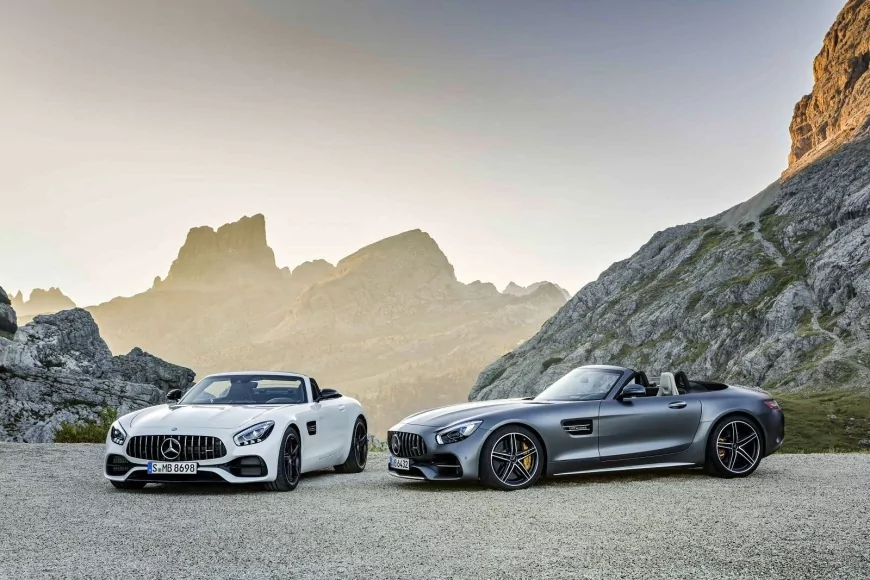 Photo by Mercedes-AMG GmbH
Alongside the AMG GT Roadster, the AMG GT C Roadster enhances the portfolio with a completely new model variant. With an output of 410 kW (557 hp) and peak torque of 680 Nm, the AMG GT C is the most powerful new Roadster variant and uses some of the technical refinements of the AMG GT R. These include active rear-axle steering and the electronically controlled rear-axle locking differential. In combination with the AMG RIDE CONTROL sports suspension, the AMG GT C Roadster guarantees dynamic performance at the highest level.
The top Roadster also takes its lead from the top AMG GT R sports car where muscular proportions are concerned: the wider rear wings create space for a wider track and wider wheels at the rear axle, allowing even higher cornering speeds and best traction. The variable performance exhaust system also ensures an authentic V8 sound from the AMG Roadster.
The new Roadsters make hallmark AMG driving performance an even more intensive experience. "With our two Roadster models, we are strategically expanding the AMG GT family by two exciting variants. With the AMG GT C Roadster, we are also introducing a new model variant to which we have transferred main performance-related components from our top sports car, the AMG GT R. The result: a highly dynamic driving experience in a very exclusive ambiance, coupled with that pure roadster feeling," says Tobias Moers, Chairman of Mercedes‑AMG GmbH.
With the two Roadster variants, the Mercedes‑AMG GT family has now increased to five members. The two new sports cars with fabric soft tops likewise have the technical genes for which AMG is famous. These include e.g. the lightweight and torsionally rigid aluminum bodyshell plus powerful and efficient V8 Biturbo engines. The entry-level into the Roadster world is the AMG GT with an output of 350 kW (476 hp). The GT C Roadster adds a completely new output level. With 410 kW (557 hp) it is the more powerful of the two new open-top sports cars.
The AMG GT C Roadster not only delivers more output and torque, but it also impresses with numerous technical highlights from the Mercedes‑AMG GT R for even more dynamic performance. Like the AMG GT R, the AMG GT C Roadster is recognizable by its wide, muscular rear end and large wheels. Other technical measures include the wider rear track and active rear-axle steering.
The AMG GT C Roadster is also equipped with a lithium-ion battery and has more exclusive appointments. Standard features include a Nappa leather interior, the AMG performance steering wheel in Nappa leather/DINAMICA microfibre and the additional transmission mode RACE.