Positivus Festival announce more artists
The Horrors, A-Trak, Just Blaze, and Cherub join Latvia's Positivus Festival line-up, joining acts like Kraftwerk, Bastille, Ellie Goulding, Elbow, Daughter, Laura Mvula, Temples, and AlunaGeorge.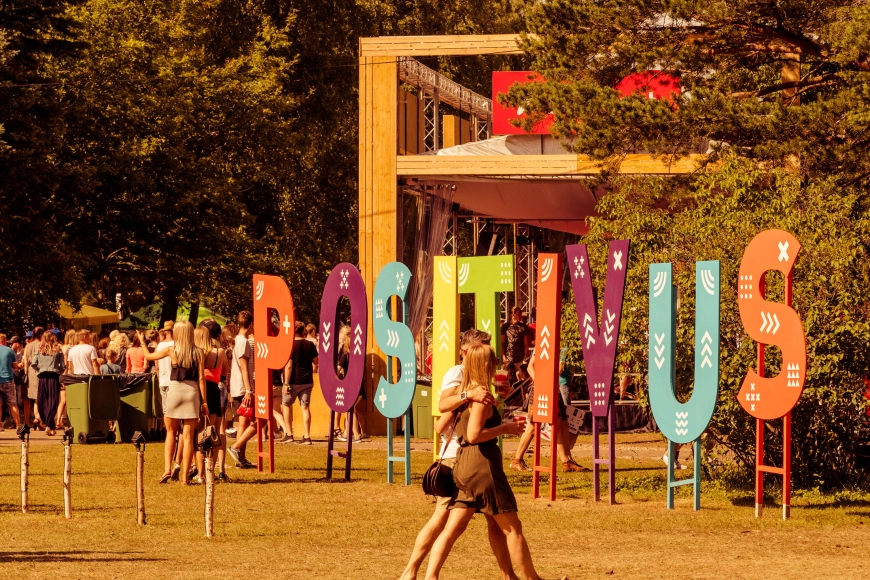 Photo by Axel Schilling Photography
The 2014 edition of Positivus Festival is taking shape, with a new wave of acts ready to perform at the largest music and arts festival in the Baltic States. Taking place from 18-20 July in the picturesque coastal town of Salacgriva in Latvia, this year's event will feature The Horrors, A-Trak, Cherub and Just Blaze alongside acts already announced including Kraftwerk, Bastille, Ellie Goulding, Elbow, Daughter, Laura Mvula, Temples, Future Islands and AlunaGeorge.
British band The Horrors lead the new additions for this years Positivus Festival. Their brand new album Luminous, on XL Recordings, is already generating considerable buzz in the press and with a live show that never fails to impress the Positivus crowd are guaranteed a sensational performance.
The Red Bull Music Academy stage also gathers heat, announcing main headliner A-Trak and US hip-hop star Just Blaze. Canadian DJ, turntablist, record producer and music label executive A-Trak was the youngest winner of the DMC World DJ Championship at the age of 15 as well as the first DJ to win all three major DJ competition titles. With his immense stage presence, excellent sense of rhythm, amazing remixes and technical turntable skills the Fool's Gold record label owner is sure to be a festival highlight. Also performing on the RBMA stage is Just Blaze. Having produced records for the likes of Jay-Z, Eminem, Snoop Dogg, Kanye West, Busta Rhymes, Rick Ross, Drake and many other Grammy winning artists, the hip-hop star has become one of the most sought-after producers worldwide.
The final act to be revealed today is Nashville band Cherub. Describing themselves 'the sexy electro-pop duo that is the dance love-child of 80's funk, and pop-music from the future', the band's funky rhythms are in perfect tune with their delicate, poppy beats. The duo will take to the Nordea Stage with a live show that's bursting with raw, untamed energy.
Positivus Festival's commitment to the arts also continues, with the announcement of this year's Positivus Festival Cinema Programme. Partnering with the Riga International Film Festival, Adazu Cipsi, Kino Bize, The National Film Centre, and 2ANNAS, this year the festival will look back at the Latvian and foreign cinematic classics that inspired several generations, as well as featuring the newest Latvian and foreign animation, short-film and full-length masterpieces. Alongside special discussions and talks with directors, producers, curators and other cinematic professionals, there will also be a special Nordic film programme for children and youngsters, global cinematic classics with splendid works of authors, directors and actors plus an introspective look at the newly re-mastered Latvian cinematic classics, such as "Ezera Sonate" by Gun?rs Cilinskis and Varis Brasla and "Vella Kalpi" by Aleksandrs Leimanis.
Known for crafting the perfect balance between partying and relaxation, Positivus gives festivalgoers a wealth of activities to explore across the three-day festival, bringing a rich diversity of music and arts to the idyllic holiday location.
All newly confirmed acts
A-Trak / Cherub  / Just Blaze / The Horrors
All confirmed acts so far
A-Trak / AlunaGeorge / And So I Watch You From Afar  / Anna Calvi / Bastille / Birth Of Joy / Cherub / Chet Faker / Daughter / Elbow / Ellie Goulding / FM Belfast / Future Islands / Junip / Just Blaze / Kid Karate / King Charles / Kraftwerk / Laura Mvula / Mø / NONONO / Of Montreal / Pompeya / Temples / The 1975 / The Horrors / The Kooks / You Me At Six