The Masquerade mixed by Claptone
Claptone is a riddle wrapped in a mystery inside an enigma. But, there is no denying the impact on the global groove made by this otherworldly artiste.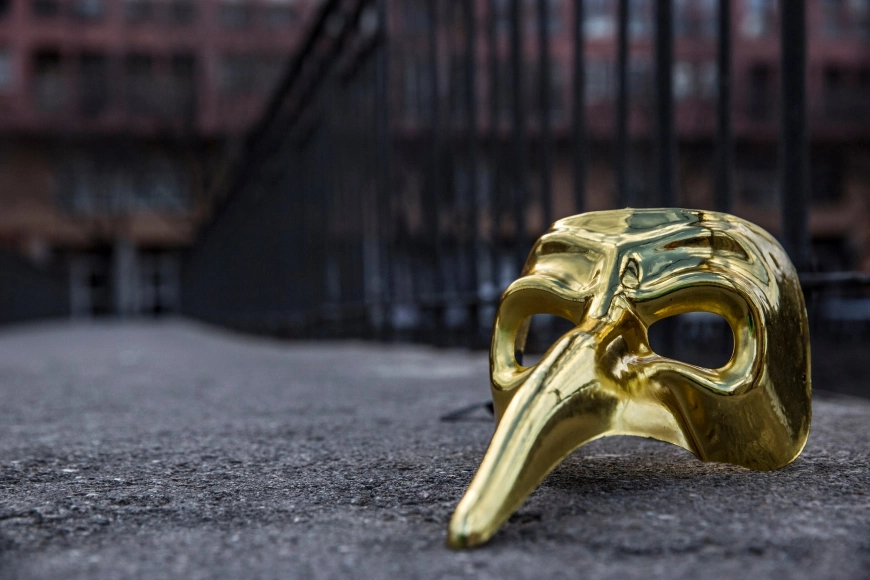 Claptone
Claptone constantly circles the planet, only landing to deliver communion at special gatherings of electronic music fans. Fans often appear wearing a golden mask themselves to pay homage to his message; cloak yourselves in anonymity and lose yourselves in the music.
Performing no less than 280 times in 2016 in every country where people seek to dance for one fleeting night. The man with the golden beak played an endless list of festivals and clubs, had an amazing Ibiza season with Amnesia, Space, and Pacha gigs, and last but not least launched his very own "The Masquerade" event series in Berlin, Barcelona, Ibiza, London and New York. No doubt: Claptone has the world under his spell.
The night mix is one for your perfect club night at home or in the car, for having friends over or making new friends, for getting intoxicated without necessarily getting intoxicated. The day mix is the ice cubes in your cocktail, a cool shower for hot hours on the beach, your cushion for a nice siesta, your key to a sexy flirt, or just that sexy flirt itself. Forget everything you think you know about DJ Mixes and listen closely when I create, combine, recreate and decompose. This is a joyride through house music and audible proof that this music has not lost its powers. On the contrary, my mix shows that the right sonic potion works better than any of these prescription drugs for when you need something to bring a smile back on your face and the sun back into your heart, believe me.
Claptone
The clamor to recreate his nightly encounters with the crowds, his comprehensive club experiences, and the joyous feelings of the first season of his own event has led to the creation of "The Masquerade mixed by Claptone". This collection of edits, classics, exclusives, remixes, and stand-out tracks from his DJ sets is split into two mixes: day and night. Claptone aims to enchant and beguile the listener as well-known and new songs appear to magically intertwine; originals become remixes become edits become samples become music. Contained within the mixes is a special alchemy that is exclusive and won't appear anywhere else - Claptone is spoiling us.
To celebrate the release of "The Masquerade mixed by Claptone", the masked man will take flight and perform around the world throughout the dark winter months. Go see him infect you with his groove, have him warm your heart, and experience him make the world a better place club by club on this tour.
The Masquerade mixed by Claptone
Release Date 28th October 2016
Label Defected In The House
Tracklist
Night Mix
01. Ultra Naté vs Roland Clark - The First Time Free (Claptone Remix)
02. Purple Disco Machine - Drumatic
03. Mattei & Omich - Marlena Loop
04. Alaia & Gallo featuring Kevin Haden - Who Is He? (Claptone Remix)
05. Gregory Porter - Liquid Spirit (Claptone Remix)
06. Simion vs MD X-Spress - God Made Me Feel It (Claptone Edit)
07. New Order - People On The High Line (Claptone Remix)
08. David Keno - Youth
09. Powers That Be - Planet Rock (Claptone Remix)
10. Junior Sanchez - Da House Dat Jack Built
11. Riva Starr - I Believe In You
12. Tom Jay - Body Move
13. Onsra - I Need You
14. KlangKuenstler - Jam Master Jack
Wildchild - Renegade Master
15. Latmun - Def
16. Mat.Joe - Weego
17. Raumakustik - Raider
Claptone - Wrong (Pianopella)
18. Subb-An - This Place (Nic Fanciulli Remix)
Underworld - Born Slippy (Nuxx)
Day Mix
01. Rainer Trüby & Corrado Bucci present TRUCCY - Step Forward
02. Langenberg featuring Blakkat - Shadows (Atjazz Remix Instrumental)
03. Deo & Z-Man - Universal Neighbours (SLG Remix)
04. Asadinho - Jaslemeré (Version 2)
05. Daniel Steinberg - No One Can Change Me (Nick Holder Remix)
06. Bas Roos - Searchin'
07. Konstantin Sibold - Dome
08. Kapote - Fuck Music (Session Victim Remix)
09. Martin Waslewski - Beautyhell
10. Freiboitar - Nobody Dance
11. COEO - Back In The Days
12. Superlover - Timeless
Barbara Tucker - Beautiful People (Original Club Mix)
13. Cassius - Cassius 99 (Tim Green Remix)
14. Julien Jabre - War (Claptone Remix)