Underwater Records presents Solo Series: Yousef
Underwater Records is proud to present the second instalment of their solo series with the prodigious Yousef. This 2 CD album is set for release on the 22nd October 2007 and is a one-take studio mix of a 3 hour set that is a true reflection of Yousef.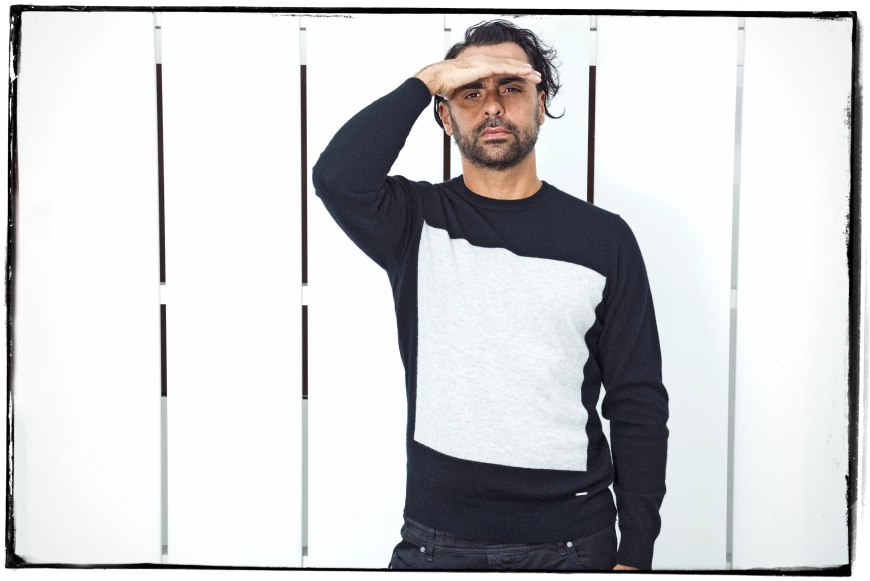 Photo by Jordi Gomez
Yousef is a name synonymous with slick, jackin' sleazy beats, edged with an aggressive boundless technical ability. However, Yousef shows how he now crafts a 3 hour set… how his musical direction has grown. "I wanted to show my musical spectrum, enjoying and including deep house, electronica, techno, rave and all stops in between with a sprinkling of vocals and my own productions" says Yousef. It is a lot more electronic than past compilations, with less funk and more drive, more depth and musical content while maintaining a raw energy that you can only really achieve with a live set.
The first thing that impresses is Yousef's track selection. Many have been chosen because they have been big for him this year. Among his tested tracks are beauties from DK7, Trentemoller, Layo & Bushwacka and Mathew Dekay. They are all part of Yousef's sets at Space this summer and with his perfect programming, he has been setting dancefloors ablaze.
CD1 starts off with DK7 – 'Instone' with its ominous chanting of "love your creation" (very apt) with its minimal beats, it sets the steady tone of the album preparing you for the onslaught! Bushwacka's powerful remix of Blake & Monroe's 'summers gone' tantalises the senses with dulcet tones and creates an atmospheric and acid-tinged mood to the mix leading on to Carl Craig's take on Siobhan Donaghy's 'Don't give it up' – very Space terrace.
Yousef never loses his acid roots, his love of bleepy noises is apparent throughout and the feeling that is evoked with I-Cube 'Acid Tablet' is HUGE. It builds and builds, very techy and very moorish; you just want more and more. Yousef continues to fuse many different elements of house music but does it with such devastating effect and manages to retain a fluidity and consistency that is genius, especially when he drops Dennis Ferrer's 'Son of raw' and then flips it around again with some moody basslines from Claude von Stroke vs Audiofly.
CD1 then takes on a more warped and distorted, fresh and nasty sound with cuts from Layo & Bushwacka and Josh Wink that creep into your bones and rests on a techno fuelled high that would be home at Cocoon, building you up and then stripping it back and starting all over again… This is where it truly changes tempo.
As this is a continuous mix, CD2 picks up where CD1 left off, going from Dubfire's much-hyped 'Roadkill' into Pier Bucci's 'Hay Consuelo' which has been remixed by producer of the moment, Samim. It smooth's down then goes nuts! Danny & Nick Chatelan's 'Givin' Love' gets you going, making you want to jump up and down! Digitalism 'Jupiter room' is a pure acid bass laden belter! Throbbing and relentless.
Yousef's 'Approach' melts into Mathew Dekay's 'timeless' and the effect is shocking to the system. The simplicity of the track is stunning. Approaching the end we have Yousef's take on his 'Spooky' track with Quentin Harris's 'U don't know me' layered over it – an excellent twist on a classic track. A preview of Yousef's own 'My own best myself' appears here first (which has been Carl Cox's stand out track this season worldwide). Ending on a warm musical vibe Joris Voorn's 'Blank' you really do feel like you have been there, in the club with Yousef. It does not feel like a studio album – it is very real.
Yousef's wild days are behind him (he says with a twinkle in his eye) and running is more important than raving (he currently runs up to 40k a week). This leaves time for Yousef to get his head down in the studio and make great records to road-test in warm countries. "The priority for me is to continue making hot records", he nods. "People are playing what I'm into – I'm developing a broader taste." The kind of music that pricks up the ears of people like Nic Fanciulli, Steve Lawler, Roger Sanchez and Deep Dish, all of whom have been heavy supporters of Yousef.
Underwater the label (now thirteen years old) was started by Darren Emerson in 1994. Initially to release records for his friends, the label has, since it's inception, seen releases from Emerson himself, Steve Mac, Wally Lopez and Tim Deluxe – whose releases 'Sirens/ We All Love Sax' and 'It Just Won't Do', put Underwater firmly in place on the independent label spectrum. In 2007 the label is still bubbling with signings including D. Ramirez, Deepgroove, Magik Johnson and Ingo Staar. With over 100 releases up their sleeve, Underwater show no signs of slowing down. Very much keeping their finger on the pulse of today's current climate of cool…
Underwater Solo Series - Yousef
Release date 22nd October 2007
Label Underwater Records
Tracklist
CD 1
1. DK7 - Instone
2. Bushwacka! - Long Distance
3. Blake and Monroe - Summer's Gone (Bushwacka! Dub)
4. Siobhan Donaghy - Don't Give Up (Carl Craig Vocal Mix)
5. I-Cube - Acid Tablet
6. Dennis Ferrer - Son of Raw
7. Claude von Stroke - The Whistler (Audiofly Remix)
8. Danny & Nick Chatelain - Duty Free Boys
9. Bookashade - Tickle
10. Layo & Bushwacka! - Ride the Train (Bushwacka! Remix)
11. Trentemoller - African People
12. Nathan Fake - Outhouse (Valentino Kanzyani mix)
13. Josh Wink - Thick As Thieves
14. Alex Kid - Don't Hide It (Vocal Mix)
15. Dubfire - Road Kill
CD 2
1. Pier Bucci - Hey Consuelo (Samim Remix)
2. Paul Ritch - Nordbanhoff
3. Joris Voorn - MPX 309
4. Danny & Nick Chatelain - Givin Love
5. Nic Fancuilli - Lucky Heather (Dubfires Lucky 13 Remix, Pts 1 & 2)
6. Paul Ritch - June
7. Digitalism - In Jupiter Room (Martian Assault Mix)
8. Sandy Rivera - Lollipop (Nic Fanciulli Dub)
9. Yousef - The Approach
10. Matthew Dekay - Timeless
11. DJ Pierre ft. Sylfronia King - Destroy This Track (James Talk 303 Mix)
12. Yousef - Spooky vs Quentin Harris ft. Cordell McClary - U Don't Know (Accapella)
13. Yousef - My Own Best Myself (Yousef's Fury Editz)
14. Joris Voorn - Blank