Vacheron Constantin Les Cabinotiers Symphonia Grande Sonnerie 1860
An innovative interpretation of the grande sonnerie mechanism makes the Vacheron Constantin Les Cabinotiers Symphonia Grande Sonnerie 1860 an exceptional timepiece.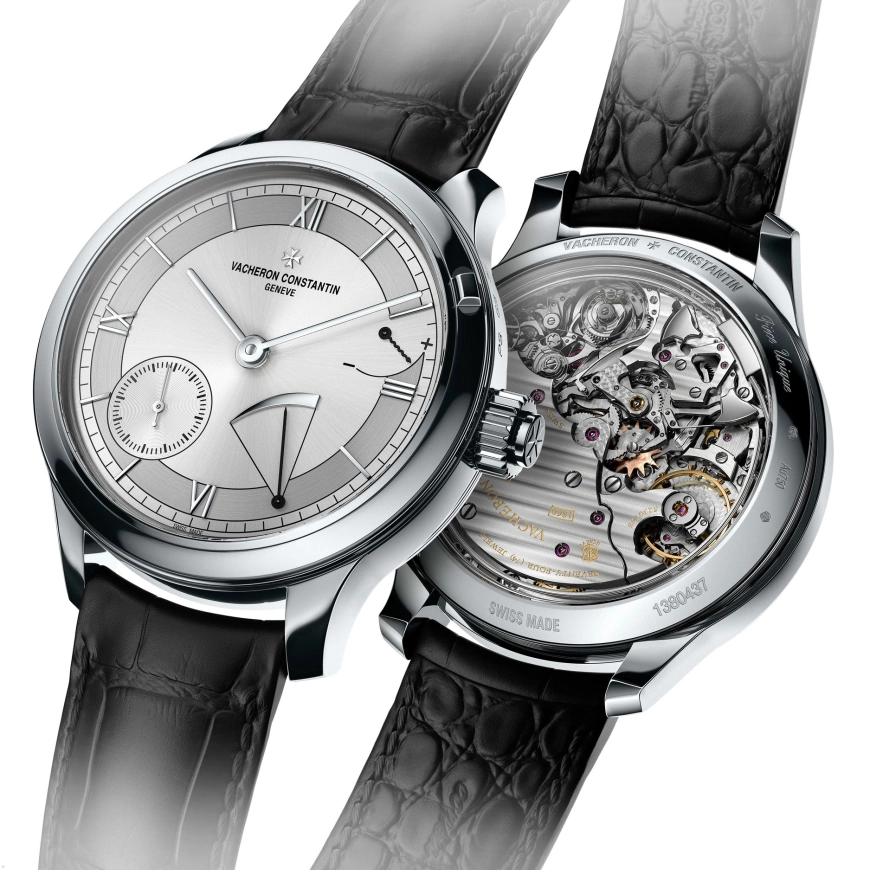 Photo by Vacheron Constantin
The supreme horological complication mastered by only a handful of virtuoso watchmakers, Les Cabinotiers Symphonia Grande Sonnerie 1860 rises to the challenge of also proving simple and reliable to use. Its 727-part movement is an impressive demonstration of expertise providing a rare combination of a grande sonnerie, a petite sonnerie, and a minute repeater. Several original security systems have also been developed to enable smooth and easy use of the different functions, without any risk of mutual interference.
The sheer mechanical virtuosity of Caliber 1860
This bi-directional manual-winding movement composed of 727 parts that are meticulously adjusted, decorated and assembled by hand, called for more than 10 years of development. Hours, minutes, small seconds, grande sonnerie, petite sonnerie, and minute repeater: its integrated construction requires considerable energy to enable the grande sonnerie to strike up to 96 chimes per day. Two barrels respectively provide a 72-hour power reserve for the movement and a 20-hour strike work power reserve in grande sonnerie mode. These advanced technical, acoustic and energy-related features make this sophisticated movement an accomplishment that is as unique as it is outstandingly complex.
Simplicity and secure use
During time-setting, no chime can be sounded; and conversely, when chiming is in progress, time-setting is impossible until the watch has finished striking. No new chiming operation will begin so long as another one is sounding. The strike-mode security device ensures that when a change of mode is made while a chime is in progress, it will only be activated once the previous chime is complete. Finally, if the strike work power reserve is too low, the striking mechanism will not be activated, whether in passing or on-demand.
Innovative strike-mode selection
The original strike-mode selection for the grande sonnerie, petite sonnerie, and silence options is done via a 30-degree rotating bezel, thanks to a marker engraved on the side of the case and indicating the respective strike modes. The minute repeater is activated by a push-piece built into the crown at 3 o'clock, with the latter serving to rewind the movement in a clockwise direction and to charge the striking mechanism by a counter-clockwise rotation.
Original construction
The final specific characteristic of Les Cabinotiers Symphonia is the fact that the striking mechanism - with its racks, feeler-spindles, and snails - customarily positioned beneath the dial is in this instance visible on the back of the watch, through a transparent sapphire crystal case back.