Body Language Vol. 24 by Monkey Safari
Monkey Safari is releasing their long-awaited Body Language Vol. 24. A deep dive into their own musical output as well as a testament to their alluring DJ style.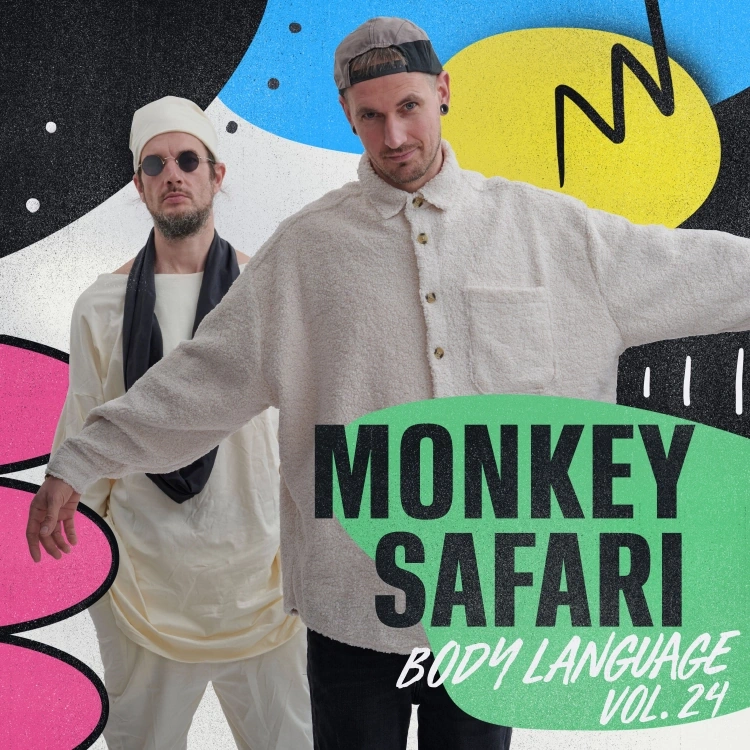 Art by Get Physical Music
German pair Monkey Safari has become Get Physical Music mainstay over the years. In 2022, they released a wealth of teaser tracks from this mix with each one showcasing a different side to their sound. After more than a decade of EPs and LPs on their own Hommage label they are still mining new musical ground and their 2021 album "Love Will Set U Free" was the latest testament to that. This new mix is a further superb showcase of their signature DJ style and seductive musical output.
The mix is a broody one that takes you into a mesmeric world of classy, musical house. It is packed with originals and remixes from Monkey Safari starting with the alluring bell sounds and vocal cries of "Ceremony" before moving on through the likes of their spine-tingling afro house remix of Fluida and then a lithe and airy remix of BLOND:ISH. After classy Monkey Safari material like "Universal Love" and "W" is a remix of George Morel's classic "Let's Groove" that updates the tune with a fresh modern edge.
The disco depths of DJ Pierre feat. Chic Loren's reworked classic "I Feel Love" is followed by standout exclusive remix "Hausch" which lifts the spirits on a wave of positive synth work, upbeat drums, and summery vibes that are sure to get plenty of plays this summer and beyond. A faultless run of recently released singles including "Kami", "Light Of Day" and "Hi & Low" then round out this most exquisite and sensitive selection.
Monkey Safari - Body Language Vol. 24
Release Date 19th August 2022
Label Get Physical Music
Tracklist
01. Monkey Safari - Ceremony
02. Few Nolder - Clouds (Monkey Safari Remix)
03. Fluida - First Nation Drums (Monkey Safari Remix)
04. Djuma Soundsystem & Westerby - Koma Kobache (Monkey Safari Remix)
05. BLOND:ISH - Wa Is Da Wa (Monkey Safari Remix)
06. Super Flu - Didschn (Monkey Safari Remix)
07. Monkey Safari - Universal Love
08. Monkey Safari - W
09. George Morel - Let's Groove (Monkey Safari Remix)
10. Monkey Safari - Deja
11. DJ Pierre feat. Chic Loren - I Feel Love (Monkey Safari Remix)
12. Andhim - Hausch (Monkey Safari Remix)
13. Francesco Tristano - Place on Lafayette (Monkey Safari Remix)
14. Monkey Safari - Siempre
15. Monkey Safari - Kami
16. Monkey Safari - Valencia
17. Monkey Safari - Light Of Day
18. Monkey Safari - Hi & Low