Configurations 11 by Alexander Church & Jody Barr
The ever artful and innovative Configurations of Self label returns with a new EP from founder Alexander Church and frequent guest artist, Jody Barr.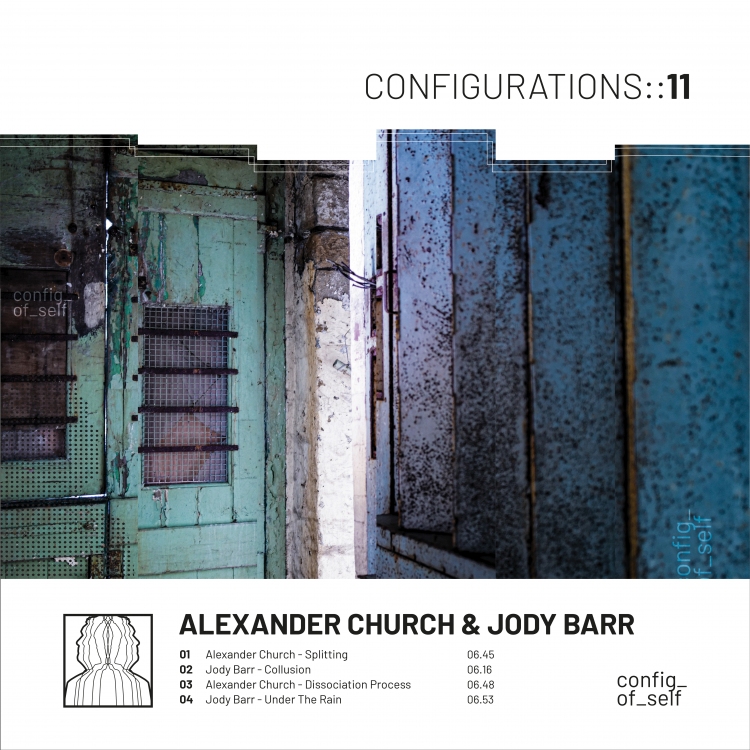 Art by Configurations of Self
The last couple of decades have seen Alexander Church emerge as one of techno's most interesting sound designers, groove makers, and synth wizards. From melodic soundscapes to industrial techno under a range of aliases he can do it all, and often with a deep-thinking perspective that adds real depth to the music.
Jody Barr, meanwhile, last appeared on the label when remixing back in June. He has also landed on Krankbrother and Nofitstate, runs his own Portable Minds, and is also a close member of Sasha's Last Night on Earth family. His hardware-centric sound is always rugged and real.
Alexander Church's opener "Splitting" is a scintillating and luxurious techno track with an angelic vocal drifting like a cloud amongst silvery harmonies and melodies. The driving bassline powers along the groove and ensures you're lost in a reverie. Jody Barr then offers "Collusion", a darker track with acid gurgles underpinning the icy hi-hats. It's deep techno for the dead of the night and is hugely atmospheric.
"Dissociated Process" is the final Alexander Church original and is another exquisite showcase of his ability to pair heavy grooves with delicate and majestic synth craft. The rubbery drums provide the rhythm while the keys and deft melodies drift past up top with a real sense of beauty. Lastly, Jody Barr's "Under the Rain" rides on an expansive and cosmic broken beat grove with plenty of astral pads and starry synths unfolding in the wide-open skies above.
Alexander Church & Jody Barr - Configurations 11
Release Date November 2020
Label Configurations Of Self
Tracklist
1. Alexander Church - Splitting
2. Jody Barr - Collusion
3. Alexander Church - Dissociated Process
4. Jody Barr - Under the Rain