Cosmic Gate presents Wake Your Mind - The Deluxe Edition
Fuelled by the auditory dynamics of its A-list championed, fan-embraced tracks, Wake Your Mind was sent global through its world orbiting tour. This is the Deluxe Edition giving everyone more and more.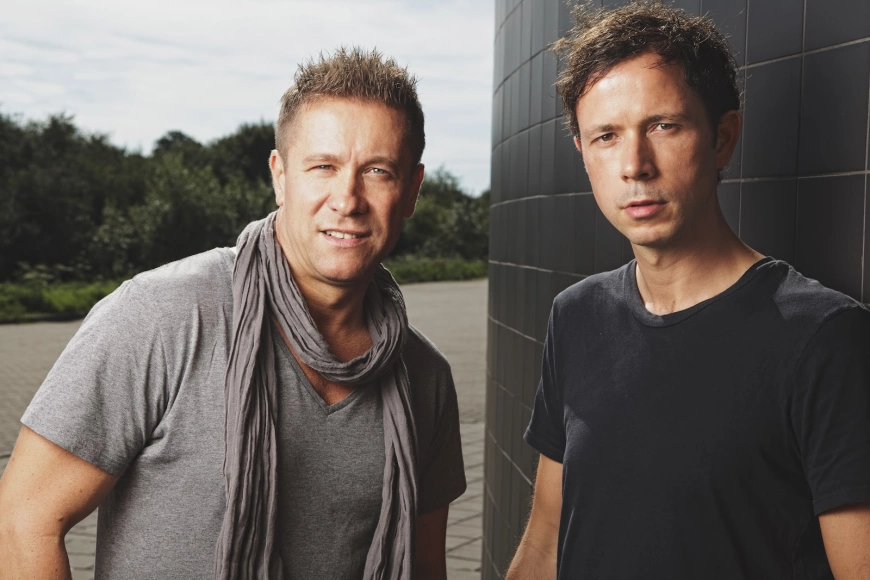 Photo by Black Hole Recordings
On the conception of The Deluxe Edition, Cosmic Gate's Nic Chagall said: "We left the studio, having finished 'Wake Your Mind', feeling that something very special had been produced. The response from the fans, DJs and radio stations, over the last year has reinforced that." "So" (continues Bossi) "when the idea of the Deluxe Edition came up, we saw it as the perfect 'last chapter' in 'Wake Your Mind's story."
In the beginning... the Deluxe Edition of 'Wake Your Mind' kicks off with its original 15-track pantheon. Featuring co-writes with internationally recognised producers like Arnej, Myon & Shane 54 and Andrew Bayer and vocal team-ups with singers including Emma Hewitt, Aruna, JES, Cary Brothers, Cathy Burton, collectively its music have sent temperatures soaring on floors worldwide. Single releases like 'The Theme', Barra' and 'Flying Blind' have become the 'Gate's new dancefloor calling cards, whilst 'Be Your Sound' has established itself as their new anthem pinnacle.
Remix Your Mind... first to the fore in release's extras is a consummate 360° remix-retake of W.Y.M.'s music. Having put together an all-star cast, some of the world's hottest remixers have unleashed their minds on the album's tracklist. Among them are Stoneface & Terminal, who add a shaft of light to the tense prog-plotted 'Sometimes They Come Back For More' and Orjan Nilsen who amplifies 'Be Your Sound's melodic aspects - driving home the point with lancing tech riffs. Lending some stateside EDM inflexion, Tritonal gets some grind to the album's title track, whilst W&W add additional warp, squelch and stab to the J'Something vocalled 'Over The Rainbow'. Nudging the tempo & tone pedal a touch, Omnia, Alexander Popov, Nitrous Oxide and others supply gravity defying rebuilds to tracks like 'All Around You', 'Nothing Ever Lasts' and 'Calm Down'. Diverting spectacularly into mash-up territory, the Ferry Corsten Fix of System F Vs. Cosmic Gate's 'The Blue Theme' blends 'Out of the Blue' with C.G.'s 'The Theme'. Seguing between the two riffs, it's a pulse racing, floor-combusting double helix that oscillates between two of EDM's greatest moments!
"Enough bonus multimedia 'extras' to keep tranceateers happy for hours"… (says Mixmag)
And they're not wrong. Click into the Deluxe Edition's multimedia material, through its smart interactive menu system and the listener discovers a feature-rich world. Full-length official WYM videos ('Barra', 'Flying Blind', 'Calm Down' and 'Sometimes They Come Back' among them), song lyrics, extensive hi-def tour galleries (covering some of Nic & Bossi's most memorable Wake Your Mind tour events in 2012) and other elements all further and widen the WYM experience.
Cosmic Gate - Wake Your Mind - The Deluxe Edition
Release date April 2013
Label Black Hole Recordings
Tracklist
Songs
01. Cosmic Gate & Arnej - Sometimes They Come Back For More
02. Cosmic Gate & Emma Hewitt - Be Your Sound
03. Cosmic Gate & Cary Brothers - Wake Your Mind
04. Cosmic Gate - The Theme
05. Cosmic Gate, Myon & Shane 54 and Aruna - All Around You
06. Cosmic Gate & Alana Aldea - Never Apart
07. Cosmic Gate & J'Something - Over The Rainbow
08. Cosmic Gate & Andrew Bayer - Nothing Ever Lasts
09. Cosmic Gate & Emma Hewitt - Calm Down
10. Cosmic Gate - Barra
11. Cosmic Gate & Cathy Burton - Drifting Away
12. Cosmic Gate & JES - Flying Blind
13. Cosmic Gate - Perfect Stranger
14. Cosmic Gate & Alana Aldea - Beautiful Destruction
15. Cosmic Gate & Aruna - Free Falling (Barra)
Bonus
01. Cosmic Gate & Arnej - Sometimes They Come Back For More (Stoneface & Terminal Remix)
02. Cosmic Gate & Emma Hewitt - Be Your Sound (Orjan Nilsen Remix)
03. Cosmic Gate & Cary Brothers - Wake Your Mind (Tritonal Remix)
04. System F vs. Cosmic Gate - The Blue Theme (Ferry Corsten Fix)
05. Cosmic Gate, Myon & Shane 54 and Aruna - All Around You (Alexander Popov Remix)
06. Cosmic Gate & Alana Aldea - Never Apart (Steve Brian Remix)
07. Cosmic Gate & J'Something - Over The Rainbow (W&W Remix)
08. Cosmic Gate & Andrew Bayer - Nothing Ever Lasts (Nitrous Oxide Remix)
09. Cosmic Gate & Emma Hewitt - Calm Down (Omnia Remix)
10. Cosmic Gate & Cathy Burton - Drifting Away (Faruk Sabanci Remix)
11. Cosmic Gate & JES - Flying Blind (Tom Fall Remix)
12. Cosmic Gate - Perfect Stranger (Wezz Devall Remix)
Videos
01. Cosmic Gate & Emma Hewitt - Be Your Sound
02. Cosmic Gate & Arnej - Sometimes They Come Back For More
03. Cosmic Gate & JES - Flying Blind
04. Cosmic Gate & J'Something - Over The Rainbow
05. Cosmic Gate & Emma Hewitt - Calm Down
06. Cosmic Gate & Cary Brothers - Wake Your Mind
07. Cosmic Gate - Barra