Dimensions Festival 2023
The 11th anniversary of the Dimensions Festival will be held, as always, in Tisno, Croatia, perhaps one of the most unique festival locations ever imagined.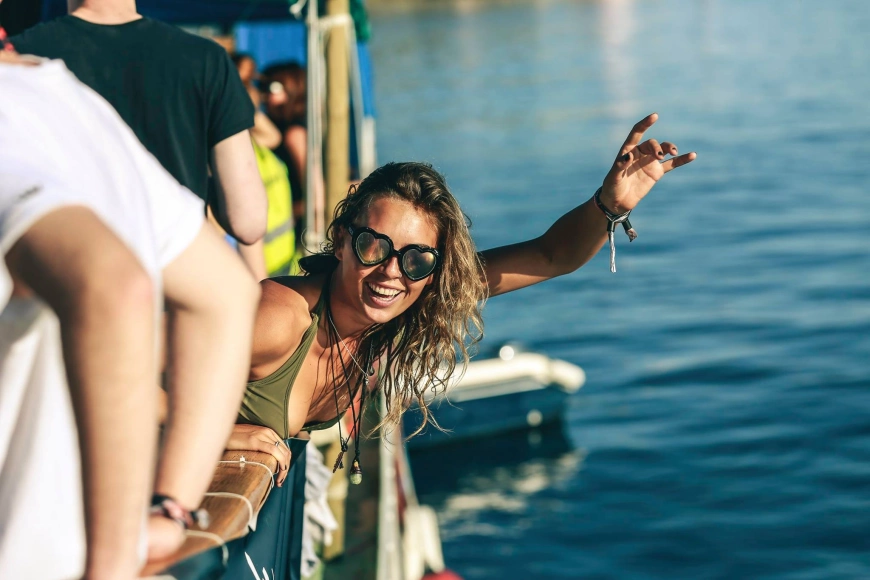 Photo by Jack Kimber Photography/Dimensions Festival
Heading down the Croatian coast, Dimensions Festival 2022 will take place between the 1st-5th of September across three stunning locations; the idyllic Garden Resort in Tisno, a fortress-top Amphitheatre in Sibenik in addition to starlit dancing at the world-famous Barbarella's Discotheque.
Dimensions' 11th-anniversary chapter will continue the festival's heritage with the same commitment to programming, sound quality, spirit, and a continued nurturing of a close-knit community of labels and club partners will remain - adding the signature Dimensions touch to the Garden Resort.
A slice of paradise nestled on the Dalmatian coastline, the Garden is blessed with crystal clear azure Adriatic waters, baking sunshine, and star-lit night skies. It's an intimate setting that has become a sought-after destination for a global crowd of music lovers.
Located just a ten-minute walk away, the local town of Tisno is a lovely fishing village blessed with beaches, great restaurants, bars, bakeries, and high-quality hotel and apartment options. It's the ideal base from which to do Dimensions in style.
When 31st August - 4th of September 2023
Where The Garden Tisno, Ul. Petrića Glava 34, 22240, Tisno, Croatia
Lineup
Adam Pits & Lisene / Albin / Aletha / Alex Kassian / Andy Luff / Anz / Bluetoof / Borys & Noizar / Bugs Groove / Carl H / CCL / Christian AB B2B Quest / Craigie Knowes / D.Phylleia / David Martin / DJ Assault / DJ Bone (Electro Set) / DJ Masda B2B Evan Baggs / DJ Perception / DJ Pipe / DJ Stingray 313 / DJ Voices / Donato Dozzy / Donna Leake / Dr Baird / Dr Banana / Dr Rubinstein / Eich / Enchanted Rhythms / Enrica Falqui / Flo Dill / Francesco Del Garda / Freakenstein / Alexis Le Tan & Joakim / Fumiya Tanaka / Gabbs / Garrett David / Gene On Earth B2B Dyed Soundorom / GiGi FM / Hamish & Toby / Harri Pepper / Heels & Souls / Helena Hauff / Hieroglyphic Being (Live) / Inner Zone / Iration Steppas (Live) / ISAbella / Jack Wrenn / James Andrew & Charley / James Falco / Jaye Ward / Jen Harkness / Joe Delon / Joe Gill / Josey Rebelle / Junior / K Means / Kold Faction / KRN / L.F.T. / Lady Passion / Laidlaw / Lena Willikens / Liquid Earth / Lora Mipsum / LTJ Bukem & MC Lowqui / Lucy Cook / Mala / Malika / Mari.te / Matthew Neequaye / Matthias / Melody / Migz / Mother Earth / Neel / Nicolas Lutz / Nite Fleit / Objekt / Driss Bennis (Live) / OK Williams / Om Unit / Onur Özer / Paquita Gordon / Paramida / Peach B2B Sugar Free / Pete Melba / Prosumer / Raphael Carrau / Rasho / Ron Obvious (Live) / Roza Terenzi B2B D. Tiffany / Sean OD / Selfhood / Simon Scott / Skee Mask / So-Fi / Steevio was (Live) / Sweely / Sybil / T. Jacques / Tasha / The Ghost / Tho & Loren / Tim Reaper / tINI B2B Doudou MD / Tony Neptune / Travis / Tristan Da Cunha / Truly Madly / Unai Trotti / Velvet Velour / Voigtmann / Vrm Vrm / XDB / Youandewan B2B Huerta / Z@p (Live) / Zip