Dimitri From Paris In The House of Disco
Dimitri From Paris In The House of Disco is the latest musical milestone from the unequivocal Disco Don; an auditory smorgasbord of House and Disco for the masses.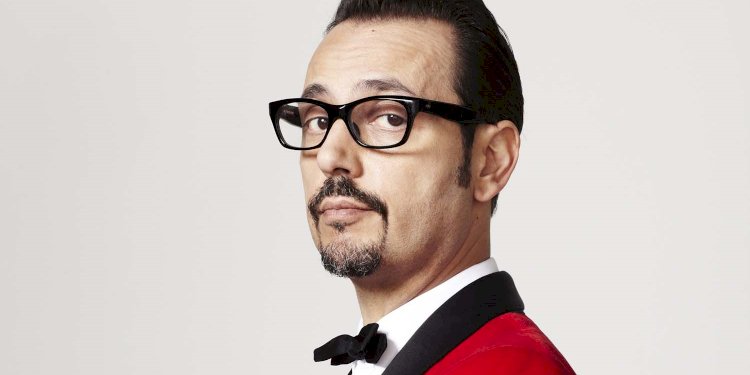 Photo by Defected Records
In the late 70s and early 80s, after its bubble of underground popularity and credibility had well and truly burst, Disco began it's slow but steady mutation into House. Aided by early proponents Frankie Knuckles, Larry Levan and their contemporaries, House became the music of choice for the burgeoning clubs scenes of Detroit and Chicago, while Disco's days began to look well and truly numbered.

Fast-forward 20-odd years, and as House enjoys arguably the most popular period in its history, the roots of the scene, and the Disco on which it was based, are once again being championed by producers and DJs alike. In 2014, House and Disco live happily side-by-side: a circumstance that Dimitri From Paris In The House of Disco celebrates.

While, of course, the history and heritage of Disco has to be treated with the respect it undoubtedly deserves, we should perhaps be equally as excited by new Disco records, many of which grace this new collection.
A fresh generation of artists is finally and unabashedly recording new, sample free, Disco Music and the electronic House sound of its origins is making a stylistic return with a sound I would call 'neo-vintage': one that embraces the foundation of current Dance Music, celebrating its culture and history and making it contemporary in the process.
Dimitri From Paris
Lindstrøm, Skream, and Todd Terje are stand-out, modern-day champions of the 'unabashed' Disco sound cited by Dimitri, and all make an appearance here, the latter's electric 'Delorean Dynamite' a neon-fused, hands-in-the-air highlight at the midway point of Dimitri's first mix. Representing true Disco heritage, Tom Moulton reworks Brand New Heavies 'Sunlight', while Dimitri himself gets in on the action, dropping his own remixes of seminal Disco artists Sister Sledge ('Lost In Music'), Diana Ross ('The Boss') and Chic ('LeFreak'), the last two of which are exclusive to this release.

CD2 celebrates all that is exemplary in 'Neo Vintage House', again matching House masters past and present, occasionally in the same track; the Fingers Acid Jam Vocal Edit of FCL 'It's You' being a standout example. Elsewhere you'll find a group that absolutely embodies the original spirit of House and Disco, the inimitable Hercules & Love Affair whose 'Do You Feel The Same?' closes out the mix.
Fittingly, Dimitri has the last word:
This new compilation is a testament to how Disco and House are intertwined three decades after their inception" he says. "Rather than focusing solely on classic original recordings, I wanted to show how those sounds were made contemporary without losing their spirit. I would like to dedicate this collection to the recently deceased Godfather Of House, Frankie Knuckles. A key person in the mutation of Disco into House, he best described House music as 'Disco's Revenge'. And a very sweet one it is.
Dimitri From Paris In The House of Disco
Release date 15th June 2014
Label Defected Records
Tracklist
CD1 - Neo Vintage Disco
01. Sister Sledge 'Lost In Music' (Dimitri from Paris Remix)
02. Lindstrøm 'Vos-sako-rv' (Todd Terje Extended Mix - Dub Version)
03. Solomun 'Kackvogel'
04. Luminodisco 'Ragazzini'
05. DJ Rocca 'Pizza On Wednesday' (Dimitri from Paris Nightdubbin' Mix)
06. Escort 'Camèleon Chameleon' (Black Russian Remix)
07. Funn City 'All Night People' (Disco Mix)
08. Skream featuring Sam Frank 'Rollercoaster' (Dimitri from Paris Erodisco Mix)
09. Todd Terje 'Delorean Dynamite' (Disco Mix)
10. Shit Robot 'Feels Real' (Extended Dance Version)
11. Rhyze 'Just How Sweet Is Your Love'
12. Los Charly's Orchestra 'Feeling High' (Classic Disco Vocal Mix)
13. Shuya Okino (Kyoto Jazz Massive) 'Give Your Love A Chance'
14. The Brand New Heavies 'Sunlight' (A Tom Moulton Mix)
15. Dimitri from Paris & DJ Rocca 'Disco Shake'
16. Chic 'Le Freak' (Dimitri from Paris Remix)
17. Ilija Rudman 'See' (Drop Out Orchestra Dub Mix)
18. Tony Tatum 'Could It Be I'm Falling In Love' (Thommy Fallout Dub)
19. Diana Ross 'The Boss' (Dimitri from Paris Remix)

CD2 - Neo Vintage House
01. Hardrive featuring L.G.'Sindae' (Kenlou Dub)
02. Inner City 'Pennies From Heaven' (Kevin's Tunnel Mix)
03. Disclosure Featuring Mary J. Blige 'F For You'
04. Artful featuring Donae'o 'I'm In Love' (Deep Mix)
05. Deetron featuring Ben Westbeech 'Rhythm' (Karizma's Kaytronik Wiv'em Remix)
06. Pleasure Pump 'Fantasize Me'
07. Boston Bun 'So Special' (Original Mix)
08. FCL 'It's You' (Fingers Acid Jam Vocal Edit)
09. Breakbot featuring Ruckazoid 'You Should Know' (Le Family Club Remix)
10. Frankie Knuckles featuring Jamie Principle 'Your Love' (Director's Cut Signature Mix)
11. €urocrats 'Black Hole Bass' (606 Version)
12. GotSome featuring The Get Along Gang 'Bassline' (Main Mix)
13. Rob Mello featuring Cecile 'Fantasize'
14. Alejandro Paz 'El House'
15. Phortune 'String Free' (Club LeRay Mix)
16. The Fog 'Been A Long Time' (Gio's Doped Mix)
17. Chasing Kurt 'From The Inside' (Lovebirds Forte Piano Mix)
18. Hercules & Love Affair 'Do You Feel The Same?'