goldRush Rally 2023
The goldRush Rally family is entering year 15 of organizing world-renowned luxury and exotic vehicle rallies which are not just drives, but adventures remembered for a lifetime.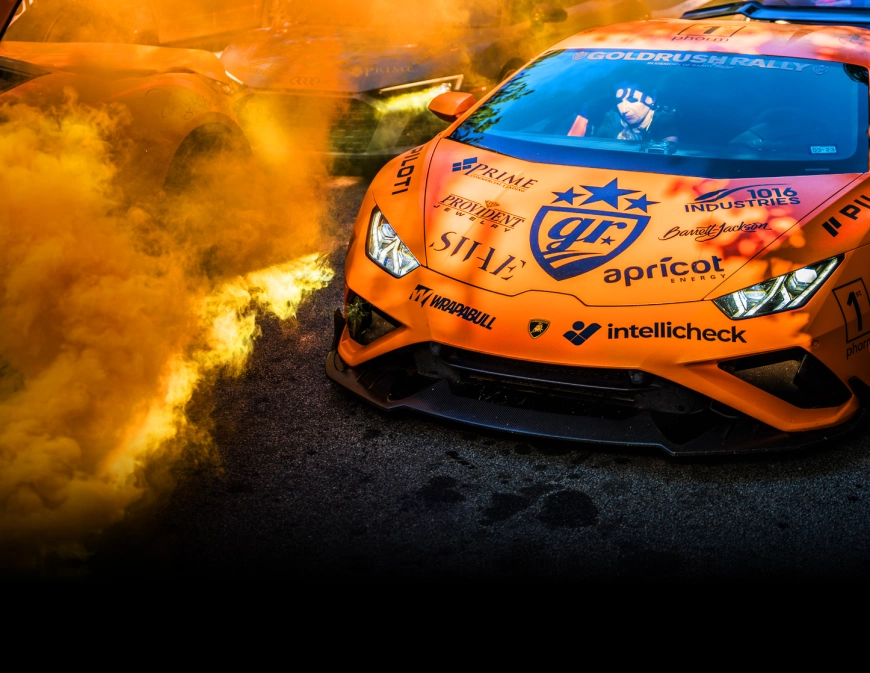 Photo by goldRush/Mo Satarzadeh
Year after year, the goldRush Rally team brings you a unique experience that is unmatched in the luxury rally world. They hope you are ready for 2023 as goldRush Rally, GRXV Full Throttle, is happening. How about, nine cities, with some of the most prolific and scenic roads in between that our country has to offer, will provide the foundation of your greatest memories. Prepare to be left in awe at the vehicles, the picturesque drives and settings, extravagant accommodations, lively activities, delectable cuisine, and surprises along the way. Whether you are a returning goldRush Rally member or joining us for the first time, it is always about the participants and the lifelong friendships the rally generates that will have you coming back for more.
goldRush Rally 2023 begins waterfront in San Diego, California with our arrival and registration, Kickoff, and Official Start Grid. After a memorable departure, the curated route takes us through the canyons and into the desert to their favorite oasis, the entertainment capital of the world, Las Vegas, Nevada. Next on the route, they are pleased to announce the return to the red rock canyons of Sedona, Arizona, and a goldRush favorite, Enchantment Resort. Full Throttle ahead, you continue on toward the High Desert and the Sandia Resort and Casino in Albuquerque, New Mexico. For GRXV, our First Half final destination and Second Half start is nestled among towering pines and majestic mountains, Vail, Colorado.
Onward, you depart Colorado en route to The Crossroads of the West and arrival at the Grand America Hotel in Salt Lake City, Utah. A new city awaits the goldRush Rally family as we drive for the first time to the country's first destination ski lodge and the 5 Star Sun Valley Resort in Sun Valley, Idaho. Our Western adventure continues with visions of wildlife and painting-like backdrops as National Forest roads take us to The Summit Hotel in Big Sky, Montana.
The final day of driving on goldRush Rally 2023 will be unforgettable as you traverse through Montana and back into Idaho to our final destination in the inland Northwest, Coeur d'Alene, Idaho. The Official Awards Ceremony, Grand Finale, and a stay at the stunning lakefront Coeur d'Alene Resort await as the perfect way to end your rally with the bliss of relaxation. goldRush Rally 2023 will be packed with exclusive VIP experiences, prime street closures, luxury hotel accommodations, race track events, nighttime entertainment, culinary experiences, breathtaking routes and so much more.
FULL RALLY: goldRush Rally - GRXV 2023 "Full Throttle" (10 Days and Nights) - For a team of two - One room $22,000
San Diego - Friday, June 9th, 2023
Las Vegas - Saturday, June 10th, 2023
Sedona - Sunday, June 11th, 2023
Albuquerque - Monday, June 12th, 2023
Vail - Tuesday, June 13th, 2023
Salt Lake City - Wednesday, June 14th, 2023
Sun Valley - Thursday, June 15th, 2023
Big Sky - Friday, June 16th, 2023
Coeur d'Alene - Saturday June 17th, 2023
FIRST HALF (5 Days and Nights) - For a team of two - One room $11,000
San Diego - Friday, June 9th, 2023
Las Vegas - Saturday, June 10th, 2023
Sedona - Sunday, June 11th, 2023
Albuquerque - Monday, June 12th, 2023
Vail - Tuesday, June 13th, 2023
SECOND HALF (5 Days and Nights) - For a team of two - One room $11,000
Vail - Tuesday, June 13th, 2023
Salt Lake City - Wednesday, June 14th, 2023
Sun Valley - Thursday, June 15th, 2023
Big Sky - Friday, June 16th, 2023
Coeur d'Alene - Saturday June 17th, 2023