Love & Dancing by Horse Meat Disco
Horse Meat Disco grace Glitterbox Recordings with their first-ever full-length album Love & Dancing, a joyous, 14-track collection of exquisite productions.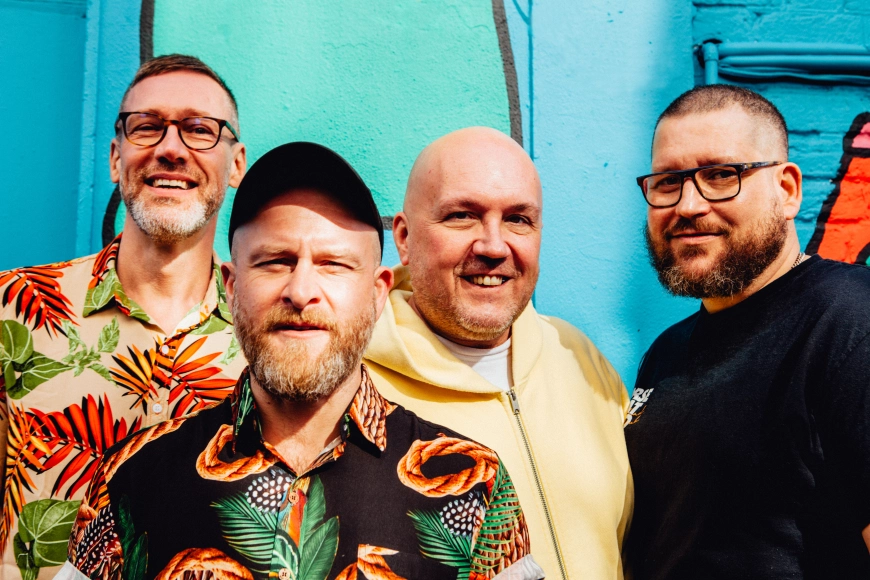 Photo by Mark Desmond
The four-strong DJ collective of Luke Howard, Severino Panzetta, James Hillard and Jim Stanton started their disco shenanigans on New Year's Day, 2004 at The Eagle, Vauxhall and over the 16 years since, their nightlife tenure has seen them become a global brand. With residences in Berlin, New York, Lisbon and their London bedrock, as well as regular appearances at Glitterbox parties across the globe, the group have become one of the most revered and adored acts on the international club circuit.

Now evolving from expert selectors to creative, freewheeling disco inventors, the group have fashioned a record gilded with the fleet-footed spirit of their disco forebears. Under the masterful tuition of nightlife don Luke Solomon, Love & Dancing is the culmination of seven years' work, fashioned from the demos the four have been working on simply for the love of making music. Free of cover versions and tired samples, it is documentary evidence that disco has a present and future every bit the platinum-grade equal of its storied past.

Working with an array of A-List collaborators including a close friend, main feature and co-writer on the album Amy Douglas, a founding member of Sister Sledge Kathy Sledge, acid jazz pioneer N'Dea Davenport, rising star Fiorious and the inimitable trio Dames Brown. Highlights from the LP include the adored Glitterbox anthems "Let's Go Dancing" and "Falling Deep In Love", the laid-back disco jam "Message To The People", collaboration with The Phenomenal Handclap Band "Sanctuary" and the irresistibly soulful "Home" featuring Atlanta songstress Hadiya George. Love & Dancing is an album to get lost in, flawlessly arranged, produced and curated from start to finish.

The album's artwork is designed by James Rosamond, an old flatmate of James Hillard and a regular at The Eagle. Previously working on the group's flyers for their Sunday night parties at the Vauxhall pub, he has now created 14 characters (one per track on the album), each representing a regular at the weekly parties. Made up from horse hooves, penises, electrical items and more, they have developed into purposefully abstract weird and wonderful disco freaks you'd find losing it on the dancefloor to Horse Meat Disco's DJ sets. James' illustrated characters will populate the designs for forthcoming singles, merchandise and production on the group's future gigs.
Horse Meat Disco - Love & Dancing
Release Date 2nd October 2020
Label Glitterbox Recordings
Tracklist
1. Horse Meat Disco featuring Amy Douglas - Let's Go Dancing
2. Horse Meat Disco & Kathy Sledge - Falling Deep In Love
3. Horse Meat Disco featuring Annette Bowen & Fi McCluskey - I'm You Dancing
4. Horse Meat Disco featuring Amy Douglas & Dames Brown - Message To The People
5. Horse Meat Disco featuring Fi McCluskey - Love If You Need It
6. Horse Meat Disco featuring N'Dea Davenport - Fight For Love
7. Horse Meat Disco featuring Xavier & ROY INC. - Self Control
8. Horse Meat Disco & The Phenomenal Handclap Band - Sanctuary
9. Horse Meat Disco featuring Doug Hiller - Burn
10. Horse Meat Disco featuring Amy Douglas - Spacebound
11. Horse Meat Disco featuring Fiorious - Give Me All Your Love
12. Horse Meat Disco featuring Amy Douglas & Valerie Etienne - Feed Your Hungry Mind
13. Horse Meat Disco & Kathy Sledge - Jump Into The Light
14. Horse Meat Disco featuring Hadiya George & Aaron Sokell - Home
15. BONUS TRACK: Horse Meat Disco featuring ROY INC. - Waiting (Extended 12" Mix)
16. BONUS TRACK: Horse Meat Disco featuring Amy Douglas & Dames Brown - Message To The People (Philly Mix)