One Bomb Music presents The Takeover EP
Exploding out of the East Midlands are the high octane dance act, One Bomb, aka production duo Si Tew and Shookz, who have enlisted British vocal talents Aja, Jackdalad, Wreh-asha and Jasper with heavy results!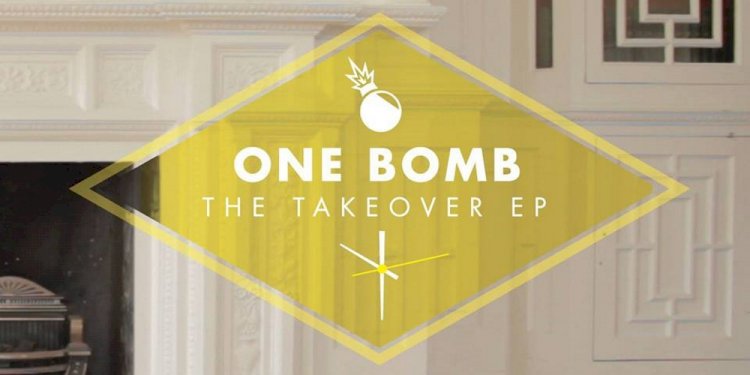 Photo by One Bomb Music
Ready to ignite dance-floors worldwide with their unique dance & urban fusions, One Bomb detonate their powerful debut, 'The Takeover EP', a highly charged 4 tracker, armed with combustible beats, synth wizardry and powaaah vocals. Having already made a big impression when they took part in BBC's Introducing series this year, they racked up allies such as Mistajam, DJ Target, Ace & Vis, Trevor Nelson and Adele Roberts, among others and now they're coming to get you!...
This impressive debut offers an infectious duet, 'Takeover' with Aja and Jackdalad, ripe with killer girly tones and a powerful rap; 'Gave Me Hope', a hypnotic groove drizzled with a sublime vocal hook from Jasper; the melancholic 'Train Tracks' with Wreh-asha and the ghetto fabulous 'Roll The Dice' with a fiery Aja waxing all things lyrical. One Bomb boast a fresh new sound, that cunningly begs, borrows and steals from all genres, all alluringly weaved together by vibrant atmospherics aimed squarely at the dance floor.

One Bomb are two passionate artists who share a love for cutting edge electronic music. The band are made up of Si Tew (Keys, Synth, Bass), Shookz (Beats, Samples, FX) and guest vocalists. They first started writing together in February 2012 after meeting at a series of music workshops. Both producers in their own right, Shookz is also a Drum & Bass producer, who's released on Playaz, Fokuz Recordings, 3D Mode. His productions receive consistent radio support from Fabio & Grooverider, Crissy Criss, Bailey, DJ Hype and Huw Stephens. Meanwhile, Si Tew is a downtempo / electronica producer with releases on Atjazz Record Company, Tru Thoughts and Compost Records. His first album, 'When The Clouds Ran Away', was released last year, (with support from Laurent Garnier, Charles Webster), which led to remix work for Atjazz, Robert Owens, The Bamboos & Aloe Blacc and Mt. Wolf. Si's music has also been featured by MTV, Ferrari and Kawaski.
As One Bomb, since Si creates more down tempo sounds and Shookz with his high energy Drum & Bass, they set out to meet somehwere in the middle. With dirty bass lines, catchy hooks and glitched beats fused with haunting vocals and an inventive use of samples, One Bomb have carved an original blend of urban music. By fusing together their House, Garage, Hip Hop, Drum & Bass and other musical influences, they show complete lack of regard for genre, caring only for a passionate, high-energy performance. Already a hot favourite on festival circuit this Summer with 2 months of live dates already under their belts, One Bomb are super busy with jam packed diary - see below for a show near you!
Aja Ireland is a singer, songwriter and DJ. With Influences including Bjork, Little Dragon and Aphex Twin, Aja has a distinctive voice and unique presence, drenched with sass and attitude. She is currently writing her solo album with Andrew Course. Jackdalad is rapper from the Midlands gifted with unforgettable flows, thought provoking lyrics and a sound that effortlessly sits perfectly on almost any genre. 1 part of collective Phoenix Quarter, Jack has performed countless shows. Alongside the self-titled EP 'Phoenix Quarter' he has written the album 'Situations' and debut solo EP, 'The Knight'. Lippy lyrics and vocal tones that echo sultriness is the sound of talented soulful singer/songwriter Wreh-asha. She has worked with many artists including Floetry, Omar, Emeli Sande, Substeppers (Wretch 32) and TY. Vocalist and songwriter Jasper has supported and worked with acts such as Toploader, Ed sheeran, Nizlpoi and Ben Howard. Jasper's band 'Jasper in the company of others' are set to release debut album 'Dens & Diaries'.
One Bomb - The Takeover EP
Release date 15th August 2013
Label One Bomb Music
Tracklist
1. Take Over feat Aja & Jackdalad
2. Gave Me Hope feat Jasper
3. Train Tracks feat Wreh-asha
4. Roll The Dice feat Aja