Flow Festival 2023
Flow Festival returns to Helsinki, Finland on 11-13th August 2023 with a fantastic lineup that will cement the diversity of acts the festival is known for.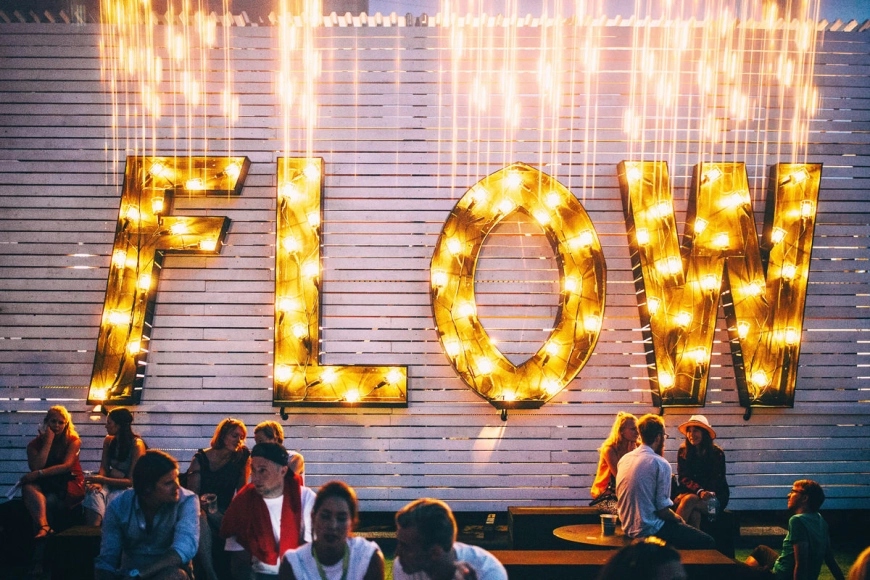 Photo by Mala/Flow Festival
Flow Festival returns to Helsinki on the 11th - 13th of August 2023 - bringing together an eclectic and rich program of world-renowned musical icons, some of the biggest modern artists of this age, exciting new international talent, and emerging Finnish creatives.
Flow Festival announces the celebrated Helsinki festival's more anticipated international and domestic acts. Arriving to perform in Finland for the first time, Afropop superstar Wizkid brings his energetic show to Flow. The legendary Britpop phenomenon Blur will also return to stages and make a highly awaited appearance at Flow. 
Singer, songwriter, and producer Caroline Polachek also joins the Flow lineup. Polachek is at the forefront of setting new trends for pop music and has written songs for top artists such as Beyoncé and Travis Scott. Additionally, the Flow crowd gets to experience a rare farewell performance by a true cult icon as the pioneer of art rock and new wave, DEVO, brings one of its very last concerts ever to the festival. In addition, one of the greats of the 90s Britpop revolution, rising back to the top of the charts with their 2022 album Autofiction, Suede, arrives to Flow.
A groundbreaking hip-hop artist, 070 Shake, who uniquely combines rap, poetry, soul, electronic music, and indie, is also announced for Flow 2023. Adding to the mix is the irresistible London rapper Shygirl, whose music naturally embodies both club credibility and profound philosophical artistry.
When 11-13th August 2023
Where Parrukatu, 00540 Helsinki, Finland
Lineup
Wizkid / Kelela / Suede / 070 Shake / Shygirl / Jockstrap / Anna Puu / Paperi T / Ege Zulu / Litku Klemetti Viihdeorkesteri / Kube / Melo / Business City / Nelma U & Safira / Nala Sinephro / Esa's Afro-synth Band Feat. Kamazu / Tuomo & Markus Feat. Verneri Pohjola / Ne Galaktiset / Elsi Sloan / Speedy J / Nene H / Chaos In The Cbd / Modem / Jaye Ward / Antti Salonen B2B Carlina Carpelan / Xample (Live) / John Gómez / Kampire / Renata Do Valle / Habibi Funk / Lil' Tony / Justus Arvelin / Arushi Jain / Brìghde Chaimbeul / Meriheini Luoto / Mikko Sarvanne Garden / Lorde / Devo / Tove Lo / Pusha T / Seinabo Sey / Amyl And The Sniffers / Nu Genea Live Band / Yona & Tapiola Sinfonietta / Ruusut / Pehmoaino / Karri Koira / Pearly Drops / Kissa / Sofa / Bizi / Meshell Ndegeocello / Alogte Oho & His Sounds Of Joy / Arp Frique & Family / Jake Xerxes Fussell / Kaisa's Machine / Kerri Chandler / Chloé Caillet / Jyoty / Sansibar / Jori Hulkkonen / DJ Voices / All Good Soundsystem / Hitoshi / Hunee / Nooriyah / Zakia / Gop Tun DJs / Victoria B2B Ocean People / Marc Fred B2B Maria Wesander / DJ Mojo / Maya Shenfeld / Kaukolampi / Lrxy / The New Boyfriends / Blur / Christine And The Queens / Caroline Polachek / Moderat / Sudan Archives / Mauskovic Dance Band / High Vis / Sexmane / Olavi Uusivirta / Maustetytöt Iii / Eevil Stöö & Stepa / Pihlaja / Jami Faltin / Horace Andy & Dub Asante Band Feat. Matic Horns / Balming Tiger / Domi & Jd Beck / Olli Ahvenlahti / Valtteri Laurell Nonet / Sonia / Eris Drew & Octo Octa / Folamour / Waxfiend / Knife Girl / Joseysradios / Coco Ninja / Ima Iduozee / Arp Frique B2B Coco María / Sadar Bahar B2B Ge-ology / Awesome Tapes / Claire Rousay / Mario Batkovic / Mika Kallio Gong Odyssey / Teddy Rok: Atonal Drums