Modball Rally Europe 2016
The Modball Rally Europe 2016 route will be a rally from London to Valencia stopping in Paris, Lyon, Monaco, Barcelona, and Valencia for a private track day.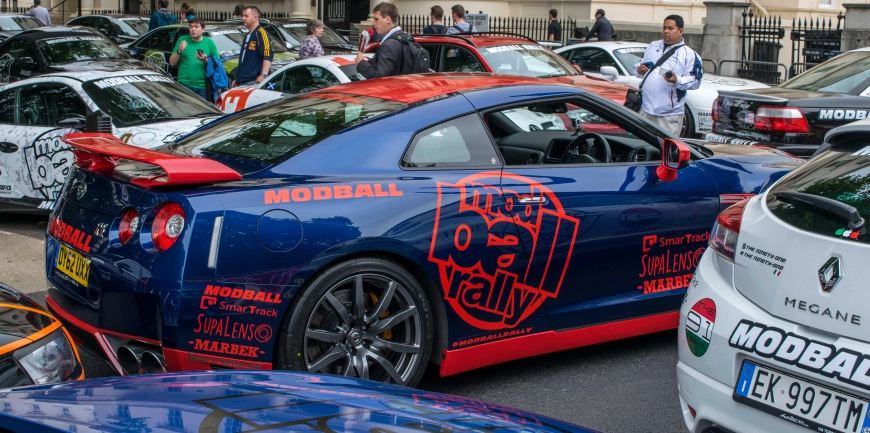 Photo by Dan Murray/Modball Rally
To enter the rally you need to pay a £495 deposit to book guarantee your team place with your final balance due within one week of deposit. The 2016 rally is limited to 180 cars and will be £2495 per person (including taxes) for the standard package, £3595 per person (including taxes) for the luxury hotel package, minimum of two people per car.
The rally is strictly first come first serve and the number of your car will relate to the time of your booking, the first to book will be number 1 on the grid and so on all the way to 180. There aren't many spots left, so hurry up if you are interested.
Vehicle Rules
Any car is accepted with at least two modifications, cosmetic or mechanical. The organizer have had sports cars, movie cars, a fire engine, tour buses, monster trucks, supercars, run-a-rounds, almost everything. The Modball Rally encourages drivers to be as creative as possible in their car since, after all, it's all about having fun!
The Route
It all kicks off in London, the UK on Saturday the 25th of June 2016 with the traditional launch party, and then the cars take off the day after, 26th June. The first stop is Paris, France for a nice chic evening seeing sights and partying. The day after, Monday 27th June it's all about crossing the French countryside and heading to Lyon, for yet another splendid evening of fun and partying. On Tuesday the 28th of June the teams are all heading to Monte Carlo, Monaco for even more parties and glamour, Modball style. Thursday the 30th the teams are heading to Barcelona for yet another party. From Barcelona it's off to Spain's racing capital, Valencia for the final splash of sunshine, champagne, and hot cars roaring down the streets. In Valencia, a private track day and awards ceremony awaits all the drivers.
There will some really cool cars participating as well, as you can see from the team list below. Can we expect some epic videos from the rally? We think so.